Print
Kellogg Community Credit Union Supports The United Way of Battle Creek and Kalamazoo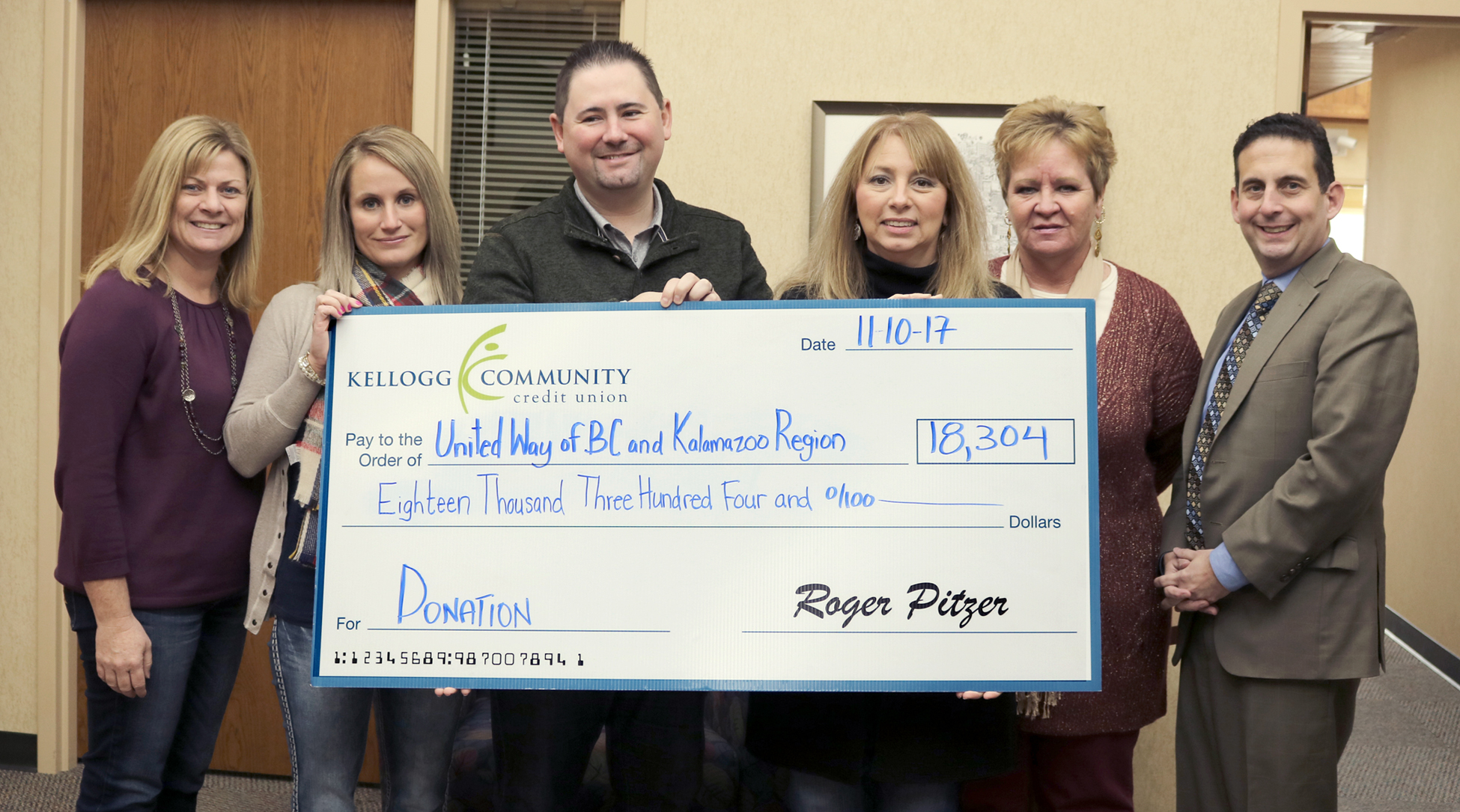 Kellogg Community Credit Union (KCCU) and its employees pledged more than $18,000 to the United Way of the Battle Creek and Kalamazoo Region (UWBCKR). The KCCU Board of Directors generously agreed to match KCCU employee contributions dollar for dollar, which brought the credit union's total contribution to $18,304.
"Our KCCU family truly believes in the impact and mission of the United Way," stated Jessica Bissenden, human resource generalist and United Way campaign leader at KCCU. "Our internal United Way campaign contributions more than doubled this year because of the passion and dedication of our team members and board of directors. I am proud to be a part of the impact that KCCU and the United Way in partnership have in our local communities."
The United Way is a non-profit organization committed to raising resources for families and agencies in need. KCCU's goal of providing financial opportunity and lifelong value to their members and the communities in which they serve directly coincide with UWBCKR's goals to advance the common good by creating opportunities for a better life for those in the same communities.
"Supporting local charities has always been a priority of KCCU and we value our partnership with the United Way," said Tracy Miller, KCCU's CEO, who also serves on the United Way Cabinet. "With so many people and local agencies dealing with economic hardship, we know that the United Way's resources are vital in helping our communities."
"The generosity and compassion of Kellogg Community Credit Union and its employees impact our community in positive ways," said Chris Sargent, president and CEO of United Way of the Battle Creek and Kalamazoo Region. "With more dollars donated and more employees engaged this year, they're raising the bar on how each person can step up, partner with United Way and change the story for thousands of people."
KCCU also showed their support for the United Way this year by being the exclusive sponsor for the United Way Vehicle Sweepstakes since its inception in 2012. Additionally, they provided their branches as drop-off sites for their Diaper Drive and book drives and by hosting a pop-up giving event at their Team Enrichment Day, where they awarded $1,000 to a local non-profit organization.
Submissions to Monitor should follow the
submission guidelines
and may be
emailed
. Shawn Glinis is the editor of Monitor and can be reached at 800-262-6285, ext. 449. The newsletter of the Michigan Credit Union League is published Monday mornings or Tuesday mornings when Monday is a holiday. There is no Monitor the week after Christmas and the week after the Annual Convention and Exposition. MCUL reserves the right to edit submissions for clarity and space.