Insurance & Benefits Solutions
SAFEGUARD YOUR ASSETS WITH BEST-IN-CLASS SOLUTIONS
| | |
| --- | --- |
| | RELIABLE INSURANCE AND BENEFITS COVERAGE, EXPERTISE AND SERVICE |
Managing risk by providing the right insurance and benefits.
Trust is earned. For years, our lending and insurance programs have provided the ultimate protection for credit unions and their members. Become one of the many credit unions that trust us to enlist only the most experienced partners to cover your lending and insurance needs.
Life happens — Be prepared by choosing the best personal and property coverage.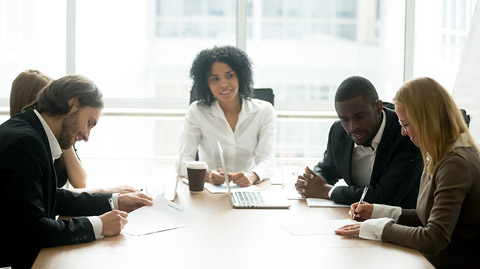 Catastrophes can occur in a blink of a moment. For those "just in case" scenarios, you and your members expect insurance to kick in and come to the rescue. TruStage, the leading provider of insurance products to Michigan credit unions and their members, delivers product and service solutions to meet the constantly changing needs of your credit union and your members. TruStage's comprehensive suite of services includes: lending, marketing, compliance and training solutions for credit unions.
What's so special about our insurance protection?
By choosing TruStage products, you are protecting your credit union and your members while boosting your credit union's non-interest income.
TruStage also protects your Michigan credit union and its assets. From bond coverage to collateral protection, CMFG protects your lending portfolio and all your interests. Plus, TruStage provides industry-leading loan documents, mobile loan applications and sales training for your staff to meet the increased demand for loans.
Categories include:
TruStage's Insurance Protection Offerings:
Personal Coverage: Auto, Home, Life and Accidental Death and Dismemberment
Payment Protection: Credit Life, Credit Disability, Debt Protection
Additional Vehicle Protection: GAP, Mechanical Repair Coverage
TruStage's Credit Union Products:
Bond Coverage
Executive Benefits and Wealth Management (CBSI)
Lending Solutions
Lender Development Program
---
401(k) Savings Plan for Michigan Credit Unions (MCUE Plan).
Helping you set aside money today for a better tomorrow.
401k plans continue to grow in importance as more people struggle to save for retirement. With the dissolve of many pension plans, 401k savings plans are a relatively low-risk retirement vehicle, designed with tax benefits. As an affiliate of the Michigan Credit Union League, we are offering this plan so your credit union and your employees can reap the benefits of a solid and long-standing 401k plan.
Experience is the differentiator.
The MCUE 401k Savings Plan has been in effect since 1962. The plan's competitive design and pricing are why more than 65 percent of Michigan credit unions value MCUE for their own employees.
Why choose MCUE?
When you enroll in the MCUE Plan, your credit union shares fiduciary risk with the trustees who oversee the plan. These trustees make investment decisions and monitor funds on your credit union's behalf to ensure fees are consistently reasonable.
Key Features:
Minimize your risk
Regain your resources
Educate your employees
Access low-cost index funds and institutional share classes thanks to the group buying power of 163 participating employers
Save time and money with no individual 5500 filings or plan audits by participating credit unions
Enjoy no per plan or per participant expense billed to credit union
Obtain the new, BenefitsForYou mobile app, which provides a modern approach for monitoring retirement savings
Gain targeted education to meet the specific needs of your participants
Access unique participant-focused education campaigns
You want the best for your employees. Help them achieve financial security once they retire with the MCUE 401k Savings Plan. To learn more, visit https://www.trustage.com/ or contact your League rep for more information.
Go to main navigation