How CUNA Plans to Inject Credit Unions into the Presidential Campaign
The latest campaign from CUNA is capitalizing on the upcoming presidential election.
CUNA recently unveiled its "Strong Credit Unions, Strong Middle Class" campaign, and they are hoping their Member Activation Program (MAP) can help inject credit unions into discussions about the middle class that seem to dominate presidential campaigns.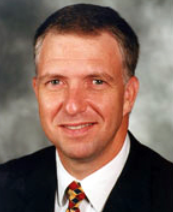 "This is an ability to have a dialogue with voters while they're focused on the elections," said Richard Gose, chief political officer at CUNA. "The candidates themselves are spending a lot of time focused on the middle class and what they're going to do for the middle class. We believe that throughout this election, that's going to be a central theme, just like entrepreneurship was in 2014."
CUNA has launched www.middleclass2016.com, where users can find information about presidential candidates from both major parties and quotes from those candidates about how to help grow the middle class. Users can also select candidates and send them pre-designed tweets touting the important role credit unions play in voters' lives. Furthermore, they are leaning on credit union participation to get the message to members.
"We want to give you the opportunity to help us and work with us in engaging our political leaders," said Gose, noting that any discussion about the middle class needs to involve credit unions. "Our survey research shows that the vast majority of people consider themselves to be part of the middle class, and when you ask what financial institution is best suited to serve the middle class, 54 percent say credit unions compared to 47 percent who say banks. That's fairly remarkable when only 42 percent of registered voters are credit union members."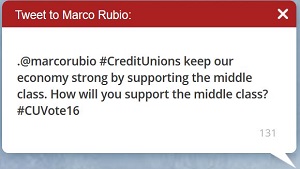 A sample tweet from CUNA's MiddleClass2016.com site
There are no specific legislative goals associated with this campaign. Rather, said Gose, CUNA hopes to advance its cause and make sure legislators are aware of credit unions and the benefits they provide to members and communities.
"We're 6 percent of the marketplace, banks are 90-something percent of the marketplace; we need to show our relevance in terms of the economic picture," said Gose. "Even though we're only 6 percent of the marketplace in overall dollars, there are 103 million members that have chosen credit unions as their best financial option, and we think that's significant and goes a long way, whether you're talking about policy or power or whatever. It's important to be a relevant part [of the conversation]."
Lessons Learned
This campaign is one in a long line of major initiatives CUNA has run in recent years, including the highly successful "Unite for Good" and "Don't Tax My Credit Union" campaigns. Gose stated that CUNA took those lessons learned and applied them to its 2016 plans.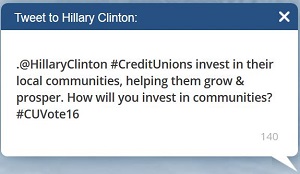 "What we learned is that our members will respond," he said. "When credit unions are under threat or have a message to deliver, they will engage. We had tremendous engagement, not only by the credit unions themselves, but by the members in those credit unions." That high level of participation, he continued, was instrumental in launching the MAP program.
CU Difference
Gose further explained that the project will evolve over time, just as the presidential campaign evolves.
"This is going to be an ongoing conversation," he said. Really, politics at the grassroots has become about a continuous, ongoing conversation, whether it's about policy or raw conceptual ideas. We want to be a part of that conversation."
And getting members involved in that conversation, said Gose, uniquely illustrates the credit union difference.
"I can't imagine banks going to their customers and asking them to engage on this or any other issue," said Gose. "The unique bond credit unions have with their members allows for something like this campaign; allows for something like the MAP program to work. It's that unique relationship we have with members and the way credit unions work every day to serve members. It's a powerful statement of what credit unions are all about."
This story originally appeared in Contact magazine. To learn more about MAP, click here.
Go to main navigation