How CUNA's MAP is Helping Michigan Credit Unions Mobilize Their Members for Advocacy
Michigan credit union members have a deeper understanding of important credit union issues thanks to a new program from CUNA, and that's helping them better advocate for their CUs.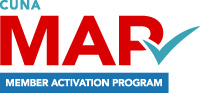 CUNA unveiled its Member Activation Program (MAP) earlier this year at its Governmental Affairs Conference (GAC) in Washington DC. The initiative aims to mobilize credit union members for advocacy-related issues while also boosting member loyalty with their credit unions.
Both Rogers City-based Calcite CU and Jackson-based CP FCU signed on to the program as soon as they heard about it. The first MAP message was about data security and the fact that credit unions—and their member owners—are suffering losses when data breaches occur as the result of retailers' inadequate security protocols.
According to Barbara Mills, CEO at $61 million asset Calcite, "it was a good message, so it was easy to send out an e-mail that [CUNA] had already prepared and customize it to Calcite CU and then send it to our members."
Chrissy Siders, VP of risk management and specialized lending at CP FCU, said that her credit union regularly communicates with members on these sorts of issues, and the MAP message on data security was one that they felt was pertinent to members' lives.
"We're saying 'Lets send something that we feel is relevant to the current conversations that we're having with our members,'" she explained. "In light of all of the compromises and everything, we knew that was a very relevant issue. We wanted to be transparent but be communicative about what the situation really is. There's so much confusion about card compromises and fraud and lack of security, and we felt that was a very relevant issue to communicate with our members on."
Neither credit union received much in the way of a response from their membership, but both said that they weren't expecting to hear from members.
"It's completely an informational piece," said Siders. "It was much more of an education piece. It was well-written by CUNA and didn't leave much to the individual to wonder."
Both Mills and Siders encouraged other credit unions to sign on with MAP as a way to better educate their members on a variety of topics where CUNA can help members advocate for the movement.
"Don't be afraid to look at the [MAP] content and say 'This is something I think my members need to understand,'" said Siders. "It's important for credit unions to step out and have our voices heard.
Mills said that working with a reputable source like CUNA adds weight to the message.
"Anytime CUNA puts a message out there about data breaches or member security, they're a reliable source, and I just feel it's good information for your membership," she said. "[With MAP,] you've just got to insert your credit union's name and pull your query; it takes no time. Why would you not inform your members? It's a simple tool to get different messages out that are in the best interests of our membership."
Click here for more information on MAP and how to get your credit union involved.
Go to main navigation