MCUL Announces Credit Union Award Winners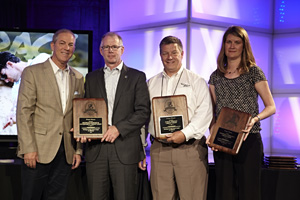 Credit union leaders are honored with Desjardins Financial Education Awards at the 2015 Honors Awards Ceremony at the AC&E.
Many Michigan credit unions are being honored for their work to improve their communities.
These state-level awards, which recognize credit unions for their dedication to the community and its members, are separated into three categories: The Dora Maxwell Social Responsibility Award, the Louise Herring Philosophy-in-Action Award and the Desjardins Youth and Adult Financial Education Awards.
First place recipients of the Dora Maxwell Award were Saginaw Medical FCU, Alliance Catholic CU, Michigan Schools & Government CU and United FCU. Notably, United FCU was awarded highest honors for their "Pay It Forward" campaign.
The Louise Herring Award, which highlights a credit union's practical application of its philosophy, was given to Michigan Schools & Government CU and One Detroit CU in the first place category. These award winners were recognized for their flood recovery and home rehabilitation programs, respectively.
First place Desjardins Youth and Adult Financial Education Awards - used to recognize financial literacy for all ages - found their way to Peninsula FCU, SageLink CU, Honor CU, and Michigan Schools & Government CU. Each of these credit unions found a progressive way to bring their financial initiatives and workshops to the fresh minds of students and adults alike.
CUNA will judge all of the first place winners from each state league for a chance to win a national award.
Here's a detailed look at the winners' asset categories and campaigns along with second place and honorable mention winners in each category.
Go to main navigation