Federal Issues
Jump to Legislative | Jump to Regulatory
Below is a list of current federal legislative issues.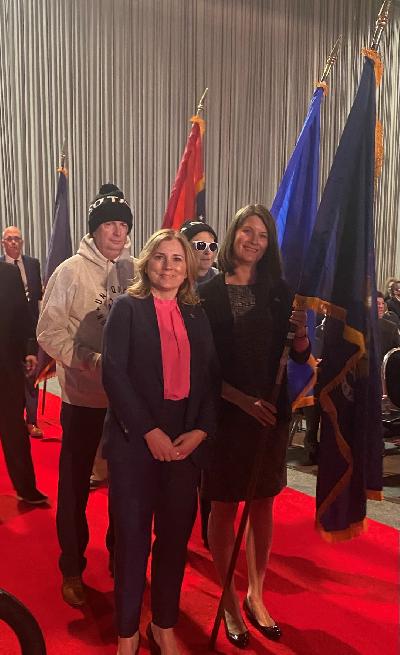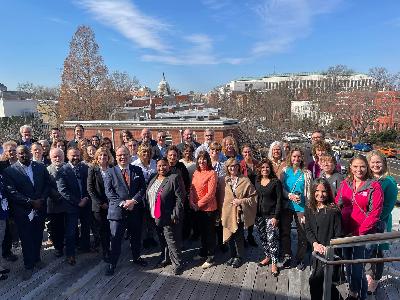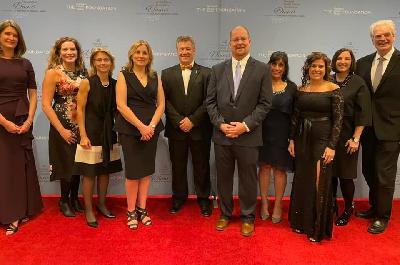 Federal Response to COVID-19
Since the start of the pandemic, Congress has passed and the President has signed into law, a series of bills that have sought to, among other things: stabilize our struggling economy and job market; provide assistance to small businesses and the unemployed; direct funds to COVID testing, vaccine research and distribution efforts; and allocate dollars to schools in hopes of having more children return to in-person learning. For more information on COVID-19 related emergency stimulus legislation, please visit: here.
The American Rescue Plan Act of 2021 was the most recent bill to be signed into law (signed by President Joe Biden on March 11). The law directs approximately $1.9 trillion in funding to various programs to support the rebounding economy and provide aid to individuals and families impacted by the pandemic. Among the bill's big-ticket items, it provides $350 billion in support to state and local governments and sends $1,400 stimulus checks to individuals making less than $75,000 and $2,800 stimulus checks to married couples earning less than $150,000. These individuals and families will also receive $1,400 stimulus checks for each dependent, including college students and dependent seniors. Those individuals earning more than $75,000 but less than $80,000 and married couples earning more than $150,000 but less than $160,000 will be eligible for a reduced stimulus check while those earning more than those amounts will not receive payments.
The law allocates over $50 billion in funding through a variety of programs to help small businesses, including $28.6 billion for restaurants and bars/pubs via the Restaurant Revitalization Fund, $15 billion for targeted Economic Injury Disaster Loan (EIDL) advance payments and an additional $7.25 billion for the PPP. It also expands PPP eligibility to include 501c (3), (4), (6) or (19) organizations that meet certain criteria. PPP loan forgiveness is also expanded to include amounts paid toward premiums on behalf of individuals who qualify for COBRA coverage. This only applies to loan forgiveness applications received after March 10.
The American Rescue Plan Act extends the enhanced federal unemployment insurance payment until September and continues the $300 per week federal benefit put in place by the previous COVID relief bill in late 2020. The Child Tax Credit is also expanded under the from $2,000 to as much as $3,600 for children under five and up to $3,000 for kids ages 6-17. Vaccine research and distribution is set to receive billions of dollars under the bill, while Congress directed approx. $130 billion to schools to help them re-open and provided funds to assist restaurants and live venues struggling due to the pandemic.
In terms of credit union priorities, the legislation establishes a $10 billion housing assistance fund to help Americans make mortgage, utility, and tax payments. This has been an MCUL priority since early in the pandemic. In addition, the bill directs $30 billion in assistance to struggling renters and landlords and it renews the paid and sick leave payroll tax credits in last year's Families First Coronavirus Response Act. It also makes both state and federally chartered credit unions eligible for the credits.
As mentioned previously, state and local governments are set to receive significant support under the law. It's been reported the state of Michigan and local governments in the state are set to receive upwards of $10.3 billion. That amount includes approx. $5.7 billion to account for lost revenues at the state level with another $256 million set aside for capital projects. The remainder of the money will go to local governments through three programs; the first has Michigan counties receiving an estimated $1.9 billion, the second provides approx. $1.8 billion to "metropolitan cities," while the third pool of dollars will go to so called "non-entitlement communities" in the state and they are expected to receive $686 million in funds to be split. The following spreadsheet from the Southeast Michigan Council of Governments (SEMCOG) lists projected dollars to be distributed to all local governments in the state: Michigan State and Local Aid Estimates in American Rescue Plan
MCUL will work with its member credit unions to monitor the financial and overall welfare of the individuals and communities we serve and communicate any concerns to our congressional delegation so we can work together on solutions. This could, for example, include additional funding for the housing assistance fund established under the American Rescue Plan Act should initial funding prove to be inadequate.
Protect the Credit Union Not-for-Profit Tax Status
In 1937, Congress granted credit unions not-for-profit tax status based on our cooperative structure. To this day, members of Congress continue to value and overwhelmingly support maintaining a financial industry comprised of institutions with different structures and missions - not-for profit credit unions and for-profit banks. Credit unions operate as democratically controlled institutions where one member has one vote and where a board of directors is comprised of volunteers who are not paid for their knowledge or service to the institution. Payroll, real estate, and property taxes paid by all credit unions in Michigan and across the country bolster state and local government budgets and are ultimately reflected in our schools, roads and the services available to residents.
With Congress and the Administration unwilling to address rising federal deficits/debt, members of Congress could, over time, become more receptive to making substantial changes to our nation's tax code. This could include proposals to curb the credit union tax status in some fashion or end it all together as a means of raising revenue. To date, Congress has appropriated over $5 trillion in response to COVID-19, approximately five times the amount it appropriates annually for all discretionary programs. While necessary, the COVID-19 response has some looking toward the future when Congress may ultimately need to increase existing taxes, find new sources of revenue by imposing new taxes, making cuts to programs or a combination of these actions. Make no doubt, anti-credit union groups will point to the credit union tax status as a way to raise tax revenues and advocate for changes to our not-for-profit status.
MCUL and CUNA will oppose any attempt to make changes to the credit union not-for-profit tax status.
Protecting Consumers
As not-for-profit cooperatives, credit unions treat their members as if they own the credit union, because they do. Credit unions support common-sense regulation of the industry that minimizes redundancies, eliminates unnecessary burdens and recognizes the unique structure of credit unions among financial institutions. By taking a few critical steps to modernize the Consumer Financial Protection Bureau (CFPB), Congress can help credit unions improve the financial well being of millions of consumers. CUNA and MCUL are recommend the following steps be taken to modernize the CFPB:
Establish a multi-members leadership commission to oversee the CFPB. When regulations change due to new administrations, credit unions are forced to shift resources away from consumer to catch up. A diverse commission would create a strong, stable and consistent environment for financial institutions and consumers.
The Bureau should tailor policies to fit credit unions unique model. Policies that apply to cooperative, not-for-profit credit unions should be informed by the NCUA and separate from those meant to rein in abusive Wall Street actors.
The Bureau should maintain and expand accommodations for small service providers. By providing compliance flexibility, such as reduced remittance requirements and expanded HMDA relief, smaller credit unions can expand services to members.
At the end of the day, consumers lose when credit unions are treated like Wall Street banks.
Data Privacy and Security Reform
The personal financial information of tens of millions of American consumers has been compromised by one or more breaches in recent history. Many Americans have had their information compromised multiple times in the last year. Retailers accepting electronic payments do not face the same strict data security standards that financial institutions are subject to under the Gramm Leach Bliley Act (GLBA).
In late 2020, Sen. Roger Wicker (R-MS), then Chairman of the Senate Commerce Committee, introduced the Setting an American Framework to Ensure Data Access, Transparency and Accountability (SAFE DATA) Act, S. 4626. The bill sought to establish a national data security and data privacy standard that protects all Americans while reducing compliance burdens that occur because of the many standards across the states. While the bill did not pass last year, we are hopeful it or similar legislation will be introduced early in the 117th Congress and serve as the foundation for a meaningful data privacy and security bill that Congress will pass and the President will sign into law.
MCUL, working with CUNA, continue to educate members of the delegation and advocate for comprehensive data privacy and security reform to help protect consumers payment and other personal information. Retailers who choose to store sensitive personal information pertaining to their customers should be required to protect this information at the same level as financial institutions. MCUL and CUNA remain committed to supporting data security and privacy legislation that:
Covers all businesses, institutions and organizations that collect, use, or share personal data,
Preempts inconsistent state laws,
Includes data breach disclosure and consumer notification provisions,
Provides mechanisms to address the harms that result from privacy violations and security violations, including data breaches.
Federal Credit Union Act Update
Michigan's member-owned credit unions compete in a rapidly changing industry. As consolidation continues to increase the average size of banks and credit unions and technology is advancing and playing a greater role in our work, updating the Federal Credit on Act (FCUA) is necessary to ensure federally chartered credit unions have the powers and flexibility necessary to be competitive and continue serving their members. In 2016, the Michigan Legislature enacted a comprehensive six-bill legislative package to update the Michigan Credit Union Act, providing much-needed regulatory relief and expanded powers.
MCUL and CUNA support recently introduced legislation, S.762, to eliminate the restriction on federal credit union loan maturity. Additionally, as a result of the ongoing COVID-19 crisis, Rep. Brad Sherman (D-CA-30) introduced CUNA/MCUL supported legislation, H.R. 6550, the Access to Credit for Small Businesses Impacted by the COVID-19 Crisis Act. The bill would exempt credit union loans related to the pandemic from the MBL for a period of three years.
Working with CUNA, MCUL continues to identify key areas of the Act that need to be revised and will work with Congress to pass legislation that modernizes it.
MCUL believes an update should, among other things:
Grant credit unions greater authority to invest in CUSOs
Expand the NCUA board from three to five members
Provide credit unions additional authority regarding administrative actions, such as determining their fiscal year, scheduling board meetings and removing abusive members.
The federal Controlled Substance Act (CSA) classifies cannabis as a Schedule 1 drug — the same category as heroin and methamphetamine. While illegal at the federal level, 47 states and the District of Columbia have passed laws and adopted policies allowing for some cultivation, sale, distribution, and possession of cannabis — all of which are contrary to the federal CSA. Michigan is among those states who have legalized both medicinal and recreational cannabis use, which has created a tremendous need for financial institutions willing and able to service cannabis-related businesses. MCUL takes no position on the broader issue of cannabis legalization.
During the 116th Congress the SAFE Banking Act was introduced in both the U.S. Senate and U.S. House of Representatives. The bill sought to provide credit unions and other financial institutions with a safe harbor under which they could safely serve their members' related needs in states where cannabis usage is legal. While the legislation was passed by the House with significant bi-partisan support but it unfortunately stalled in the Senate and was therefore not signed into law.
We were pleased to see the SAFE Banking Act re-introduced in both the Senate (S. 910) and House (H.R. 1996) in March of 2021 and to have Senator Gary Peters sign on as an original co-sponsor to the Senate bill. In the House, Michigan Reps. Dingell, Kildee, Lawrence, Levin, Meijer, Slotkin, Stevens, Tlaib, Upton have signed on as co-sponsors. On April 19th, the U.S. House passed H.R. 1996 with wide bi-partisan support by a vote of 321-101. Ten members of the Michigan delegation voted for passage- each of nine listed previously who co-sponsored the bill, plus Rep. Jack Bergman. We thank each of them for their support! The bill now heads to the U.S. Senate where it remains uncertain whether leadership will allow the bill to be debated and receive a floor vote. MCUL will continue to educate the remaining members of the delegation on the importance of the legislation and urge delegation members to co-sponsor the bill and work with leadership on passage.
Bank Secrecy Act/Anti-Money Laundering (BSA/AML) Relief
The Bank Secrecy Act (BSA) requires financial institutions to keep records and file reports with the government that involve certain financial transactions initiated by a member/customer. Typically, financial institutions use Currency Transaction Reports (CTR's) and Suspicious Activity Reports (SAR's) to comply with the requirements of the BSA. CTR's must be filed when a transaction exceeds $10,000 while a SAR must be filed when:
There is suspected insider abuse
Transactions total $5,000 or more when a suspect can be identified
Transactions total $25,000 or more regardless of potential suspect
Transactions total $5,000 or more that involve potential money laundering or BSA violations
Passed into law in 1970, the thresholds outlined above have never been adjusted to account for inflation. According to the U.S. Bureau of Labor Statistics CPI Inflation Calculator, $5,000 in 1970 has the same buying power as $33,914 in May of 2020.
MCUL supports legislative efforts to reform BSA/AML laws, including H.R. 2040 that would increase the CTR threshold from $10,000 to $30,000 and adjust the SAR threshold from $5,000 to $10,000 for most financial institutions. We will also pursue legislation that addresses redundancies, unnecessary burdens and improves efficiencies under the BSA.
Modernize Federal E-Commerce Laws
The difficulties with electronic property transactions and electronic and remote notarization experienced during the pandemic have intensified the need for Congress to update our nation's E-commerce laws. Credit unions are calling on Congress to pass legislation that authorizes and establishes minimum standards for electronic and remote notarizations as called for in the 116th Congress by S.3544 and H.R.6364, the Securing and Enabling Commerce Using Remove and Electronic Notarization Act of 2020. The bills were introduced but did not pass. We are also urging Congress to update the 20-year old E-Sign Act to simplify how consumers signal their acceptance of electronic transactions.
Voluntary Overdraft Protection
We are anticipating the re-introduction of legislation in the 117th Congress that would negatively impact the overdraft products offered by financial institutions. The Stop Overdraft Profiteering Act of 2019 (S. 1595) was introduced by Senator Cory Booker (D-NJ) and the Overdraft Protection Act of 2019 (H.R. 4254) was introduced by Representative Carolyn Maloney (D-NY-12) in the 116th Congress. The bills would, among other things, prohibit financial institutions from imposing overdraft fees on debt card or ATM transactions and limit the number of overdraft fees for check-based transactions.
MCUL will oppose attempts that would hinder a credit union's ability to provide these services to its members. We will continue to educate members of the delegation of the importance of voluntary overdraft protection for millions of consumers and the efforts by credit unions on a daily basis to help reduce the cost of overdraft fees and better understand their finances.
Government Sponsored Enterprise (GSE) Reform
Credit unions are a critical partner for those consumers eyeing home ownership. As the Administration and Congress look at making reforms to our nation's housing finance system, credit unions urge our leaders to ensure any changes take into consideration the following principles to ensure credit unions can continue to empower low and moderate income homeowners who may not be able to secure affordable, fair and sustainable mortgages from other creditors:
Equal access to a secondary market for lenders of all sizes must be maintained as it provides consumers with more options.
A reasonable and orderly transition out of conservatorship for Fannie and Freddie with capital requirement that are substantial enough to allow for them to operate safely and soundly during an economic downturn, yet reasonable enough to allow the housing finance system to reduce costs through innovation and competition.
Preserve what works, such as cost-effective and member-oriented credit union mortgage servicing options, consumer education and home purchase counseling and reasonable conforming loan limits that adequately consider local real-estate costs in higher cost areas.
---
Below is a list of current federal regulatory issues.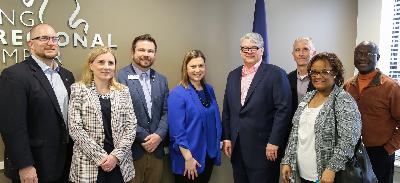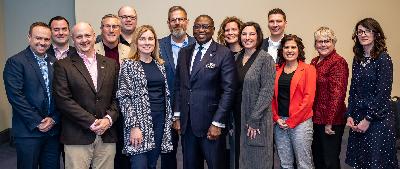 Community Reinvestment Act (CRA)
In March of 2018, the Government Accountability Office (GAO) released a report containing recommendations for updating the CRA and suggested that it may be time to expand the CRA to non-bank institutions, including credit unions. The National Community Reinvestment Coalition (NCRC) and American Bankers Association have also been calling on Congress to subject credit unions to the CRA should it update the Act.
Enacted in the late 1970's, the CRA was passed because banks were found to be engaged in discriminatory lending practices. Credit unions are not-for-profit member-owned financial institutions, owned by members they service. Credit unions' consumer-focused model is self-regulating and is why credit unions are not covered by the Act.
MCUL will educate members of the delegation of the work credit unions are doing to serve low-income, minority communities and the negative impacts of including credit unions in the CRA.
S. 2155 Regulatory Implementation
Go to main navigation