CU Link Cooperative Advertising
COMING SOON!
In the next couple weeks, CU Link Michigan will launch the Open Your Eyes to a Credit Union® cooperative advertising campaign to maximize credit union awareness beyond geographical borders.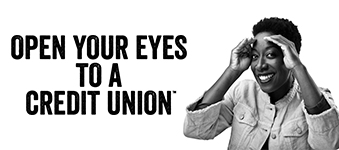 As one of the largest cooperative ad campaigns in the country, CU Link has served to expand and magnify the impact of the CU Difference to consumers. Paired with collaborative, consumer-based research studies, we're collaborating with CUNA to drive a Michigan-specific messaging that focuses on our brand promises. These messaging enhancements include:
Convenience: nearly 1,700 fee free ATMs, shared branches
Mobile technology: Convenient access to money, bill pay, remote deposit capture, best-in-class mobile apps, etc.
Service diversity and sophistication: Credit unions are full service, offering: mortgages, small business loans, deposits, etc.
Do more, save more: Helping credit unions with the share of wallet message
Community commitment: We've been here through the toughest economic times, we're part of the community, etc.
Our goal is to move beyond awareness and focus on the reasons why people join and partner with credit unions. Working in tandem with our partners, DP+ and CUBEtv studios, we are slated to hit media markets on Monday, April 22. Watch for more information on how we plan to market CU Link's messaging.
2019 Participant and Full Fair Share Rewards
CU Link participants will enjoy the added value of expanded campaign assets and collateral. This includes: social media posts, digital ads, billboards, inbranch display/digital posters and more. Additionally, full share credit unions will continue to receive 50% of their contributions toward integration with the campaign through our business partners.
We are currently working with CUNA to finalize all of the integration pieces for credit unions with the new campaign. Furthermore, MCUL matches all contributions dollar for dollar, maximizing state-wide media buys.
Michigan proudly holds a 100% credit union participation rate in its cooperative advertising initiative. CU Link helps credit unions do the following:
Expand share of wallet for current members
Strengthen awareness through year-round media buys
Share campaign assets to expand creative and advertising funds
All integration guidelines and assets will be available in a few days. Are you ready to get started? Contact us at culink@mcul.org or your League Rep to learn more.
*Subject to minimium spend by tactic.
Go to main navigation