Last Chance to Register for Hike the Hill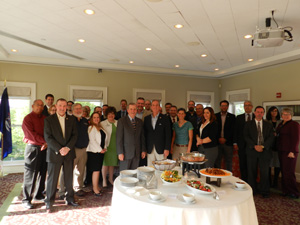 Credit union leaders, lawmakers and MCUL staff at the 2014 Hike the Hill.
This year's Hike the Hill, in Washington D.C., is next week from Sept. 29-30. That means this is your last chance to register to join the grassroots campaign.
Topics for discussion with lawmakers and regulators will include data breach liability, regulatory burden, member business lending and the credit union tax exemption.
Participants will have the opportunity to meet with their congressional member's office, in addition to participating in meetings with NCUA Chairman Debbie Matz and Elizabeth Ellis from the CFPB. We will also have the House Financial Services Committee Staff Director Kristen Mork joining us at the Credit Union House.
There is no registration fee and scholarships through the "Michele Myrick Scholarship Fund" are still available for credit union leaders and volunteers interested in attending this year's fly-in.
The Michele Myrick Scholarship Application Form can be accessed here. To assist with your planning, scholarship applications are reviewed quickly and responses are typically sent to applicants within a few days. Visit the Hike the Hill site for additional information on the agenda, hotel, and registration. For questions about this year's event, contact Political Affairs Coordinator Melissa Osborn.
Go to main navigation