Adams: NCUA Should Scrap RBC Proposal and Start Over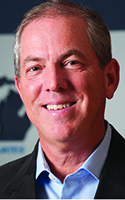 Adams
On the day comments are due to the NCUA on its Risk Based Capital proposal, MCUL & Affiliates CEO David Adams said in an op-ed piece in CU Journal that the regulator should make rules designed to help credit unions compete rather than shackling them with burdensome requirements that could force credit unions to adopt overly conservative business models.
Adams called on NCUA to throw the proposal out and start over.
In the article, Adams praised NCUA Chair Debbie Matz for great leadership during a difficult period, including her handling of the corporate credit union crisis and during a severe national economic recession. But he added that the RBC proposal threatens "the industry that she — and so many others — work hard to cherish and protect."
"This would be a regulator-driven diminishment or destruction of our industry," Adams said.
Bank RBC guidelines do not attempt to regulate interest rate risk on mortgage loans or concentration risk on small business loans in as "Draconian" a manner as the NCUA's proposal does, he said.
"Such concepts quash incentives to expand capital for affordable mortgage loans and essential small business loans, both of which are already under pressure in numerous ways and badly needed in our struggling economy," Adams said.
All three members of the NCUA board – including Matz – have said that they expect the final rule to be significantly different than the proposal.
The NCUA has been flooded with comment letters on the proposal. One of those letters was signed by 324 members of the U.S. House of Representatives, including 11 of 14 House members from Michigan.
Go to main navigation