Michigan Delegation to CUNA GAC Caps Successful Visit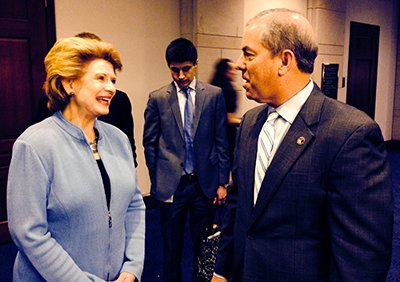 Sen. Debbie Stabenow, MCUL & Affiliates federal legislator of the year, talks to CEO David Adams.
The Michigan delegation had a successful visit to Washington for the CUNA GAC, with quite a bit of discussion about the regulatory burden on credit unions, CFPB and difficulties caused by the rapid pace of change in the credit union industry. 

Washington was filled with credit union supporters as Michigan Congressman Dave Camp released his draft proposal for revamping the federal tax code. Camp, R-Midland, is chairman of the House Ways and Means Committee, the House's chief tax-writing committee. The proposal maintains the federal credit union income tax exemption.
The Michigan delegation met with either an aide or the member of Congress from every district in the state as well as Sen. Debbie Stabenow and an aide for Sen. Carl Levin while in Washington.
Stabenow was named federal legislator of the year and received the award at a league luncheon on Tuesday.
"Sen. Stabenow accepted the federal legislator of the year award and energized the delegation with her comments highlighting her long association with credit unions," said Ken Ross, executive vice president and COO of MCUL & Affiliates.
Ryan Tarrant, constituent relations representative for Camp, was named MCUL federal legislative staffer of the year. Camp Legislative Director Adam Pradko, accepted the award on Tarrant's behalf.
More than 120 credit union advocates from Michigan talked about a variety of topics including maintaining the 30-year fixed mortgage product, government guarantee with GSE reform, regulatory relief and retailer data breaches.
CU leaders shared specific examples of how recent regulatory reforms from the CFPB have caused many credit unions to pull back lending with certain mortgage products that don't conform to new qualified mortgage requirements and also how recent changes to Reg E have forced many CUs to stop offering international remittance transfers. Credit union leaders also discussed how increasing the cap on member business lending would help credit unions do more for their communities.
Hillary Chambers, chief of staff for Sander Levin, asked the CU leaders to share specific data on the negative impact certain CFPB regulations are having on lending, once available in the coming few months.
On Tuesday, MCUL & Affiliates CEO David Adams introduced Levin at the GAC General Assembly.
"When the need was there, there was one door that was open," Levin said, "the door of the local credit union. In Washington, D.C., we need to ensure that door is never closed."
Click here to see more Michigan pictures from the CUNA GAC on the MCUL & Affiliates Facebook page.
Go to main navigation