Print
Collector's Training School Slated for May 7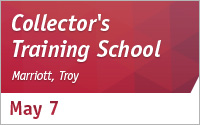 A full-day Collector's Training School workshop is planned for May 7 at the Troy Marriott. The session will look at the nuts and bolts of an effective collections program while focusing on maximizing collections efficiency and the role of member service.
Offered in cooperation with the Collection Consortium, the event will be facilitated by attorney, author, consultant and nationally recognized speaker David Reed. The workshop will cover what makes members pay, creating foolproof collections processes and action-steps for special collections such as skips, repos and real estate.
The training school costs $169 per person for those registered by April 23 and $199 after this date. Online registration is now available and more details can be found here.
Submissions to Monitor may be
emailed
. Bryan Laviolette is the editor of Monitor. Contact him
by email
or call (800) 262-6285, ext. 233. The newsletter of the Michigan Credit Union League is published Monday mornings or Tuesday mornings when Monday is a holiday. There is no Monitor the week after Christmas and the week after the Annual Convention and Exposition. The MCUL reserves the right to edit submissions for clarity and space.