Fonte to Address Shifting Payment Landscape at AC&E in June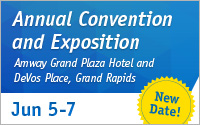 The Amway Grand Plaza Hotel and DeVos Place in Grand Rapids will provide the backdrop for the MCUL & Affiliates 2014 Annual Convention and Exposition, taking place June 5-7. With more than 250 attendees are already registered. This year's event will shine a spotlight from several different angles on the topic of payments.
Erin Fonte, attorney and graduate of Stanford Law School is now confirmed to be at the event to discuss "The Shifting Payment Landscape."
"Starting in July of 2012, federal regulators, including the Federal Reserve Board, FDIC and the Consumer Financial Protection Bureau began stating publicly that they consider mobile just another channel for conducting payment and banking activities, and that all existing laws will apply," Fonte said.
Fonte said that the U.S. Treasury Department is working with 24 agencies that could regulate some aspect of mobile payments to determine if there are any regulatory gaps that exist and how credit unions should be prepared for some interesting news or rulemaking that could come out of that activity.
"As credit unions continue to evolve and introduce new products and services, such as mobile banking, there will always be regulatory considerations and implications," Fonte said.
Negotiated savings rates have been arranged for AC&E participants at both the Amway Grand Plaza Hotel, as well as at the adjacent JW Marriott, for those who book accommodations by May 13.
Rooms may be reserved by calling (800) 253-3590 and mentioning the "MCUL & Affiliates Annual Convention and Exposition" or online by clicking here. Additional information about hotel rates, dates and cancellation fees may be found here.
Online registration for the AC&E is also now available and additional information about the event agenda and registration details may be found here.

Go to main navigation