Print
Compliance Conference Hotel Deadline and Early Registration Savings Date Approach Jan. 31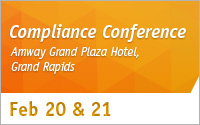 The early registration savings date is approaching on Jan. 31 for the newly expanded MCUL & Affiliates Compliance Conference, Feb. 20-21 at the Amway Grand Plaza Hotel in Grand Rapids. Those interested in attending are encouraged to also secure hotel rooms by Jan. 31. The hotel is holding rooms at a negotiated rate until then.
Based on popular request, the format of the conference has been expanded to 1½ days to cover topics including, "Social Media Compliance," "CFPB Mortgage Rules," "Policy Session," "State Law Update" and "Compliance Roundtable."
Full conference registration is only $239 per person and one-day registration is just $169 per person for those registered by Jan. 31. To learn more and to register, click here.
Submissions to Monitor may be
emailed
. Bryan Laviolette is the editor of Monitor. Contact him
by email
or call (800) 262-6285, ext. 233. The newsletter of the Michigan Credit Union League is published Monday mornings or Tuesday mornings when Monday is a holiday. There is no Monitor the week after Christmas and the week after the Annual Convention and Exposition. The MCUL reserves the right to edit submissions for clarity and space.