AC&E Online Registration Now Open for New June Date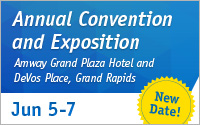 Dozens of Michigan credit union professionals were quick to begin registering for the MCUL & Affiliates 2014 Annual Convention and Exposition when online registration opened last week and nearly 100 attendees signed up in the following days for the popular event, which for the first time is being held in June. The event is June 5-7 at the Amway Grand Plaza Hotel and DeVos Place in Grand Rapids.
This year, the event takes place on dates concurrent with the West Michigan "Festival of the Arts" in downtown Grand Rapids, adding fun and excitement for participants and their guests to enjoy free concerts, performances and activities at the outdoor festival, which also features great food and a variety of vendors.
The AC&E will include a keynote presentation on payments, a welcome reception at the Grand Rapids Public Museum, an exciting marketplace exhibition with entertainment, dozens of timely breakout sessions, the return of the INSIDE Credit Union Compliance workshop and the live and silent auctions to support Children's Miracle Network: Credit Unions for Kids.
Hotel rooms may also be reserved now and accommodations are being held at the Amway Grand Plaza Hotel and adjacent JW Marriott. Find hotel information here. A variety of attendance options allow for one-, two- and three-day participation and credit unions who register five full-conference attendees receive a reduced registration rate for the sixth or more full-conference registrant. For complete information and online registration, click here.

Go to main navigation