Print
In Brief…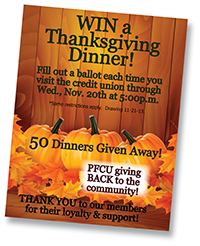 ... Portland FCU gave away 50 turkey dinners in November to members. Members were asked to fill out a registration slip each time they went into a PFCU office during the promotion period. Names were randomly drawn at each of the credit union's six branch locations. "This was a great way to give back to our members and the communities we serve," said Linda Carroll, vice president of marketing. "Now, more than ever, is the time to thank our membership for their loyalty and support. Several of the winners 'paid it forward' and donated their dinner to families that were more in need of a good meal this time of year. It really humbles a person to see how extremely giving our members are."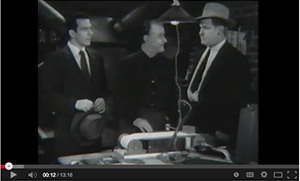 The Jackson Chapter offered a Veteran's Day All-Staff Leadership Training session featuring "The King's X," a 1950s credit union movie. Click above to watch it.

... "Learning more about the things you do each day can be fun," said Suzi Young educational chair for the Jackson Chapter. "I believe training should be worthwhile and entertaining." The newly formed Jackson Education Committee proved just that on Veteran's Day at the 2013 All-Staff Leadership Training Event. The committee created a full-day session that was informative and enjoyable. "Our goals were to offer good content, involve people, infuse laughter, prizes and silliness and combine it with quality presenters, and a touch of philosophy," Young said. The team, including Andrea Britten, Kristen Freund, Dianne Hitt, Heather Harback, Arlene Robinson, Heather Harris and Young, also wanted to show how "volunteering at the chapter level was easy and rewarding." Donations were necessary to keep costs low, provide quality speakers and give great prizes. Young mentored the team to turn the challenge into an opportunity. For some on the Education Committee, it was their first time involved in committee or credit union service, cold calling or fundraising. "People were incredibly supportive," Hitt said. "The attendees appreciated the quality door prizes, which we randomly awarded throughout the day." More than 125 credit union people participated including tellers, CEOs and chapter leaders. The group learned about credit union history in a short video. "The Kings X," a black-and-white movie from CUNA and CUNA Mutual Group from 1958 staring Hugh Beaumont, was well received. The classic footage supported a lively afternoon discussion on "thrift, character and the history of the cooperative movement," Harris said. "I enjoy learning about history," shared David Duron, a teller from Michigan Community CU. "Although I am fairly new to the CU world, I am (still) interested in our history," Duron said. "The old video made me realize we are experiencing these same ideals and financial hardships today, and seeing it with our members." Harris said that more than two-thirds of the group said they learned something new about CUs after watching film. In true cooperative spirit, the education committee donated the proceeds from the Veteran's Day event to the Jackson Chapter. "We hope the money can be used to conduct more educational sessions," Robinson said.

Card-Skimming Bill Testimony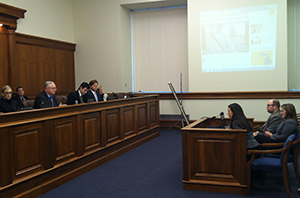 Steve Dedene, Credit Union ONE's compliance and regulatory affairs manager, testified on behalf of MCUL & Affiliates in front of the state House Criminal Justice Committee, left, regarding a package of five bills related to ATM card skimming last week. "Ensuring that members are protected against fraudulent activity such as skimming is a top priority for Credit Union ONE," said Dedene. "These bills provide those protections." Card skimming generates significant losses for affected credit unions. Skimming devices are readily available for sale, and take a minimal amount of time to install on ATMs, gas pumps, etc. Within a minute or two, criminals are able to install a card reading device and PIN-capturing device (generally in the form of a camera or PIN pad overlay) onto an ATM or gas pump, and begin collecting the personal information of unsuspecting consumers. Currently, there are conflicting penalty provisions in state law that need to be resolved and jurisdictional adjustments are needed to facilitate easier prosecution. Testifying with Dedene were Michelle Mattson from Genisys CU and Ashley Ligon from MCUL & Affiliates. More recently, the trio testified in front of the Senate Judiciary Committee, right. The bills are currently awaiting a vote on the Senate floor.

… United FCU donated $2,500 to the Lakeshore Excellence Foundation for its Reach Higher Technology Campaign. The initiative, which has raised more than $143,000 to date, will equip 74 classrooms in the Lakeshore School District with much-needed new technology. Each class will receive a document camera, drop down screen, digital projector, and laptop for the teacher. Equipment, plus installation, costs $2,500 per room. With its donation, UFCU has been able to fully equip an entire classroom with technology upgrades. "Dire economic factors continue to impact our schools across the state, but there is a sense of urgency here in the Lakeshore district," LEF Chair JC Anderson said. Of the 610 school districts in Michigan, Lakeshore Public Schools receive dramatically less in state funding per student. "Ninety-two percent of the districts in Michigan receive more funding than we do," Anderson said. "Because funding is so limited, the LEF is a necessary resource to provide kids with the education they deserve." UFCU has been an ardent supporter of the foundation for several years. Annually, it participates in its Scramble for Students golf outing, another major fundraiser for LEF. "As a credit union, it's up to us to make sure our schools stay strong, innovative, and competitive," UFCU President/CEO Gary Easterling said. "LEF gives us the opportunity to make an impact while supporting greater learning for everyone."

… Honor CU was the presenting sponsor for Y-Country WYTZ 97.5 FM's Kids Christmas Carnival 2013 at the Lake Michigan College Mendel Center on Nov. 16. The credit union offered free tickets in advance. Honor had a booth at the carnival, featuring a snow cone machine and holiday-themed giveaways. The Honor Credit Union Entertainment Stage featured local children's choirs ringing in the holiday season with song. In addition to enjoying the numerous hands-on activities at exhibitor booths and enjoying a delicious snow cone from Honor's booth, all guests of the Kids Carnival were entered into a drawing to win tickets on the Zoo Lights Bus to Chicago's Lincoln Park Zoo in a contest sponsored by the radio station.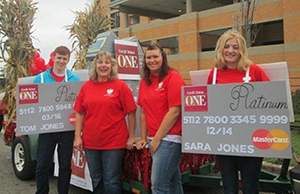 Scott Williams, left, Sharon Blower, Cassandra Goodwin and Carly Wormmeester help get the Credit Union ONE float ready for the Pulaski Days Parade.
… As part of the heritage of its city, the Grand Rapids branch of Credit Union ONE recently participated in the 2013 Pulaski Days Parade. Pulaski Days has been celebrated in Grand Rapids for more than 40 years. Event coordinators said this year's festival had record attendance. Credit union staff volunteered their time and constructed a float for the parade. The Credit Union ONE float had a giant ATM spitting out money, while dancing debit cards ran alongside the float and handed out candy and goodie bags to onlookers. "Credit Union ONE enjoys participating in annual community events like the Pulaski Days Parade," said Sharon Blower, Credit Union ONE Grand Rapids branch manager. "Our staff really gets into putting together the float, and our members love seeing their credit union in the parade. Our thanks go out to one of our members, Summit Landscape for providing the truck, trailer and driver for our float; we couldn't have done it without them."


… Kellogg Community FCU employees donated 318 pounds of food to the Food Bank of South Central Michigan located in Battle Creek. The Food Bank of South Central Michigan's coverage area overlaps KCFCU's field of membership area, and includes Barry, Branch, Calhoun, Kalamazoo, and St. Joseph Counties. The donations were part of KCFCU's employee Team Enrichment Day. Wendy Ballast, chief human resource officer for KCFCU arranged the donation. "Our all-staff annual training event has been dedicated as a food collection day for the Food Bank for eight years now," Ballast said. "It's a great way for our staff to give back to the community and support a worthy organization. We feel strongly about helping our friends and neighbors in need, and this is one way we can lend a hand."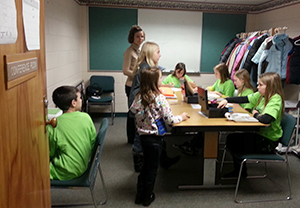 Wendy Slusarski, TLC youth financial education coordinator, helps students from student-run credit union at Clinton Elementary School in Clinton.
… TLC Community CU student-run branches opened starting Nov. 4 in 15 county schools. The student branches accept and process deposits weekly. A total of 1,189 local students are active members of TLC and have set savings goals for the school year. TLC encourages the students to make wise spending choices and create a plan for their future. Students who participate find it is a great way to learn about financial responsibility and have fun at the same time. "As a new member to the (youth financial literacy) team, I am so excited to see the level of student enthusiasm towards their individual roles and the program as a whole," Wendy Slusarski, TLC youth financial education coordinator said. "I think the most enlightening observation I have made this first week is that when our last student member is served for the day and we have completed our balancing tasks, the student workers are actually saddened that their 'shift' has ended. It is not only the workers that are excited, the kids really enjoy making their credit union deposits. They want to know when TLC will be back again."

… Employees at Dow Chemical Employees' CU raised nearly $400 for United Way of Midland County through its most recent "Jeans Day" fundraiser and bake sale. For each of the one-day fundraisers, which occur throughout the year, participating DCECU employees donate a minimum of $5, which entitles them to wear blue jeans, tennis shoes and logo attire to work that day. In addition to the donations collected, staff members also organize internal bake sales to support their fundraising efforts. In addition to its charitable fundraising, the credit union also recently raised $365 in a separate Jeans Day fundraiser to support the MCUL Legislative Action Fund (MCULLAF), which provides opportunities for individuals to contribute to candidates for federal office who support the principles of the credit union industry. With the completion of these final 2013 Jeans Day fundraisers, DCECU staff members have raised $3,759 for charitable and community organizations for the year. Beyond the regular Jeans Day fundraisers, staff members recently organized the third annual "Pink Out" silent auction and bake sale, which raised nearly $1,700 for Midland Cancer Services. Staff members also have "adopted" the boulevard area in front of the credit union building and will do a fall cleanup of the area as a team service project. "Our employees work hard to serve not only our credit union members, but the entire community," DCECU President/CEO Dennis Hanson said. "I'm proud to be part of an organization and a team that takes time to look beyond ourselves to make a difference in the lives of others."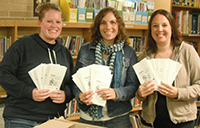 From left are MCCU Financial Education Coordinator Andrea Tucker and Hughes PCO Co-Presidents Holly Irish and Tiffany Hazen.
… Marshall Community CU donated 2,000 popcorn bags to Hughes Elementary School by for the school's parent council organization Friday popcorn sales. "We appreciate the recent donation from MCCU," PCO Co-President, Holly Irish said. "Our popcorn Fridays are one of the PCO's largest fundraisers, so the bags were greatly appreciated and will be put to use immediately." MCCU operates a student-run credit union branch at Hughes, which is part of their CU In School program. "With so much that the schools do for us and for our CU In School program, it's the least we can do for them," MCCU Financial Education Coordinator Andrea Tucker said.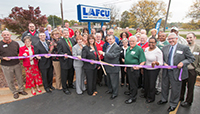 LAFCU recently celebrated its merger with Centel CU in Shiawassee County.
… LAFCU, which merged with Centel CU in Shiawassee County earlier this year, celebrated the joining of the two credit unions with an open house at the Owosso branch. LAFCU offered refreshments and giveaways, and talked with elected officials and business leaders about how the credit union will be involved in the community. There was also a formal ribbon cutting with the Shiawassee Regional Chamber of Commerce Ambassadors. LAFCU's community involvement will include: a $2,500 scholarship in spring 2014 for high school seniors to attend Baker College; financial literacy programs for local school districts; Women Helping Educate Every Lady (WHEEL™) community college scholarship program, which helps women who want to enhance their education to enter or re-enter the workforce, and involvement in Rotary and local chambers of commerce. "We are very excited to have joined forces with LAFCU," said Angie Ruzinsky, assistant vice president of LAFCU's Owosso and Corunna locations. "Our members will now have access to a wider variety of services for their personal and business needs. "LAFCU is a strong organization with a great reputation. We're confident the synergy between our groups will benefit our members." Ruzinsky served as CEO of Centel. Centel's members voted in March to join LAFCU. The agreement was finalized in April. "Both credit unions share the goal of providing valuable financial products and extraordinary member service, and we both play active roles in improving the communities we serve," LAFCU CEO Robin Frucci said. "We welcome Centel members to the LAFCU family." The Shiawassee County expansion increases LAFCU's membership to more than 55,000 members and more than $563 million in assets.

Submissions to Monitor may be
emailed
. Bryan Laviolette is the editor of Monitor. Contact him
by email
or call (800) 262-6285, ext. 233. The newsletter of the Michigan Credit Union League is published Monday mornings or Tuesday mornings when Monday is a holiday. There is no Monitor the week after Christmas and the week after the Annual Convention and Exposition. The MCUL reserves the right to edit submissions for clarity and space.