In Brief…


MI Youth Extravaganza Four West (YE4W) participants join in a cooperative "youthify" group shot after the 2013 workshop.
... The Moon Chapter has realized long-standing success offering educational sessions for staff and volunteers. So when Moon Chapter Chairman John Rupert, CEO of Muskegon Co-op CU, heard about the Michigan Youth Extravaganza event he said, "bring it west and we will attend." Attend they did. Every credit union in the Moon Chapter sent a participant to the youth-focused event, held in mid-August just before school started. Nearly 60 staff and volunteers from 38 credit unions supported the MI Youth Extravaganza Four West. Of those attending, 97% rated the experience "above average to outstanding" and 100% of the participants surveyed said they "will attend again if given the opportunity." The MI Youth Extravaganza team includes volunteers passionate about financial literacy and the CU Networks' National Youth Involvement Board. The goal for the first YE event four years ago was to "offer a hands-on, youth experience with national-caliber speakers also serving as participant mentors," said YE team member Heather H. Harris. "The YE events are a unique networking event combining leadership development, youth education and marketing, and a big dose of financial fun!" The YE team includes creators Harris and Suzi Young, lending officer at Jackson Community CU. Josh Fortuna of Rockford Community CU, Jeremy Cybulski of Co-op Services CU, Ashley Buchholz of Wildfire CU, Brenda Scramlin of COPOCO Community CU and Moon education committee member Sheryl Hogle make up the Michigan YE Team. "The YE events continue to be a successful experience," said Hogle, who presented Fun Financial Workshops. "They provide a fresh perspective to those who wish to enhance their youth programs." Sheryl added that the "YE feedback has been positive, and the chapter support from both the MOON and Mid-Michigan chapters have been impressive." The chapters benefit from quality, low-cost education for staff and the program's design enables the ability to return the proceeds to support future initiatives. One YE4W attendees said: "I got re-energized about teaching kids about money management and met others in the CU world as passionate about the topic as I am, thank you!" The YE4West highlight was a team of six impressive teens making up HarborLight CU's "Youth Advisory Board" and SRCU workers. The Muskegon teens openly shared their needs, wants and dreams, and gave a glimpse into the lives of young adults. For information on fun classroom presentations, free resources, youth programs or on holding a "Youth Extravaganza" event for your chapter or state, contact Harris or Young at TheCreditUnionGeeks@gmail.com, or any YE Team member.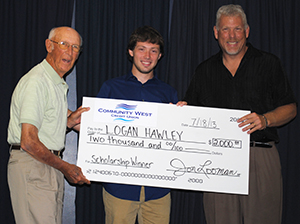 Logan Hawley, center, receives a check for the Vern Hyde Scholarship from Vern Hyde, left, a former CWCU board member and the scholarship namesake, and Jon Looman, Community West CU CEO/President, at the scholarship recognition picnic.
... Community West CU recently awarded scholarships to two high school seniors who started college this fall. This is the sixth year that CWCU has awarded recent high school seniors or current college students with the Vern Hyde Scholarship for demonstrating leadership and volunteerism in the community. This year, the $2,000 winner was Logan Hawley and Madison Scheper was the $500 runner-up winner. Hawley has been volunteering since he was 13 by helping his dad maintain the local baseball fields, in addition to being a mentor for younger students at his school and tutoring students. He will pursue a degree in environmental science at Mount Vernon Nazarene University in Ohio. Madison Scheper will study architecture at Miami University in Ohio. She was involved in her high school's field hockey and lacrosse teams, as well as National Honors Society. Outside of school, Scheper also helped at a therapeutic riding facility. "Every year our Vern Hyde Scholarship committee, made up of Steelcase Retiree Club members, selects outstanding students to receive this scholarship," Community West CEO/President Jon Looman said. "This year we received many quality applications and are proud of the community involvement and accomplishments of all of our young adult members. We wish the best to Logan, Madison and all the students who applied, as they continue their education."

… For the first time, Community West CU has awarded $3,500 in scholarships to local teachers. During the previous school year, eight CWCU employees taught Junior Achievement in elementary classrooms and know how appreciative teachers are of community members volunteering their time for students. The idea for the teacher scholarship was to assist teachers as they prepare for the upcoming school year after seeing first hand that many teachers use their own resources for items in their classrooms. "As a community credit union, it is our job to make sure that the next generation understands basic money concepts. That way we can ensure that when they're adults, they're ready for different financial challenges that may come their way," Community West Marketing Director Jillian Gajtka said. "Through the teacher scholarship, we wanted to help equip local teachers with the tools they need to make their classrooms a stable learning environment for all subjects, including financial education." Part of the Teacher Scholarship application process was to write a one-page essay on the importance of financial education in schools. The applications received were from all grade levels and all applicants made note of the importance of financial education, no matter the age. CWCU selected seven winners who each won $500 Visa gift cards for their classrooms. The following teachers received scholarships: Emily Deckinga (Ada Christian School), Laura Keith (Lakeshore Elementary School), Jennie Kortman (Grand Rapids Christian Elementary School), Amy Kuppler (Caledonia High School), Melissa Lambers (New Groningen Elementary School), Tammy Norman (Vanguard Charter Academy) and Stephanie Stephenson (East Kentwood High School). Community West will continue to provide classroom presentations and teach Junior Achievement for the upcoming school year. Those interested in having a speaker at a local school should contact Community West's marketing department at marketing@communitywestcu.org.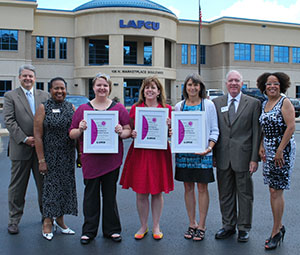 From left are LAFCU representatives Pat Spyke and Sharon Gillison, scholarship winners Samantha Carne, Rebecca Toodzio, and Rhonda Abood, and Lansing Community College representative Dan McKean and LAFCU representative Kelli A. Ellsworth-Etchison.
… LAFCU awarded its first WHEEL scholarships to Rebecca Toodzio of Eaton Rapids, Rhonda Abood of Lansing, and Samantha Carne of Okemos at its main branch in west Lansing. The Women Helping Educate Every Lady – WHEEL – scholarship program was launched this year to help women who want to enhance their education to enter or re-enter the workforce. The mid-Michigan credit union awarded three $1,000 scholarships to women who will attend Lansing Community College during fall semester 2013. "It's amazing that our first three winners are each in a very different stage of her life, yet they all will benefit by advancing their education at this time," said Kelli A. Ellsworth-Etchison, vice president of community and business development of LAFCU. "Ongoing education and training is becoming necessary in order to keep pace with the changing demand and advances in the marketplace. We're excited to help these women achieve their educational goals. They are role models." Rebecca Toodzio is returning to LCC this fall to work on a massage therapy certificate. She earned a medical assistant certificate in 1999. Through her work as a medical assistant for the past 15 years, she has learned that she enjoys helping older people and has seen the benefits of massage for hospice and arthritis patients. She and her husband, Nick, live in Eaton Rapids with their two daughters, aged 16 and 18. "Winning this award means that someone else believes in me and believes that I can do this," Toodzio said. Rhonda Abood of Lansing wants to hone her marketing, communication and planning skills through completion of an associate degree in hotel and food service management, with the goal of becoming a certified meeting planner. "I've plotted a course to advance in event planning, something I love and something others have urged me to do," Abood said. She currently works for St. Vincent Catholic Charities as outreach and events coordinator and believes that the LCC curriculum will boost her skills to help advance her career. Samantha Carne is working toward a bachelor's degree in information technology. She earned an associate degree in general studies at LCC recently and plans to take advantage of LCC's 3+1 transfer option to ultimately receive the bachelor's degree from Franklin University in Columbus, Ohio. Carne is currently a front-end Web developer for a small consulting company in Lansing. She says she could continue to work without an advanced degree because technology moves so fast; IT education sometimes has difficulty keeping up with it. "However, we live in a credential society," Carne said. "Education, degrees and certifications matter. I also like the feeling of accomplishment based on hard work and determination." Ellsworth-Etchison explained why the program targets adult women: "It's challenging for adults to return to school because they typically do not have financial support from their parents. "Education is important for professional and personal success of the individual but also for the success of mid-Michigan. The success of our community is important to LAFCU." Winners were determined by a one-page essay about the applicant's career choice, why she wants to pursue it now and her motivation for returning to school. Entries were judged on content and accuracy.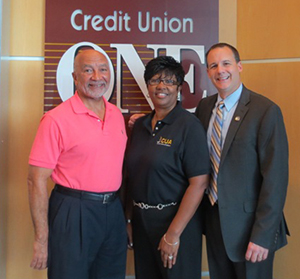 Credit Union ONE President/CEO Gary Moody, right, hosted a visit by members of the African-American CU Coalition by AACUC Vice Chair Bert Hash and AACUC Chair Sheilah Montgomery.
… Recently, Credit Union ONE had the opportunity to host the African-American CU Coalition for a tour of its headquarters and a presentation of the history of the credit union in conjunction with the Coalition's 15th annual conference held in Detroit. The conference is hosted in a different part of the country each year and a credit union is selected for a site visit by the AACUC. Credit Union ONE was chosen from the Detroit area this year. "I would like to thank Gary Moody, president/CEO, for giving AACUC members the opportunity to tour Credit Union ONE," AACUC Chairwoman Sheilah Montgomery said. Visiting the various departments and learning about the innovative and state-of-the-art operations at Credit Union ONE was inspiring. The employees were absolutely outstanding. Their enthusiasm and pride in providing outstanding service to the members is what credit unions are all about. Kudos to management and staff." In support of the AACUC and the work that they do to increase the strength of the global credit union movement, Credit Union ONE also sponsored one of the keynote speakers for the conference this year. "It was a great honor to be selected for the group tour, Moody said. "I thoroughly enjoyed the spirit of sharing and cooperation felt by everyone that attended. Meetings like this prove the strength and vitality of credit unions, and reaffirm the movement's commitment to serving all consumers everywhere."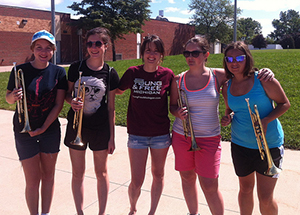 Vicky Goldwater, Young & Free spokester at Michigan First CU, stands with members of the Fraser High School marching band.
… Fraser High School's marching band received a refreshing surprise when Vicky Goldwater, spokester for Young & Free Michigan, an initiative aimed at spreading a positive financial message to young adults ages 17-25 in metro Detroit, distributed more than 230 bottles of water to its band members to cap off Michigan First CU's "Random Acts of Kindness" campaign. Goldwater spearheaded the local community service project, in which she devoted the month of July to give back to the community through creative activities that required little investment, yet positively impacted metro Detroit area residents. "In my role as spokester, I am always trying to find unique and exciting ways to promote a positive financial message, while at the same time giving back to the community," Goldwater said. "Launching a random acts of kindness program offered that perfect balance, and it was incredibly inspiring to be a part of a larger community project. In 25 days, I was able to touch the lives of hundreds of metro Detroiters, proving that a little time and money can go a long way." Goldwater's 25 acts included donating to the Ronald McDonald Charity jar at a local business, dropping off breakfast to a Southfield fire station, supplying hygiene products to the homeless in Detroit, volunteering at St. Leo's soup kitchen, cleaning up a section of a beach in Manistee, sending thank you cards to soldiers overseas and donating blood.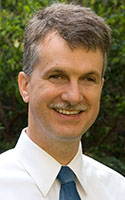 Hudson
… MSUFCU announced the appointment of Michael Hudson to serve as chairman of MSUFCU's Supervisory Committee. Hudson has been with Michigan State University since January of 1992, and has held a variety of positions including serving as an adjunct faculty member for the College of Education. He currently serves as the director of the MSU Resource Center for Persons with Disabilities, where he has played a prominent role in advancing MSU's leadership in assistive technology and maximizing opportunities for people with disabilities. His intensive focus on ability, skill development and organizational efficiency aids in his creativity and commitment to higher education and community partnerships despite his own blindness. Serving on MSUFCU's Supervisory Committee since May 2011, Hudson's first contributions included helping the credit union become one of the first in the nation to implement accessible ATM machines that offered voice output for persons with visual impairment and print-related disabilities. Hudson holds a master's degree in administration of student personnel services from Western Michigan University and a bachelor's degree in psychology with a minor in substance abuse counseling and crisis intervention from Lake Superior State University. "Mr. Hudson has displayed a great commitment to MSU through his years of service and innovative contributions to the Resource Center for Persons with Disabilities," MSUFCU President and CEO Patrick McPharlin said. "I appreciate his willingness to serve as chairman of our Supervisory Committee and look forward to his continued contributions to the credit union." Hudson replaces Bill Beekman who was recently appointed to MSUFCU's Board of Directors. The MSUFCU Supervisory Committee oversees and makes recommendations to support and maintain the credit union's compliance with federal regulations.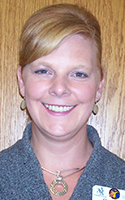 Hall
… Alpena Alcona Area CU has promoted Stacey Hall to Tiger Branch supervisor. She works directly with Alcona School students and supervises the Tiger Branch tellers. Hall is responsible for educating the Alcona students about various credit union topics including budgeting, establishing credit, and the importance of saving money. Hall grew up in Germany, moved to Alpena in 1992, and graduated from Alpena High School in 1996. She has been employed with AAACU for the past nine years and has spent the last four years as a loan interviewer at AAACU's Lincoln Branch. "Stacey was selected because of her experience and her commitment to educate our youth members. She will play a key role in helping develop our youth programs in the coming years," commented Lorna Dellar, Lincoln branch manager.
Go to main navigation