Print
New IRA Curriculum Focuses on More Advanced Topics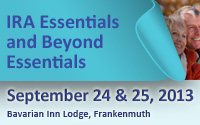 Staff from Ascensus will facilitate an MCUL & Affiliates IRA training session on Sept. 24-25 at the Bavarian Inn Lodge in Frankenmuth and a newly updated curriculum will be covered for the advanced portion of the workshop. "Essentials" and "Beyond Essentials" IRA topics will be reviewed over the course of the two-day event and attendees may choose to attend either or both days. While the first day assumes no previous IRA background, the second day covers advanced IRA topics and the agenda has been recently revised.
Topics for the Beyond Essentials training on Sept. 25 will include amendment issues, resolving contribution issues, advanced portability, required minimum distribution and beneficiary issues, as well as explaining withholding notice, election requirements, penalties and more. Registration is just $199 per person, per day and seats are filling very fast. To learn more and to register, click here.
Submissions to Monitor may be
emailed
. Bryan Laviolette is the editor of Monitor. Contact him
by email
or call (800) 262-6285, ext. 233. The newsletter of the Michigan Credit Union League is published Monday mornings or Tuesday mornings when Monday is a holiday. There is no Monitor the week after Christmas and the week after the Annual Convention and Exposition. The MCUL reserves the right to edit submissions for clarity and space.