Print
In Brief…
| | |
| --- | --- |
| | |
| Clockwise from upper left, eServices Specialist Allison DeVries and Dan McLean, vice president commercial lending, have their pictures taken with the Calder Cup and Nora Swart, senior vice president of human resources, stands with Joe Banach, coordinator of marketing services for the American Hockey League. | |
… Lake Michigan CU recently celebrated with the Grand Rapids Griffins as the American Hockey League team won the Calder Cup for the first time this year. "The Griffins and LMCU have been longtime partners," said Matt Cook, LMCU's director of community relations. "We provide a corporate sponsorship and do a number of different things with them that include school visits and LMCU's annual Night with the Griffins for members/staff." As a way to say thanks, the Griffins brought the trophy to the credit union's corporate offices and one of its branches. Cook said bringing the cup around for media appearances and for visits to sponsors helps the league sell playoff tickets.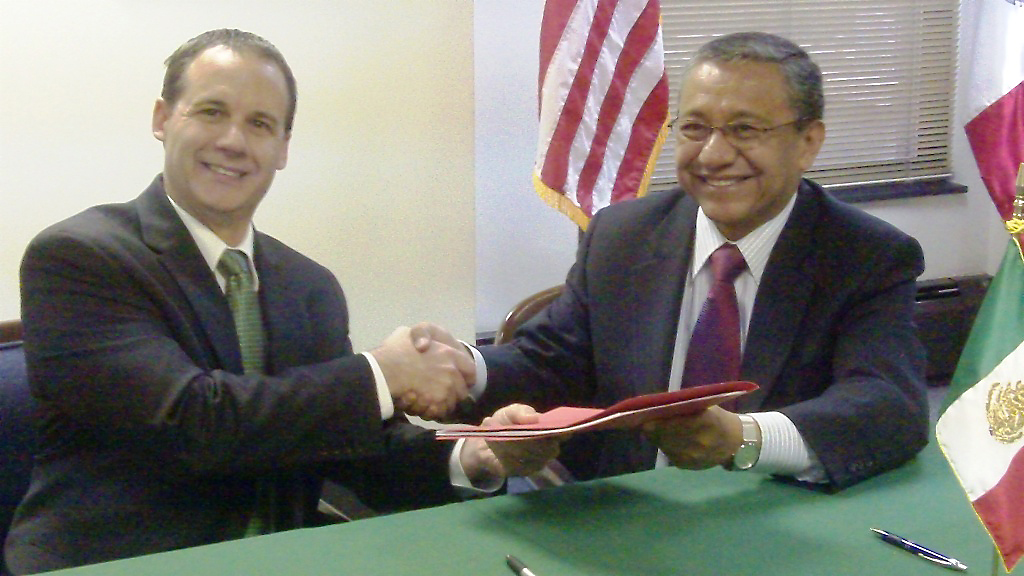 Credit Union ONE President/CEO Gary Moody, left, signs an agreement with Consul of Mexico Vicente Sanchez-Ventura to provide financial education events in the local Hispanic community.
... Credit Union ONE and the Consulate of Mexico in Detroit have partnered to provide educational events related to financial literacy in the local Hispanic community. The partnership is part of an on-going collaboration between the credit union and Mexican government to benefit the community. "Mexican citizens who have strong family ties to the community regularly move between the U.S. and Mexico to follow work," said Gary Moody, president and CEO of Credit Union ONE. "It is critical they understand how to establish account relationships to make deposits, save, budget and in many cases move funds to relatives in Mexico. This is about providing resources to this community so that they can make safe, secure, and low cost financial choices that will best serve their needs. Credit Union ONE is among a small group of credit unions that accept the Matricula Consular de Mexico card as identification to open an account. Credit Union ONE hopes acceptance of this card, and its deeper partnership with the Mexican government to provide financial literacy will open up more opportunities for members in the Southwest Detroit area.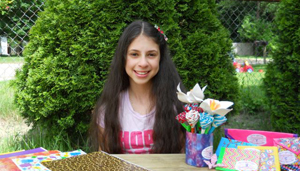 Sasha Popkov shows a variety of duct tape crafts including wallets, purses, and flower pens.
… "If you don't have a good reason to start a business, you won't succeed," said Sasha Popkov, an eighth-grader at Livonia's Clarenceville Middle School and a supervisor in the school's student credit union sponsored by Co-op Services CU. She is also an experienced entrepreneur who knows what she's talking about. Popkov revealed her reason for starting a business came after her mom Galina Popkov was diagnosed with breast cancer more than three years ago. "At least four people close to me have been touched by cancer," Popkov said. "My motivation was to raise money for cancer research." Popkov and her mom decided to combine their skills to create "Crafts 4 the Cure," a business that makes and sells duct tape crafts including wallets, purses, flowers, glass cases, I.D. holders and many other items. It's clear that the younger Popkov is in charge. She has recruited her mom, grandmother and two brothers for production operations. She knows firsthand that running a business is not easy and stressed that it takes a lot of effort and dedication. "It's fun and cool – a lot of people my age don't think about this," said Popkov, adding that volunteering at the student credit union helped her sort out her money better and become more organized. With the exception of purchasing materials for the business, all proceeds are donated to the American Cancer Society. Popkov currently serves on the committee team and survivorship recruitment committee for the Relay for Life of Ann Arbor. "It's very rewarding to watch someone like Sasha use her amazing drive and volunteer experience at our student credit union to start a business at such a young age," said Jeremy Cybulski, Co-op Services' youth and community development coordinator. Popkov reported that Co-op Services was the only financial institution that would let her open a business checking account for her company. In the fall, Popkov will attend Clarenceville High School and plans to continue her business "forever" or perhaps until she achieves her next goal which is to become an attorney. To inquire about how to purchase Popkov's duct tape crafts, email Crafts4Cure@earthlink.net.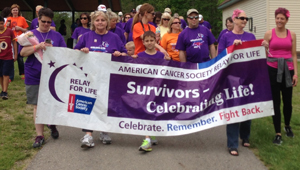 Walkers lead the way for the Relay for Life in Shelby Twp.
… Genisys CU recently sponsored American Cancer Society Relay for Life walks in Shelby Twp. and Waterford Twp. Relay for Life, a team-based, family-friendly fundraising event, is a fun and empowering way to make a difference in the fight against cancer. Relay happens in more than 6,200 communities worldwide and is a way for people to celebrate cancer survivors, remember loved ones lost, and fight back against the disease in their own communities. The Shelby relay at River Bends Park had more than 700 walkers present and was a great success. The lives of more than 150 cancer survivors were honored at the walk and more than $153,000 was raised to support the society's mission of saving lives. The Waterford relay at Pierce Middle School had more than 430 participants and 33 teams celebrating the lives of 125 cancer survivors. $160,000 was raised at the Waterford relay, surpassing American Cancer Society's goal. "Through their hard work in preparing for the event, and by spending hours walking for the cause, Shelby Twp. and Waterford Twp. residents certainly did their part to help the American Cancer Society create a world with less cancer and more birthdays," President/CEO Jackie Buchanan said. "It's critical that we come together during Relay to help the American Cancer Society achieve its mission of saving lives by helping people stay well, by helping people get well, by finding cures and by fighting back."

… MSUFCU announced its continued support of Michigan State University programs and students with its $50,000 donation to the MSUFCU Internship Opportunity Award Program, administered through the MSU Career Services Network. This program provides MSU students participating in unpaid internships during the summer of 2013 with monetary awards of up to $1,000. The MSUFCU Internship Opportunity Award Program was established by MSUFCU and the MSU Career Services Network in early 2012. All MSU undergraduate students in good standing who are accepted to or actively pursuing high-quality, unpaid, career-related internships in the fields of nonprofit organizations, government, media, the arts, or public relations and advertising are eligible to apply for this award program. The credit union announced the following 2013 award recipients: Claire Babala, Elizabeth Ballentine, Alex Barhorst, Anagha Bharadwaj, Alexandra Burnett, Briana Coleman, Mariah Collins, Mary Cox, Nate Garrett, Casmera Gendernalik, Dylan Luna, Matt Maillard, Cy' Reshia McKether, Michael Melvin, Miranda Miller, Krista Oldham, Conor Ott, Alexander Parsell, Angelique Rush, Sandy Sanchez, Bre'Anna Simpson, Samantha Stockwell, Christina Strong, Meredith Willey and Faryn Yovich. "We are happy to support MSU students who wish to take advantage of the high-quality internships available to them through the MSUFCU Internship Opportunity Award Program," MSUFCU President and CEO Patrick McPharlin said. These awards allow more students to participate in internships to expand their education in real-world environments, prepare for their future careers, and ultimately achieve their dreams." For more details, click here.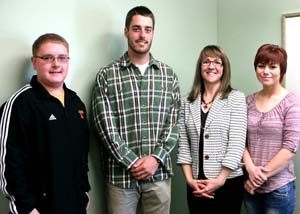 GLFFCU Vice President Maggie Anderson, second from right, stands with scholarship recipients Ian Macfarlane, Ryan Jacques and Courtney Sovey.
… Great Lakes First FCU recently presented $500 scholarships to three students. Students Ian Macfarlane and Courtney Sovey will attend Bay de Noc Community College, while Ryan Jacques will continue his education at the University of Wisconsin Whitewater. GLFFCU offers scholarship opportunities to students who are members of the credit union. Students who are, or will be enrolled as a full-time student at an accredited college, university or trade school are encouraged to apply for a GLFFCU scholarship in late spring.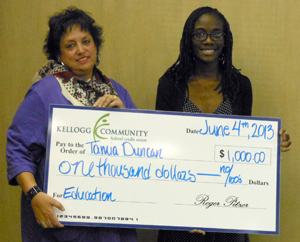 KCFCU Educational Specialist Kristyn Denison presents Tamia Duncan with $1,000 check.
… Kellogg Community FCU presented Tamia Duncan with a special financial award for her outstanding performance in Lakeview's DECA program. DECA prepares emerging leaders and entrepreneurs in marketing, finance, hospitality and management in high schools and colleges around the globe. Duncan placed in the top 10 in the nation for her Financial Literacy Promotion Project. KCFCU was proud to assist Duncan on her project and served as a resource for her. Duncan met with numerous KCFCU employees including CEO Tracy Miller, Senior Marketing Manager Susan Balbaugh and Educational Specialist Kristyn Denison. Duncan and Denison worked closely together at KCFCU's student-run credit union at Lakeview High School where Duncan attended school. After the National DECA competition, KCFCU invited Duncan to present her Financial Literacy Promotion Project to the senior leadership group and marketing team. After the presentation, KCFCU surprised her with a $1,000 special financial award to apply toward her college tuition. "I am proud to have worked with such a dedicated and tenacious young lady," Denison said. "Tamia had a yearning to learn all she could about financial literacy and did an excellent job on her project. We were happy to be able to provide her with this special financial award; she is very deserving of it." Duncan plans to attend the University of Michigan to study business. She is an active volunteer at the Charitable Union, Minges Brook Elementary and the Kiwanis Club.

… United FCU is supporting Red Cross disaster relief and the armed forces through Red Fusion, a fundraising event through the Red Cross of Berrien and Van Buren counties. Red Fusion took place on June 29 at the MTec Building in Benton Harbor. The first of its kind in West Michigan, the event featured original works of art by 25 local artists, along with music, food and entertainment. UFCU was a corporate sponsor and contributed $2,500 to the cause. "Recent natural disasters have touched all of us in some way," UFCU President/CEO Gary Easterling said. "Credit unions are all about assisting people in times of need or hardship. At UFCU, we wanted to show our support by giving to the Red Cross and being part of the event." Funds raised at Red Fusion will be used to help those affected by local disasters like fires, floods, and tornadoes, as well as prepare for upcoming and unknown disasters. Funds will also benefit the Services to the Armed Forces programs through the Red Cross. The artists, selected by a jury of their peers, included professional artists who have exhibited their works throughout the United States. Works of art were displayed and sold by silent auction. Guests also had the opportunity to be part of the creative process and watch the artists onsite as they created their designs. Additional pieces were donated by participating artists and sold to raise funds. "Our volunteers, patrons and business leaders make these events successful," said Breeze Ettl, chapter executive for the American Red Cross of Berrien and Van Buren counties. "We salute all of our artists, ambassadors and corporate donors who made Red Fusion a striking and impactful community gathering." The Red Cross is especially grateful to the approximately 200 guests who attended. Funds raised before and during the event brought in a net of approximately $20,000. "With recent disasters like the Oklahoma tornadoes, and even the flooding we saw here in Michigan, many people are hearing more about the Red Cross and seeing how we help locally, nationally and even globally. Funds raised through Red Fusion will allow us to prepare for, and respond to, disasters like these and support those serving our country through the military," Ettl added.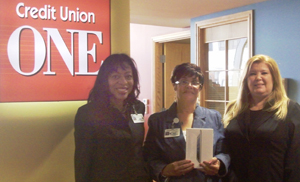 Sandra Dawkins, center, winner of iPad Mini, receives her prize from Dr. Mildred Matlock, left, COO of Detroit Receiving Hospital and Ruth Reed, branch manager of Credit Union ONE's Detroit Receiving Hospital branch.
… Credit Union ONE celebrated Hospital Week at Detroit Medical Center hospitals in May with its annual giveaway. Credit Union ONE was onsite at the various hospital locations thanking hospital staff and giving them the opportunity to enter the drawing for several $50 gift cards and the grand prize, an iPad Mini. Employees also had the option of entering the drawing online. More than 1,000 entries were received for the drawing, and employee Sandra Dawkins of Detroit Receiving Hospital was selected for the Grand Prize. Dawkins, a long-time hospital employee and Credit Union ONE member, said she has been a Credit Union ONE member for close to 30 years and felt this was almost like a retirement gift, as she is getting ready to retire from the hospital in a short time. "We are proud to have been affiliated with the DMC Hospitals over the past 30 years and to be able to honor and celebrate the work that these individuals do on a daily basis for the good of our communities," Credit Union ONE President/CEO Gary Moody said.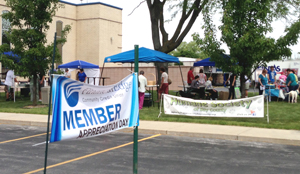 FinancialEdge Community CU had a beautiful afternoon to celebrate Member Appreciation Day.
… Members of FinancialEdge Community CU enjoyed a beautiful afternoon for Member Appreciation Day. Local organizations including The Bay City Fire Department, the Bay City and Michigan State Police departments came with their patrol cars and a fire truck for guests to explore and ask questions. Members also got to enjoy ice cream from Mama Lupo's, chair massages provided by All About You Therapeutic Massage, sidewalk chalk art by Bellsmith Graphic Design and free hot dogs provided by That Guy's BBQ. Cintas Shred Services also had free shred services and Showcase Mitsubishi was there with a selection of cars for members to browse. Kids enjoyed playing games, drawing with sidewalk chalk and receiving giveaways throughout the day. AAA of Bay City sponsored a bike raffle for kids to enter to win. Kirby the Kangaroo also came for a special visit to interact with guests of all ages. The Humane Society of Bay County was also present with cats and dogs available for adoption. Three lucky dogs and one kitten found new places to call home.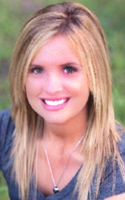 McLaren

... The CUs of Alpena recently presented Sarah McLaren of Alpena with a $500 scholarship to Alpena Community College. This endowed scholarship fund was established with the ACC Foundation in 2011. McLaren is a 2013 graduate of Alpena High School where she excelled academically. In addition, she was actively involved in numerous extracurricular activities including varsity golf, varsity softball and Youth Volunteer Corp. McLaren also volunteered at the Huron Humane Society, NEMSCA's food packaging program and First Congregational Church Youth Group. To qualify for the scholarship, applicants must be a member of one of the sponsoring credit unions, have a minimum 2.5 grade point average, and pursue a degree in the field of business or finance at ACC. McLaren will start at ACC in the fall where she plans to earn an associate's degree in business administration and transfer to a four-year university to complete a bachelor's degree. The CUs of Alpena are comprised of Alpena Alcona Area CU, Alpena Community CU, Besser CU, HPC CU and Thunder Bay Area CU.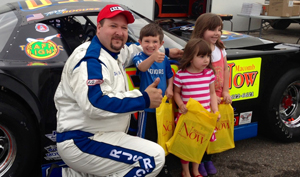 Children pose in front of NASCAR race car at the Tons O' Trucks and Wheeled Wonders event.
… Genisys CU recently sponsored the 14th annual Macomb Township Parks and Recreation Department's Tons O' Trucks and Wheeled Wonders event at St. John's Hospital. Genisys also provided the ever-popular face painting booth and Piston's Hoops Truck. "We're proud to have once again held our annual Tons O' Trucks and Wheeled Wonders event, which was generously sponsored by Genisys CU and hosted by St. John's Hospital," said Michelle Duda, Macomb Township Parks and Recreation Department program leader. "We aim to have a wide variety of vehicles and other kid-friendly entertainment – a little something special for everyone." The event provided the community the opportunity to get "up close and personal" with more than 65 unique and exciting vehicles that they may otherwise only see from afar. This year, the Schramm Family Farms provided three larger-than-life-pieces of John Deere farm equipment, which seemed to be the biggest attraction at the event. Lee Industrial Contracting and the Macomb County Sheriff's Office were also present at the event and had vehicles on display throughout the afternoon. More than 5,000 attended the festivities this year with over 200 volunteers on hand to help make this year's event a success. Shuttle buses were constantly on the move, carting busloads of visitors to and from overflow parking. "This event attracts a large number of people to the Macomb community and is a great way for families to spend the day together," President/CEO Jackie Buchanan said.


It Pays to Be a Gerber FCU Member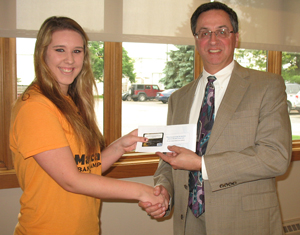 Gerber FCU conducted its annual Facebook friend drawing in early June. John Buckley, President/CEO, awarded a $50 Visa Gift Card to credit union member and Facebook friend Breanna Hillard after her name was randomly selected.

Employees at Dow Chemical Employees' CU raised more than $850 for charitable organizations through its most recent "Jeans Day" fundraisers. For each of the one-day fundraisers, which occur throughout the year, participating DCECU employees donate a minimum of $5, which entitles them to wear blue jeans, tennis shoes and logoed attire to work that day. In May, staff members raised $488 for Ronald McDonald House Charities® of the Huron Valley, which operates the Ronald McDonald Houses of Ann Arbor. The houses provide temporary, inexpensive housing for families of children being treated at Ann Arbor hospitals. In June, staff members raised $504 for CAN Council Great Lakes Bay Region, which provides programs and services focused on stopping child abuse and neglect through prevention, intervention and advocacy. "DCECU regularly promotes fundraisers to help support nonprofit organizations that assist members of our community in the Great Lakes Bay Region," DCECU President/CEO Dennis Hanson said. "We emphasize the importance of giving back year-round."

… BauerFinancial recently recognized Great Lakes First FCU in Escanaba as a 5-Star Superior credit union. BauerFinancial, the nation's leading credit union and bank rating and research firm, has been analyzing and rating the nation's financial institutions since 1983 and Great Lakes First Federal Credit Union has earned this highest 5-Star rating for the most recent 35 quarters. This indicates that Great Lakes First is one of the strongest credit unions in the nation. "There has been much discussion lately about the need for financial institutions to boost their capital levels," said Karen L. Dorway, president of the rating firm. "That doesn't worry Great Lakes First Federal Credit Union; its capital ratios are already well above regulatory requirements. Under the direction of Mr. Wayne R. Johnson, president, Great Lakes First Federal Credit Union excels in areas of asset quality, profitability and much more."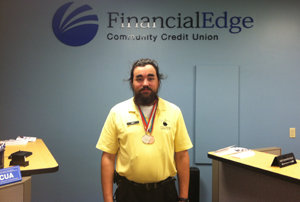 Matt Roth, a teller at FinancialEdge Community CU's branch inside the Cat's Meow branch in Essexville took bronze and silver medals at Special Olympics Summer Games.
… The 2013 Summer Special Olympics had a great turnout. This year there were more than 6,000 athletes, coaches, spectators and volunteers from the 83 counties in Michigan. The Special Olympics offer adults and children with intellectual disabilities with training and competition in Olympic-style sports. Congratulations go to Matt Roth, employee at FinancialEdge Community CU, on his accomplishments at the Summer Games. Matt is a teller at the Do-$ave Branch located inside the Cat's Meow in Essexville. The Do-$ave branch teaches money handling and personal finance skills to adult trainees with disabilities and other barriers to employment in a unique partnership with Do-All Inc. Matt competed in singles bowling and received the bronze medal, scoring a 125 and 114. He also received the silver medal in doubles for bowling. FinancialEdge Community CU is proud of Matt's achievements and success in this year's Summer Games.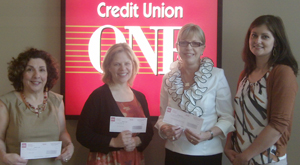 Hometown Charity Giveaway Winners Janice Morgan, left, of Judson Center, Cindy Cohen of Kids Kicking Cancer and Maggie Varney of Wigs 4 Kids receive their $500 donation checks from Andrea Pertile, manager of social media for Credit Union ONE
… What does "Hometown" mean to you? In the world of credit unions, it means community. To Credit Union ONE, it means being dedicated to giving back to the communities in which it serves, which is why three local Michigan charities each received a $500 donation. In honor of its 75th Anniversary, Credit Union ONE had a Hometown Charity Giveaway on its Facebook page, where fans voted between May 8 and June 7 for one of 10 local charities and also a write-in option, with the top vote getters being declared the winners. Those new to the Facebook site were able to "like" Credit Union ONE to become eligible to vote, and even those who are not Facebook users were able to vote at a Credit Union ONE branch. Besides all the votes received for the 10 charities, there were more than 60 write-in entries which will be considered for upcoming contests next year. Congratulations to the Judson Center of Royal Oak, Wigs 4 Kids Wellness Center and Salon in St. Clair Shores and Kids Kicking Cancer of Detroit for winning the contest. "Over the past 75 years Credit Union ONE has built our business around giving back to our community and we know that these deserving agencies will put these funds to very good use," said Andrea Pertile, Credit Union ONE manager of social media.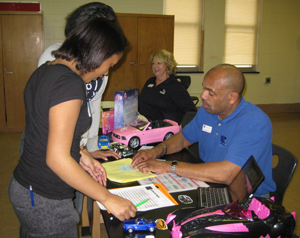 CASE CU CEO Jeffrey Benson participates in a Mad City Money simulation at Sexton High School.
… CASE CU has been awarded a Biz Kid$ Education Grant to fund a financial education and entrepreneurship camp. The camp will utilize Biz Kid$ episodes and lesson plans that will empower youth from low income families with the tools necessary to capitalize on their business ideas while at the same time, filling a void in personal financial education not offered in their school curriculum. Biz Kid$ is an educational television show that teaches financial education and entrepreneurship to a preteen audience. It uses sketch comedy and young actors to explain basic economic concepts. The Biz Kid$ motto is "Where kids teach kids about money and business." Each episode is accompanied by a free curriculum with lesson plans, activities and reviews for the topics covered. As part of CASE's program, students will learn the basics of money and what being an entrepreneur really means. They will then work as a group to develop a complete business plan including a marketing plan and income and expense plans. The program will conclude with the groups presenting their business plans in front of local business leaders including CASE CEO Jeffrey Benson. They will receive feedback on their presentations and a certificate of completion for participating in the financial education camp. The first camp is expected to be held in 2014. "We are so grateful for this grant," Benson said. "If we can educate our youth on financial concepts, and then empower them by giving them the skills they need to capitalize on their innate entrepreneurial spirit, then we are working toward building solutions to the economic problems that plague our area."

… American 1 CU raised money for the S.A.F.E. Place of Battle Creek in June. S.A.F.E. Place serves as a haven for families who have been a victim of domestic violence, providing them with a place for shelter, advocates, and counseling. American 1's home office and North Street branches in Jackson offered fresh popped popcorn and bottled water for a donation for members, every Friday. The last Friday of the month, the credit union made caramel corn, which was a huge success and the members continue to ask for it each week. A total of $361 was raised for S.A.F.E. Place of Battle Creek. Click here for more information about S.A.F.E. Place.
| | |
| --- | --- |
| Flynn-Schut | Shimnoski |
… Kelli Flynn-Schut has been promoted to manager of MSUFCU's East Lansing Branch and Denya Shimnoski is now manager of MSUFCU's Sparrow Branch. "Both individuals have taken advantage of opportunities at the credit union and developed the skills necessary to succeed on a management level," MSUFCU President and CEO Patrick McPharlin said. "Ms. Flynn-Schut and Ms. Shimnoski will bring advanced levels of experience and leadership to their new positions." Flynn-Schut has worked at MSUFCU since July 2012. Before being hired directly into the credit union's Management Development Program, she was a manager at Barnes & Noble Booksellers Inc. She received a bachelor's degree in Management and Organizational Development from Spring Arbor University. Shimnoski has been with MSUFCU since April of 2011, and was previously a mortgage officer and regional account executive at Northpointe Bank before coming to MSUFCU. She received a bachelor's degree in marketing from Michigan State University and a master's of business administration degree from Northwood University. She serves as a board member for Big Brothers Big Sisters, Michigan Capital Region.
Submissions to Monitor may be
emailed
. Bryan Laviolette is the editor of Monitor. Contact him
by email
or call (800) 262-6285, ext. 233. The newsletter of the Michigan Credit Union League is published Monday mornings or Tuesday mornings when Monday is a holiday. There is no Monitor the week after Christmas and the week after the Annual Convention and Exposition. The MCUL reserves the right to edit submissions for clarity and space.