Print
Saginaw CUs Band Together to Benefit Community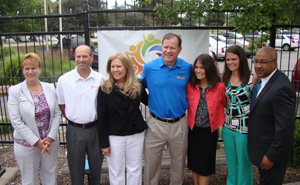 From left are Nancy Parker of Saginaw Children's Zoo, Alan Watson of Catholic FCU, Linda McGee of Wildfire CU, Mike Murphy of Tri To Finish, Bridget Looby, Catholic FCU, Tina Dowe of YMCA Saginaw and Dana Tell of Team One CU.
SAGINAW – The credit unions of Saginaw have teamed up with a goal of enriching the lives of the people in the community.
On Tuesday, leaders from all 16 credit unions with offices in Saginaw announced Impact Saginaw, a collaborative effort to undertake special projects in the community. First up will be the "Triathlon for Kids" on July 27. And on Aug. 17, the group will sponsor CU at the Zoo, a free day for families at the Saginaw Children's Zoo at Celebration Square.
Impact Saginaw is the brainchild of Gerald Hutto, president and CEO of Team One CU. It started with a committee of Saginaw credit union representatives getting together to talk about ways that they could work together to benefit Saginaw.
"We tend to hear more about what's wrong with Saginaw instead of what's right," said Hutto, who is also chairman of the Impact Saginaw Committee. "Because all of the credit unions involved have a strong commitment to this community, we felt it was the right time and place to bring us all together to make a difference."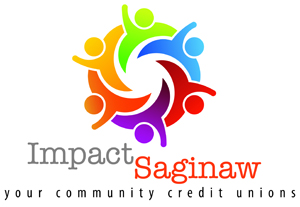 Linda McGee, vice president of membership development for Wildfire CU, welcomed a small crowd of credit union representatives and local dignitaries who gathered at the zoo for the announcement. She said the credit unions recognized that they could do more together than individually.
"We know this community has been through some tough times and in some cases, continues to go through some tough times," McGee said.
While its first projects are event-oriented, McGee said the group may look to more concrete projects of need in the community for future efforts.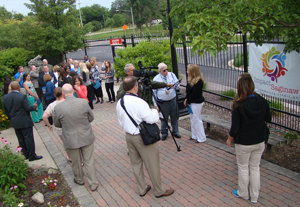 Local television, radio and newspaper reporters interview Linda McGee, vice president of membership development for Wildfire CU and spokeswoman for Impact Saginaw.
The triathlon will be coordinated through the Saginaw YMCA and race management company Tri to Finish. The credit unions will sponsor the event, giving 300 young people the opportunity to take part in the race for free.
The August event coincides with the zoo's back-to-school event. Besides free admission to the zoo, Impact Saginaw will provide free ride tickets to the first 500 children who attend.
Hutto said Impact Saginaw demonstrates the credit union difference.
"The credit union community is different than many competing industries," Hutto said. "We each operate our credit unions to provide our members with the best in financial services, but we are also interested in making our communities a better place to live, work and play.
"We all share a vision and can work together for a better Saginaw."
Impact Saginaw credit unions include Wildfire, Team ONE, Catholic FCU, Wanigas CU, Security CU, Frankenmuth CU, United Financial CU, Saginaw Medical FCU, Family First CU, Generations Family CU, Valley State Employees CU, COPOCO Community CU, Saginaw County Employees CU, First Area CU, Amalgamated CU and Lake Huron CU.
Submissions to Monitor may be
emailed
. Bryan Laviolette is the editor of Monitor. Contact him
by email
or call (800) 262-6285, ext. 233. The newsletter of the Michigan Credit Union League is published Monday mornings or Tuesday mornings when Monday is a holiday. There is no Monitor the week after Christmas and the week after the Annual Convention and Exposition. The MCUL reserves the right to edit submissions for clarity and space.