Print
United Co-hosts Meeting with Upton, Area Banks and CUs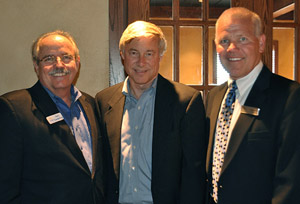 United FCU President/CEO Gary Easterling, left, visits with U.S. Rep. Fred Upton and Edgewater Bank President/CEO Rick Dyer.
United FCU co-hosted an informal gathering featuring U.S. Rep. Fred Upton to discuss legislation and other issues that impact credit unions and banks in Michigan's Congressional District 6. Co-hosting the meeting with United President/CEO Gary Easterling was Edgewater Bank President/CEO Rick Dyer, bringing together competing financial institutions with common issues.

The idea for the joint meeting of credit unions and banks was born when Easterling and Dyer were at a business meeting earlier in the year and thought it would be a good collaboration. As so many issues have broad and deep implications that touch all financial institutions, such as the Dodd-Frank Act and the Patient Protection and Affordable Care Act (Obamacare), they invited Upton to give both groups his insight about the state of these issues and what to expect in the future. Upton then opened up the floor for the majority of the meeting to address attendees' questions.

In addition to the Dodd-Frank Act and Obamacare, discussion issues included the ability to qualify for mortgages, the cost of growth for companies, the 2014 Senate race and tax reform. Upton also updated the group on legislation highlights from the House Financial Services Committee, dissecting the complex legislation and helping them understand how it will specifically affect local businesses.

Besides Easterling, Dyer and Upton, attendees included: Clay McCausland, Upton's 6th District representative; Greg VanWoerkom, Rep. Bill Huizenga's 1st District director; Lynn Kerber, regional president of Chemical Bank in St. Joseph; Scott Adams, internal auditor for Consumers CU in Kalamazoo; Scott Sylvester, COO of Consumers CU in Kalamazoo; Fran Terry, CEO of Country Heritage CU in Buchanan; Linda Irwin, supervisory committee member at Dowagiac Area FCU; Dave Van Strien, CEO of Greater Niles Community FCU; Scott McFarland, CEO of Honor CU in St. Joseph; Don Radde, president of Horizon Bank in Benton Harbor, and Kate Mahan, regulatory/compliance officer for United FCU.

Submissions to Monitor may be
emailed
. Bryan Laviolette is the editor of Monitor. Contact him
by email
or call (800) 262-6285, ext. 233. The newsletter of the Michigan Credit Union League is published Monday mornings or Tuesday mornings when Monday is a holiday. There is no Monitor the week after Christmas and the week after the Annual Convention and Exposition. The MCUL reserves the right to edit submissions for clarity and space.