Print
Flint Chapter Hosts Legislative Breakfast in Burton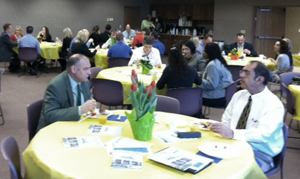 The Flint Chapter hosted a Legislative Breakfast at ELGA CU on April 26.
On April 26, the Flint Chapter hosted a legislative breakfast at ELGA CU's administration building in Burton with local elected officials and staff. More than 50 credit union leaders were on hand to discuss current legislative issues.
Amy Hovey, district chief of staff for U.S. Rep. Dan Kildee, D-Flint, Genesee County Clerk and former state Sen. John Gleason and Tim Sneller from the office of state Rep. Charles Smiley participated in the event and fielded questions after providing legislative updates from their respective offices.
Jordan Kingdon, director of Government Affairs for MCUL & Affiliates, led the issues discussion. Credit union leaders discussed further reforms to Michigan's foreclosure process, amendments recently adopted to the Senate's blight package and legislation to provide the homestead rate of taxation to financial institutions during foreclosure. Chapter legislative breakfasts are a great way to interact with your local elected officials. To schedule a chapter legislative event, contact the MCUL Grassroots Coordinator Ashley Ligon at Ashley.Ligon@mcul.org or (800) 262-6285, ext. 353.
Submissions to Monitor may be
emailed
. Bryan Laviolette is the editor of Monitor. Contact him
by email
or call (800) 262-6285, ext. 233. The newsletter of the Michigan Credit Union League is published Monday mornings or Tuesday mornings when Monday is a holiday. There is no Monitor the week after Christmas and the week after the Annual Convention and Exposition. The MCUL reserves the right to edit submissions for clarity and space.