Print
Credit Unions Shine During Financial Literacy Legislative Challenge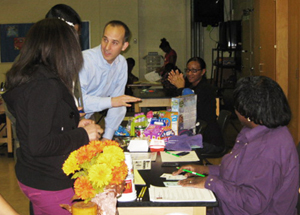 State Rep. Andy Schor assists students at Lansing Sexton High School during a "Reality Fair" conducted by CASE CU.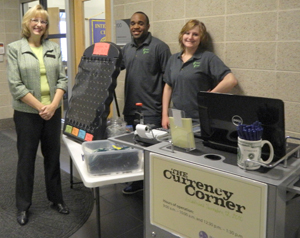 From left are financial management/accounting student Uzell Boyles, state Rep. Colleen LaMonte, D-Montague, and financial management/accounting student Jessica Hosko. Her visit was coordinated by HarborLight CU.

April was Financial Literacy Month, the perfect chance to take a closer look at what Michigan credit unions do all year round to help strengthen the financial skills of the entire state. Learn more about these unique programs including the 10th annual Financial Literacy Legislative Challenge in this CUBE TV Special Report. The video features elementary, middle and high school student credit unions as well as comments from Rep. Peter Pettalia, R-Presque Isle, regarding the importance of youth financial education.
Pettalia was one of 41 lawmakers who signed up to participate in the Financial Literacy Legislative Challenge, coming together with credit unions throughout Michigan for youth financial education events in April. Petallia and Missy Cordes of Alpena Alcona Area CU talked to two senior classes at Alcona High School on April 29 about student loans and using credit cards wisely.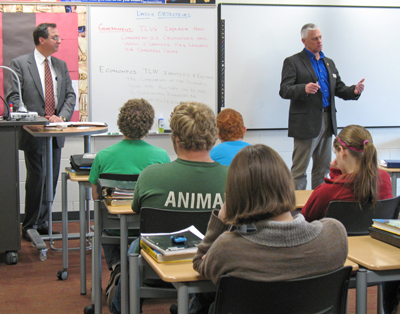 Gerber FCU CEO John Buckley and state Rep. Jon Bumstead, R-Newaygo, discuss money management with students at Fremont High School.
CASE CU teamed with state Rep. Andy Schor, D-Lansing, at J.W. Sexton High School on April 19, where students learned real world money management skills during a "Mad City Money" reality simulation. "We appreciate Representative Schor taking the time out of his schedule to help make an impact with these students," CASE President and CEO Jeffrey S. Benson said. "His dedication and support to the community and the credit union movement are invaluable." While it is often a challenge to coordinate financial education events to fit both the schools' and the legislators' schedules, participating credit unions understand the importance of this cooperative partnership and have worked diligently to schedule and present many events this spring.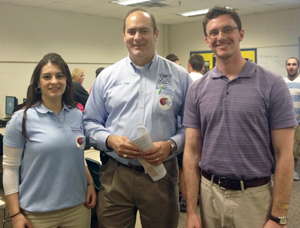 MSGCU Consumer Education Specialist Colleen Godfrey, state Rep. Anthony Forlini, center, and Iroquois Middle School Teacher Michael Lerchenfeldt took part in the Financial Literacy Legislative Challenge at Iroquois Middle School in Macomb Twp.
Also participating was Rep. Anthony Forlini, R-Harrison Twp., who presented at Iroquois Middle School in Macomb Twp. "Financial education is important no matter what the age and I am thankful that the MCUL supports this message," said Shannon McIntosh, consumer education specialist at Michigan Schools and Government CU. "It's a wonderful opportunity to be partnered with a local lawmaker and MSGCU is proud to once again be participating in this great event." Forlini and the credit union spoke with three eighth grade classes on the importance of money management.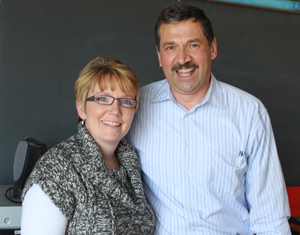 State Rep. Peter Pettalia, R-Presque Isle, and Calcite CU's Jenny Zdybel presented at Rogers City High School for the Financial Literacy Legislative Challenge.
Pettalia also took part in another Financial Literacy Legislative Challenge presentation along with Calcite CU. A classroom of about 20 juniors and seniors at Rogers City High School were taught the basics of financial literacy by Calcite's Jenny Zdybel along with Pettalia. The 40 minute class focused on credit card awareness, credit score awareness and automated services.
Rep. Colleen LaMonte , D-Montague, visited the Muskegon Area Career Tech Center with Sheryl Hogle, director of financial education at HarborLight CU to participate in the Financial Literacy Legislative Challenge. Financial management/accounting students at the MACTC run their own credit union, The Currency Corner making it a perfect opportunity for Rep. LaMonte to get involved, Hogle said.
The event included a true or false challenge where participants could earn the chance to play the miniature PLINKO board to win a prize.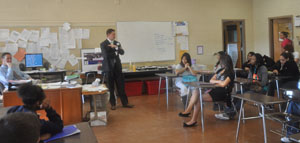 State Rep. Jon Switalski, D-Warren, visits with students at Fitzgerald High School in Warren. His visit was coordinated by Extra CU.

State Rep. Jon Switalski, D-Warren, visited Ken Krause's financial literacy class at Fitzgerald High School in Warren. Switalski is a staunch believer in the value of financial literacy education for all youth, but especially at the high school level. After talking to the students, he opened the floor for students to ask him about anything related to financial literacy or state government and the impact it has on their lives.
Many of the questions from the students were related to college funding, cuts in education programs the high cost of college and charter schools. He encouraged each of the students to contact the governor, their state senator and himself regarding issues that were important to them. He also encouraged them to register to vote and exercise that right.
After the discussion the students began the Banzai educational simulation for him. The Banzai simulation was paid for by the Extra CU and continues to support financial literacy for today's youth.

Submissions to Monitor may be
emailed
. Bryan Laviolette is the editor of Monitor. Contact him
by email
or call (800) 262-6285, ext. 233. The newsletter of the Michigan Credit Union League is published Monday mornings or Tuesday mornings when Monday is a holiday. There is no Monitor the week after Christmas and the week after the Annual Convention and Exposition. The MCUL reserves the right to edit submissions for clarity and space.