Print
In Brief…
| | |
| --- | --- |
| Hurst | Cummings |
… Credit Union ONE had the opportunity to participate in the American Society of Employers Annual Conference – People, Profit, Progress held in March. Ayren Hurst, director of knowledge management, and Katie Cummings, senior education specialist, along with Monica Remark, senior client success associate at Achievers, spoke to the audience about building a culture of recognition using technology and social media. Partnering with Achievers Corp., an industry leader in recognition and rewards, the credit union developed and implemented a rewards and recognition program for their organization that in less than one year has had amazing results. The program, called Kudos Corner, had more than 1,200 recognitions sent in the first two weeks, and after eight months, 99% of the organization have participated in the program, with an average of 31 recognitions per employee received. "We've become very proud of our Rewards and Recognition Program that we built with Achievers and it was really great to showcase it to others in the industry," Hurst said. As a reference for organizations questioning the merits of a program such as Kudos Corner, statistics have shown that employees who receive recognition for their work are seven times more likely to stay and 11 times more likely to feel completely committed.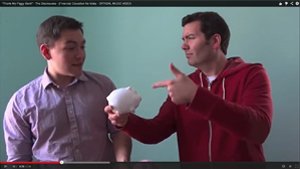 … The Disclosures – the Madison, Wis.-based "musicians with a mission" – have released a new song and music video for kids called "Thank My Piggy Bank," which introduces basic concepts of saving. This is the first single from The Disclosures' forthcoming untitled financial education album for kids scheduled for release later this year. "Thank My Piggy Bank" is available on most digital music stores including iTunes, Amazon, and CDbaby. The video is available for viewing and embedding on YouTube. "Our rock song breaks new ground combining music and humor to teach kids important lessons about money, savings and responsible spending," Disclosures band member Chad Helminak said. "Financial education is a key part of what credit unions are all about and it's embedded in their structure," The Disclosures' other member, Christopher Morris, said. Since the release of their first album in 2011 entitled "(Hey, We're) The Disclosures" – comprised of songs that focus on credit union history and philosophy – Morris and Helminak have presented highly rated education sessions and music performances to credit unions, chapters, trade associations and vendors across the nation. For their next project, The Disclosures have decided to go in a new direction and address a problem that continues to affect almost all consumers – personal finance. The pair work closely with a lot of financial education resources and realize the importance of teaching kids how to responsibly handle their finances. "Thank My Piggy Bank" is the first single from their next album, which they are currently recording. The pop/rock album will be entirely focused on youth financial education, the first of its kind. Morris is director of communications for the National CU Foundation and Helminak is director of REAL Solutions and Outreach at the Wisconsin CU League.
… Credit Union ONE has urged its members to reach out to their federal lawmakers to help protect the future of credit unions. In 1937, Congress granted credit unions federal tax-exempt status because of their cooperative member owned structure and have reaffirmed this status many times over the years. Credit unions are member-owned not-for-profit locally run financial cooperatives. They care about and invest in their members and the communities they serve. This is evidenced by the fact that credit unions continue to serve their communities and lend money when other financial institutions will not. However, the banking industry wants to eliminate this exemption to benefit their own industry. The credit union created a webpage to encourage members to contact their lawmakers and ask for their support in protecting and preserving the future of credit unions.
… Genisys CU recently sponsored the Accounting Aid Society Free Income Tax Preparation Program, which ran from January to April. The Free Tax Preparation Program assists families with household incomes of less than $50,000, those unemployed, and those facing financial trouble and unable to afford tax providers. Each year, millions of tax refunds are unclaimed by those who can benefit from them the most. In 2012, the Accounting Aid Society served 20,736 families and returned $23.5 million in refunds and credits. "The Tax Program provides a wonderful opportunity to assist families in need," Genisys Finance Manager Stacy Williams said. "It is a great example of our commitment to helping others meet their financial needs." Genisys has been a sponsor of the Free Income Tax Program since 2009. Employees have donated their personal time to help others in need of training and preparation of tax forms. With their help, more families can receive money they very much need to stay in their homes, pay utility bills and purchase food. Without the help of the Accounting Aid Society and Genisys, obtaining their tax refunds would very difficult. "Genisys is always committed to helping others with their finances," President/CEO Jackie Buchanan said. "It is always rewarding to know that we helped make a positive difference in someone's life." In addition to the tax preparation services, the Accounting Aid Society also offers budget and credit counseling for those who have recently faced financial hardships and are in need of guidance. The society will also assist clients in filing applications for food assistance and State Emergency Relief. For more information on the Accounting Aid Society, click here.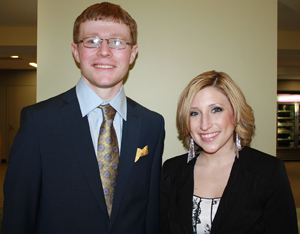 Nathaniel Pasmanter and Alexandra Tricozzi won the MSUFCU Graduate Makeover Contest.
… MSUFCU awarded Nathaniel Pasmanter and Alexandra Tricozzi, two spring 2013 Michigan State University graduates, with $3,200 professional makeovers in its ninth annual Graduate Makeover Contest. A record number of 155 contest entrants submitted personal essays about why MSUFCU should select them to win professional makeovers, along with their photographs and lists of accomplishments and community involvement activities. Pasmanter and Tricozzi received new business attire courtesy of Kositchek's and Eastwood Towne Center, respectively. Both winners received Spartan jewelry from Wheat Jewelers and salon and spa services from Douglas J Aveda Institute and Douglas J Salon East Lansing. In addition, the Student Book Store provided each winner with a class ring, graduation announcements, diploma frame, cap and gown, and a $100 gift card. MSUFCU also gave each winner a $500 prize. Pasmanter, an MSU Honors College student earning his bachelor's degree in mathematics, will apply to medical school this summer to pursue his dream of becoming a primary care physician. His accomplishments as an undergraduate student include serving as a volunteer facilitator at Ele's Place, acting as a representative to the Associated Students of MSU student government, and maintaining a 4.0 grade point average. Tricozzi, an MSU Honors College student earning her bachelor's degree in nursing, has achieved a 4.0 gpa all four years of college. She currently works in the pediatric oncology field and plans to become a nurse practitioner specializing in obstetrics or oncology. Her accomplishments as an undergraduate student include her service as the vice president of membership and public relations for the March of Dimes and completion of more than 130 hours of community service tutoring blind students.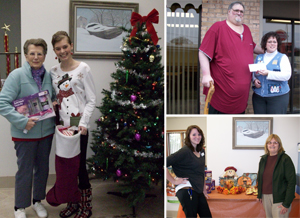 AAACU team members present raffle prizes and donation check.
… Alpena Alcona Area CU raised $1,584 for Toys for Tots. The mission of Toys for Tots is to collect new or gently used toys during the months of October, November, and December each year and then distribute the toys as Christmas gifts to less fortunate children in the community. The primary goal of this charity is to deliver a message of hope to less fortunate children that will assist them in becoming responsible and productive citizens. AAACU employees select four community or charity organizations that they would like to fundraise for during each quarter of the year. During the fourth quarter of 2012 the Oscoda and Tawas offices chose to focus their efforts on Toys for Tots. The Oscoda office had a quilt raffle and sold tickets for Halloween and hunters' baskets. The Tawas office had a pumpkin weight guessing game and a stocking raffle. Both offices sold candy bars, Santa Bucks and accepted toy and monetary donations. Staff could also donate $2 on Fridays to dress down in jeans and sneakers.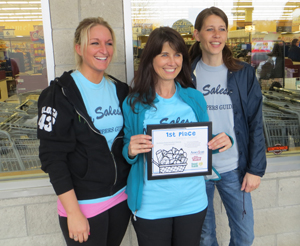 The Salesman team of Karie Watson, left, Kathy Palon and Kara DeChalk took first place in the Supermarket Sweep at Polly's Country Market in Jackson.
… American 1 CU hosted Supermarket Sweep at Polly's Country Market on Ferguson Road in Jackson earlier this month. There were seven teams that competed for the coveted title. More than $1,000 worth of groceries and household items were collected in the five-minute dash around the store. Polly's Country Market paid for the first $500 worth of groceries and American 1 paid for the remainder, which was more than $500. All of the items collected were donated to the Salvation Army of Jackson. The American 1 team took third place overall, while the ladies at The Salesman took first place.




… United FCU was recently honored with two Diamond Awards, which recognize outstanding marketing and business development achievements in the credit union industry. The awards were presented by the CUNA Marketing & Business Development Council, a national network comprised of over 1,100 credit union marketing and business development professionals. Awards were given in each of 33 categories ranging from advertising to community events and beyond. UFCU won the Brand Awareness category for its "Don't Let a Bank Pay You to Switch/Clean Room" television commercial and the Point of Sale category for its Gladiator GarageWorks® auto loan promotion. "The Diamond Award competition is the most prestigious competition for excellence in marketing and business development in the credit union industry," said Michelle Hunter, chair of the CUNA MBDC, and senior vice president of marketing and development at Credit Union of Southern California. "Credit unions that receive these awards should be extremely proud of their accomplishments and know that their work represents the very best examples of creativity, innovation, relevance, and execution. The Diamond Awards are not easily earned and we are proud to honor those who are deserving of this recognition." Award winners were recognized at the council's 20th annual conference March 24-27 in Anaheim, Calif. For more information on the Diamond Awards or to view the entire list of winners, go to www.cunamarketingcouncil.org.

… Genisys CU recently released its Mobile Banking app for Android devices, six months after launching the Apple version. The free app allows credit union members to access their accounts, check balances, view pending transactions, search and view transaction history, transfer money between accounts or to another Genisys member, deposit checks, view rates, use calculators, and search for ATM and branch locations. The Android version additionally allows users to customize their home screen with drag-and-drop dashboard icons. While usability is key to the app's popularity, security is the central feature of Genisys Mobile Banking. Fully encrypted and equipped to guard against unauthorized access, Genisys members enjoy peace of mind when banking with Android devices. Genisys plans to roll out major enhancements on both iOS and Android platforms in the coming months.

… Many people already know about credit unions and the benefits of banking with one, as membership is at an all-time high across the nation. But one of the most popular misconceptions about these community-based financial institutions is that they do not have the technological firepower that bigger banks have. However, many credit unions are proving this is not the case. "With smartphones more popular than ever and tablet use steadily on the rise, more and more consumers are doing their banking from mobile devices," Scott Townsend, Michigan Schools and Government CU's chief information officer, said. "Credit unions understand the importance of recognizing the needs of their members and many are offering digital services that fit their lifestyles accordingly." MSGCU is among those credit unions that are keeping ahead of the technological curve. The Macomb- and Oakland County-based financial institution is consistently rolling out new products and services to help members keep up with their on-the-go lifestyles. Most recently, MSGCU launched Mobile Deposit, a new component to their popular Mobile Banking app, which allows members to snap photos of their checks and deposit them into their checking accounts. Mobile Deposit has already garnered positive response from members. MSGCU also offers other technological services similar to their bank counterparts, such as Online Bill Pay, E-Statements, Text Banking and more, but without the fees that many bank customers often pay. "Technology really helps credit unions level the playing field with big banks, all while providing the great service, rates and products that sets credit unions apart from other financial institutions," Townsend said.

… Michigan First CU, in conjunction with its young adult financial education program, Young & Free Michigan, announced the winners of its charitable online video and essay contest, awarding $85,000 in scholarships to 40 deserving metro Detroit high school and college students. Now in its 10th year, Michigan First expanded its scholarship program in 2013 to include three categories: a high school video contest, high school essay contest and college video contest. The top three entries in each category received $10,000, $5,000 and $3,000 scholarships respectively, while additional bonus scholarships of $1,000 were awarded to 31 individuals. Since its inception, the program has given away more than $730,000 to local students. "Michigan First was founded by teachers, and it is inspiring for us to see these students use their creativity to express a passion for education," President/CEO Michael Poulos said. "It is evident by the submissions that each of our contest participants has a bright future ahead of them. We look forward to further investing in the financial education for our youth in metro Detroit." The top 10 applicants in each category were selected through online public voting, before a panel of judges selected the following winners. High school video contest winners: Roseville High School—Holly Hedemark ($10,000); Detroit School of Arts—Redi Shorter ($5,000); Lake Shore High School—Hannah Mico ($3,000); Plymouth Education Center Preparatory High School—Ecwiauna Wooten ($1,000); Akiva Hebrew Day School—Joseph Jubas ($1,000); Southfield Christian High School—Janelle Grant ($1,000); Seaholm High School—Daniel Maertens ($1,000), and Southfield Christian High School—Alexis Wilson ($1,000). High school essay contest winners: Chandler Park Academy High School—Lamar Allen ($10,000); Detroit Country Day School—Jonell Nwabueze ($5,000); Cass Technical High School—Erika Reid ($3,000); Southfield High School—Breyon Gaston ($1,000); Renaissance High School—Derrick Hedwood ($1,000); Cousino High School—Andreea Mitrache ($1,000); Southfield Lathrup High School—Joshua Cummings ($1,000); Divine Child High School—Starr-Ambrosia Muslim ($1,000); University High School Academy—Devynne Davis ($1,000); Renaissance High School—Lee Williams Jr. ($1,000); Southfield Lathrup High School—Kendyl Stewart ($1,000); South Lake High School—Shayla McCullough ($1,000); Lake Shore High School—Chloe Jennings ($1,000); Southfield High School—Kierra Tarrance ($1,000); Groves High School—Autumn Palmer ($1,000); Lahser High School—Deven Kishore ($1,000); Cass Technical High School—Ashley Chillis ($1,000); Southfield Christian High School—Imani Thomas ($1,000); University High School Academy—Ashley Parker ($1,000); Cass Technical High School—Kendal Cockrel ($1,000); Seaholm High School—Taylor Wyllie ($1,000); Grosse Pointe South High School—Olivia Culver ($1,000); Cass Technical High School—Kayla Young ($1,000); Southfield High School—Amber Hunter ($1,000); Mesivta of Toledo—Michael Wayntraub ($1,000); Southfield High School—Dominique Moore ($1,000); University Liggett School—Briana Bellamy ($1,000); Renaissance High School—Antashe Howard ($1,000), and University High School—Nia Byrd ($1,000). College video contest winners: University of Michigan—Clare Luckey ($10,000); Wayne State University—Jaclyn Davis ($5,000), and Vanderbilt University—Danielle Morrison ($3,000). The scholarships are funded by the community financial institution's nonprofit Michigan First Foundation. Founded in 2012, the foundation focuses on youth and education, contributing $160,000 annually to local charitable organizations and students.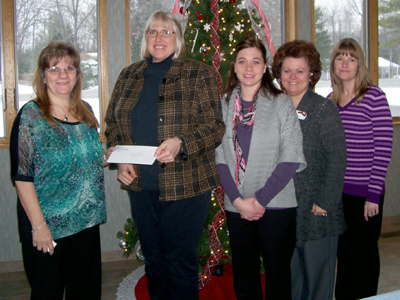 AAACU Ossineke staff present a check for $500 and donated items to Leslie of the Sunrise Mission.
… The Ossineke branch of Alpena Alcona Area CU raised $500 and collected several donations for Sunrise Mission, a homeless shelter with no geographic restrictions. Sunrise Mission provides shelter, meals and clothing for families and individuals that may be without due to no fault of their own. The shelter provides resources to help individuals gain freedom from detrimental lifestyles. While clients are at the shelter they are counseled and encouraged to seek employment and permanent housing. Clients leave during the day to pursue opportunities for employment and other needs to become independent. The Ossineke branch raised funds by holding a bottle drive, a lottery ticket raffle, and selling both Santa Bucks and Halloween candy bags. Candy bars were also sold at teller windows and staff could donate $2 on Fridays to dress down in jeans and sneakers.



… CUNA Mutual Group presented a $135,000 check to the National CU Foundation to support the organization's general fund and for CU Development Education. As the movement's charitable arm, NCUF funds projects that support industry-wide development initiatives, including financial education to consumers of all ages, disaster assistance, greater access to affordable financial services and empowering more consumers to save, build assets, and own homes. The contribution was part of CUNA Mutual Group's ongoing support of the credit union industry, including CUNA, the National CU Foundation, and credit union leagues. In 2012, the company invested more than $36 million into the credit union system.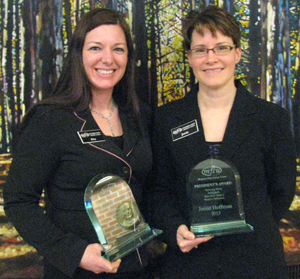 Amy Garver, vice president of member services, and Accountant Amy Garver won the Presidents Award at Members First CU's Annual Meeting.
… Members First CU employees Amy Garver, vice president of member services, and Accountant Jamie Hoffman were awarded the President's Award at MFCU's Annual Meeting on April 9, which is given to credit union employees every year. Recipients are nominated by co-workers. To receive the President's Award, employees must fit certain criteria such as being prompt and dependable, cheerful, enthusiastic, positive, professional, able to go great lengths for members and co-workers and have a willingness to volunteer for credit union events. Garver and Hoffman have shown all of these qualities.


| | |
| --- | --- |
| Bohan | Rosenthal |
… MSUFCU has promoted Sarah Bohan to internal and corporate communications manager and Julie Rosenthal to MSUFCU's learning and talent development manager. "MSUFCU's mission starts from the inside out, building the dreams of staff through challenging and rewarding opportunities," MSUFCU President and CEO Patrick McPharlin said. "Our staff is encouraged to take advantage of growth opportunities by developing the skills necessary to work on a management level. These two promotions are of credit union employees who have taken on this challenge and will bring high levels of experience and leadership to their new management positions." Bohan has worked at MSUFCU since 2004 and has held a variety of staff and management positions. She was previously an eServices loan officer. She received a bachelor of fine arts degree with an emphasis in photography from Michigan State University. Rosenthal has been with MSUFCU since 2003 and has held a variety of staff and management positions. She was most recently senior learning and talent development specialist. Rosenthal holds a bachelor of business administration degree from Walsh College of Business Administration and a master of business administration degree from Central Michigan University. She is a member of the Society for Human Resource Management and the American Society for Training and Development.
| | |
| --- | --- |
| Boven | Kovick |
… Educational Community CU has promoted Michele Boven to compliance supervisor and hired Jennifer Kovick as IT project manager. Boven's continuing responsibilities include evaluating ECCU's policies, programs and procedures to ensure compliance with all related laws and regulations applicable to the credit union. Boven has 37 years of experience in the financial services industry, including her compliance leadership at the credit union since 2008. Prior to her employment with ECCU, she served as compliance officer at First Community FCU in Parchment. Her previous experience also includes serving as a customer relations manager, client support analyst and compliance officer for National City Bank in Kalamazoo. She is also certified as a CU Compliance Expert, and has a bachelor's degree in management and organizational development from Spring Arbor University. Boven lives in Kalamazoo. Kovick's new responsibilities consist of planning, organizing and integrating information technology projects, including managing the project lifecycle. "The compliance role at ECCU and in the industry has never been more complex and important than it is today," ECCU President and CEO Charles Cornelius said. "We are pleased to promote Michele Boven to compliance supervisor because of her passion and dedication to making everything we do here at ECCU compliant with the ever changing rules and regulations." Kovick said she has received a warm welcome. "As IT project manager, my position allows me a unique opportunity to use my past experience in compliance, training and management to balance the technical and human aspects of projects," she said. "I love that my efforts often improve the lives of both our members and our staff. I am so excited to be a part of the ECCU family." Kovick and her family live in Marshall. Kovick has 14 years of combined credit union and project management experience, most recently having served as Training & Compliance Manager at Kellogg Community FCU in Battle Creek. She has a bachelor's degree in business administration from Baker College, as well as several industry specific certificates from the CUNA's STAR Program and Harland Clarke's CU University.


Submissions to Monitor may be
emailed
. Bryan Laviolette is the editor of Monitor. Contact him
by email
or call (800) 262-6285, ext. 233. The newsletter of the Michigan Credit Union League is published Monday mornings or Tuesday mornings when Monday is a holiday. There is no Monitor the week after Christmas and the week after the Annual Convention and Exposition. The MCUL reserves the right to edit submissions for clarity and space.