Print
Food Bank Looking for Participation in Annual CU Food Drive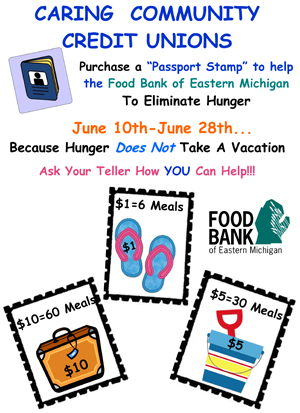 Hunger does not take a vacation and for that reason, the Food Bank of Eastern Michigan is requesting your participation in the fourth annual Caring Community Credit Unions to help feed the hungry in eastern Michigan. This campaign combines fun, creativity and competition among credit unions, staff and members. The three-week campaign runs from June 10-28.
An informational luncheon and tour will be held for all credit unions leaders who would like to participate in this 2013 Caring Community Credit Unions event. The luncheon is set for Tuesday, April 30, from 11 a.m. until 1 p.m. at the food bank, 2312 Lapeer Road, Flint. Call food bank Development Coordinator Mary Blume Clark at (810) 396-0217 to R.S.V.P.
The ultimate goal is to raise hunger awareness and funds to help feed those less fortunate. With the food bank's leveraging ability, for every $1 donated by members, six meals can be provided. In 2012, the food bank collected more than 180,000 pounds, which equates to more than 120,000 meals from 14 participating credit unions. This doubled from 2011.
The Food Bank of Eastern Michigan will recognize your credit union's participation in the upcoming newsletter with a circulation of 40,000 donors and on the FBEM website. The campaign will be promoted to our media contacts across the state and to MCUL & Affiliates.
"Together we can make summer a little brighter for others," Clark said.
The credit union is also inviting credit unions to sell "Passport Stamps" to collect money for the food bank. Click here to download a flyer showing the stamps or credit unions can make their own.
Contact Clark at (810) 396-0217 or mclark@feedingamerica.org if you have any questions.
Submissions to Monitor may be
emailed
. Bryan Laviolette is the editor of Monitor. Contact him
by email
or call (800) 262-6285, ext. 233. The newsletter of the Michigan Credit Union League is published Monday mornings or Tuesday mornings when Monday is a holiday. There is no Monitor the week after Christmas and the week after the Annual Convention and Exposition. The MCUL reserves the right to edit submissions for clarity and space.