Print
MSUFCU Makes $1 Million Gift – Its Third this Year to MSU – to Wharton Center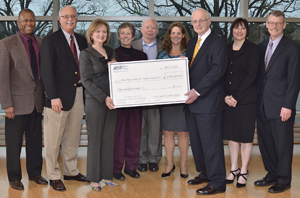 Dr. John R. Brick, right holding check, chairman of MSUFCU's Board of Directors, presents MSUFCU's donation to June Youatt, left holding check, Michigan State University's acting provost and executive vice president for academic affairs. From left are board member Ernest Betts, board member William Latta, Youatt, board member Susan Carter, MSUFCU President/CEO Patrick McPharlin, board member Cheryl Pero, Brick, MSUFCU Executive Vice President and COO April Clobes and board member Thomas Coon.
MSUFCU has announced a $1 million donation to Michigan State University's Wharton Center for Performing Arts for the MSUFCU Broadway at Wharton Center Endowment. This gift will bring world-renowned performers and highly acclaimed Broadway shows to MSU's campus to provide MSU students and faculty and the Greater Lansing community with exciting cultural and entertainment experiences. Engagement opportunities such as special talks, educational opportunities, and community events will also be made available as part of the endowment.
MSUFCU has been the title sponsor of the popular Broadway at Wharton Center series for nearly 10 years and this new endowment reaffirms the credit union's commitment to the program. The series has drawn theatergoers from throughout the state to MSU's campus to enjoy the very best of touring Broadway shows while also hosting interactive events and workshops for the community and contributing toward the classroom curriculum at MSU and other local schools.
"Giving back to our community is one of MSUFCU's core values and part of the 'people helping people' philosophy on which credit unions were founded," MSUFCU Executive Vice President/COO April Clobes said. "At MSUFCU, we are committed to making a positive impact on as many people's lives as possible and investing in our community to help create a place where people are proud to live, work and visit.
"We are thrilled to announce MSUFCU's continued commitment to the Wharton Center with the MSU Federal Credit Union Broadway at Wharton Center Endowment and are proud to support programs that help ensure Mid-Michigan is a place full of vibrant arts and entertainment."
This is the third $1 million gift the credit union has made to its host university this year. In January, the credit union created an endowment to support an artist-in-residence program within MSU's Jazz Studies program in the MSU College of Music. In March, it donated $1 million to the Eli and Edythe Broad Art Museum to bring in artists and guests to engage with the MSU and greater Lansing community.
Submissions to Monitor may be
emailed
. Bryan Laviolette is the editor of Monitor. Contact him
by email
or call (800) 262-6285, ext. 233. The newsletter of the Michigan Credit Union League is published Monday mornings or Tuesday mornings when Monday is a holiday. There is no Monitor the week after Christmas and the week after the Annual Convention and Exposition. The MCUL reserves the right to edit submissions for clarity and space.