Print
Frankenmuth CU, CU Plus Partner on Co-branded ATMs Using CU Link Logo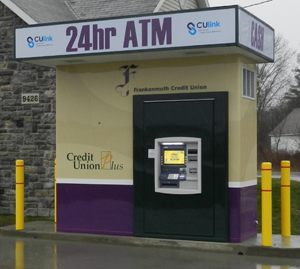 Frankenmuth CU and CU Plus partnered on three co-branded ATMs located at CU Plus locations in Birch Run and Bay City, including this one at the Birch Run office. The ATMs also feature the CU Link logo.
When Frankenmuth CU CEO Vickie Schmitzer listened to MCUL & Affiliates CEO David Adams talk about the CU Link brand descriptor, she started mulling over how her credit union could gain from it.
"It's been in the back of my mind, 'How am I going to use it?' " Schmitzer said.
Then she started talking to Cathy Dahlbeck, CEO of Bay City-based CU Plus. CU Plus was interested in setting up its first ATM, but with no experience with the machines was apprehensive. So CU Plus provided the real estate and the two credit unions split the cost of the machines and setup.
The three ATMs – one in Birch Run and two in Bay City – carry logos from Frankenmuth CU and CU Plus, along with CU Link logos. The Birch Run location was particularly important because of its proximity to I-75 and Frankenmuth CU may to have to close its mini branch inside Meijer soon.
Schmitzer said she is proud to be one of the first to use the CU Link logo on a project like this.
"Who's going to start the whole CU Link thing?" Schmitzer said. "We've got to work together."
MCUL & Affiliates CEO David Adams said the co-branded ATMs represent a great way to use the CU Link shared brand.
"We hope more credit unions will incorporate the CU Link shared brand into their marketing efforts," Adams said. "CU Link is a great way to show the public the cooperative nature of credit unions."
She added that she'd rather help a smaller credit union such as CU Plus than merge it into hers.
Dahlbeck said that adding ATMs was a project she has wanted to tackle, but never had the time to gain the expertise to get it moving. Since both Frankenmuth and CU Plus use the CU*Answers, partnering with her neighbor made sense.
"Our members are very excited that we now have ATMs," Dahlbeck said.


Submissions to Monitor may be
emailed
. Bryan Laviolette is the editor of Monitor. Contact him
by email
or call (800) 262-6285, ext. 233. The newsletter of the Michigan Credit Union League is published Monday mornings or Tuesday mornings when Monday is a holiday. There is no Monitor the week after Christmas and the week after the Annual Convention and Exposition. The MCUL reserves the right to edit submissions for clarity and space.