Print
In Brief…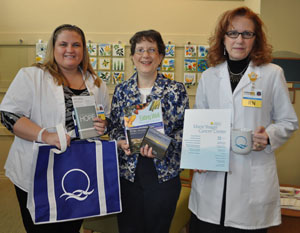 Oncology Navigator Shelley Wilkinson, let, UFCU Member Service Advisor Ruth Beach, and Oncology Navigator Catherine Clarey-Sanford show some of the items in the Handles of Hope bags.
… Ruth Beach remembers how it felt when her doctor told her the dreaded news, "You have cancer." She said it was overwhelming because she was suddenly flooded with medical information about her options in treating her cancer. But something was missing. She felt unprepared for the many physical and emotional challenges ahead of her. After her two-year battle with breast cancer, and overcoming it, she decided to help others with ways to cope with the news of having cancer, creating Handles of Hope. Beach wanted to put together a free bag with vital resources, information, coping tools and comfort aids to help patients through their cancer journey. Beach shared her idea with Jann Totzke, executive director of oncology at Lakeland HealthCare's Marie Yeager Cancer Center in St. Joseph. Totzke liked the idea. "Handles of Hope supports our patients from a psycho-social perspective," Totzke said. Each year, Lakeland cares for nearly 800 new cancer patients. A member service advisor at United FCU, Beach approached the UFCU Charity Committee about donating money to purchase the supplies to put the support bags together. The committee unanimously said yes to the cause and donated $4,000 to get the program started. Beach created a list of the things that helped her when she was going through treatment, which became the contents of Handles of Hope. The bags include a feedback comment card to find out how helpful the items were for the patients and a chance to suggest ideas on items they would like to see in the bags. "Patients may not need all of the items on their cancer journey, and sometimes their needs change as they progress through treatment, so we want their input on the bags," Totzke said. Many volunteers helped to assemble the bags, including the Rainbows of Hope support group, the Chemosabies breast cancer support group, the cancer center's Oncology Navigators and cancer survivors who wanted to help others. "On behalf of Lakeland, we are so grateful to Ruth, United Federal Credit Union, and the many cancer survivors and volunteers who are making this special project possible," Totzke said.
Alpena Alcona CU's staff from the Atlanta office present checks to the Salvation Army and The Caring Place.
… Alpena Alcona Area CU employees donated $764 for three local charities. Of that, $370 was donated to The Caring Place, $394 to the Salvation Army and 50 gifts were given to the Community Giving Program. The Caring Place feeds several needy families in the Atlanta area as well as providing food baskets during the holidays. The local Salvation Army also makes food baskets for local families and provides assistance during emergencies. Community Giving (part of DHS) received 50 presents that were distributed during the holidays. These presents were donated by members and staff of AAACU.

… American 1 CU's home office branch challenged the North Street branch to a friendly coin drive to raise money for local charities. The home office selected the AWARE Shelter and North Street selected The House of New Beginnings. For two weeks the teams squared off to raise funds for two great charities. The race was close, but in the end, North Street pulled ahead by less than $20. Home office raised $874 for the AWARE Shelter and North Street raised $890 for The House of New Beginnings. Together the two teams raised $1764 for these two organizations.
Helping Hands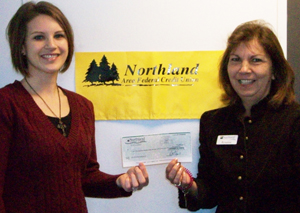 Northland Area FCU had a fundraiser for "Hospice of Helping Hands" in January and February. All 13 branches raised a total of $1,151 through donations for paper hearts. Leslie Kenney, left, receives a donation on behalf of Hospice of Helping Hands from Roxanne Hewitt, manager of Northland Area FCU's Skidway Lake branch.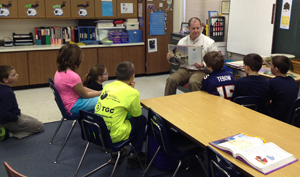 Honor CU CEO Scott McFarland reads to students during Reading Day of Action, sponsored by the United Way of Southwest Michigan.
… Team members from Honor CU spent March 19 volunteering for the Reading Day of Action, sponsored by the United Way of Southwest Michigan. In an effort to promote March as Reading Month, the United Way called out for volunteers to read in local classrooms. Honor CU encourages all team members to volunteer in their local communities in areas they are passionate about. "Going back to our roots as an educational credit union, we love to participate in events that help our local schools," said Patrick Swem, reading day volunteer and assistant branch manager in Stevensville. Volunteers for the Reading Day of Action encouraged students to read outside of their class time and show that reading is fun. "Huge thanks to the United Way of Southwest Michigan for providing many great volunteer opportunities for local businesses and the Honor CU team. Their coordination of programs and events to support our local schools is something to be recognized," said Jeff Pisarsky, director of marketing and Reading Day of Action volunteer. Nine Honor team members took time out during the day to help the United Way promote literacy to local classrooms.
| | | | |
| --- | --- | --- | --- |
| Recker | Williams | Noble | DeWyse |
| Laird | Campbell | Boulier | |
… Co-op Services CU recently awarded a total of $14,000 in scholarships to seven 2013 graduating high school seniors in metro Detroit. The credit union's scholarship program, now in its 19th year, was established to honor longtime Co-op Services' volunteers and to recognize outstanding students. The credit union has awarded more than $180,000 in scholarships since the program began. Scholarship recipients and their parents were honored this month at Co-op Services annual meeting which featured the theme "Through the Eyes of Our Members." "Every decision our credit union makes, including this scholarship program, is focused on what benefits the greater good of our membership," said Lisa Fawcett, vice president of marketing for Co-op Services. "These scholarships recognize and help ensure the dreams of outstanding students, who are also our credit union members." Co-op Services Credit Union's 2013 scholarship recipients include: Afton DeWyse, Franklin High School, Livonia – $4,000, Al Williams Scholarship; Andrew Campbell, Franklin High School, Livonia – $4,000, Harlan Richardson Scholarship; Brianne Victoria Recker, Walled Lake Northern High School, Commerce Twp. – $3,000, Dutch Farr Scholarship; Sarah Noble, Theodore Roosevelt High School, Wyandotte – $1,000, Mark Stroebel Scholarship; Jennifer Boulier, Churchill High School, Livonia - $1,000, Margaret Kremer-Hehman Scholarship; Mariah Laird, Romulus High School, Romulus - $500, William Allen Scholarship, and Angela Marie Williams, Renaissance High School, Detroit – $500, James Cullimore Scholarship. Applications and details about the 2014 scholarship awards will be available on Co-op Services CU's website, www.cscu.org in November.

… Wanigas CU elected its 2013 Board of Directors and Credit Committee at the annual meeting at the Horizons Conference Center in Saginaw. The members of the 2013 Board of Directors include Chairman Michael Balls, Vice Chairwoman Valorie Green, Treasurer Steve Jurik, Secretary Sheldon Matthews, Director Gerald Little, Director Larry Gosen and Director Oscar Gonzales. The 2013 Credit Committee includes Sheldon Matthews Jr., Rick Ortega, Lisa Ramirez and Lynnette Scott.
Submissions to Monitor may be
emailed
. Bryan Laviolette is the editor of Monitor. Contact him
by email
or call (800) 262-6285, ext. 233. The newsletter of the Michigan Credit Union League is published Monday mornings or Tuesday mornings when Monday is a holiday. There is no Monitor the week after Christmas and the week after the Annual Convention and Exposition. The MCUL reserves the right to edit submissions for clarity and space.