Print
Financial Services Member Pettalia Participates in Blue Ox Chapter Annual Meeting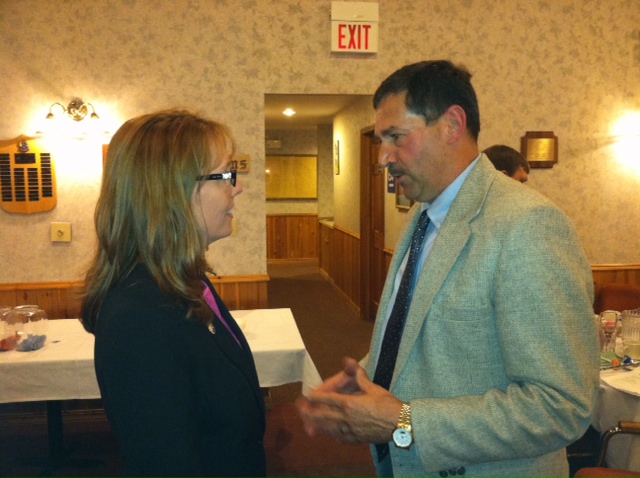 Rep. Peter Pettalia, R-Presque Isle, discusses issues with Barb Mills, CEO of Calcite CU at the Blue Ox Chapter annual dinner meeting.
On Thursday, April 11, more than 60 credit union leaders representing institutions throughout the region participated in the Blue Ox Chapter annual dinner meeting at the Alpena Golf Club in Alpena. In addition to league representatives, state Rep. Peter Pettalia, R-Presque Isle, and Bev Bodem from Sen. John Moolenaar's office, R-Midland, attended and provided brief updates on issues being discussed in Lansing affecting credit unions.
Pettalia, a majority member of the House Financial Services Committee, thanked the local credit unions for partnering with him in several local financial literacy events at schools in the district. Updates were also provided on possible reforms to Michigan's 90-day foreclosure communication law, title process reform and legislation to allow financial institutions the ability to retain the homestead tax rate during foreclosure. CU leaders in attendance had the opportunity to ask questions and were also provided a league update by chapter legislative representative Don Mills of AAACU. Chapter events continue to be great opportunities for credit unions to interact with their local elected officials.

Submissions to Monitor may be
emailed
. Bryan Laviolette is the editor of Monitor. Contact him
by email
or call (800) 262-6285, ext. 233. The newsletter of the Michigan Credit Union League is published Monday mornings or Tuesday mornings when Monday is a holiday. There is no Monitor the week after Christmas and the week after the Annual Convention and Exposition. The MCUL reserves the right to edit submissions for clarity and space.