Print
State GAC: Make the Effort to Reach Out to Lawmakers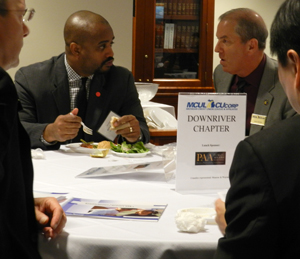 MCUL & Affiliates CEO David Adams, right, talks to state Sen. Bert Johnson, D-Detroit, at the legislative luncheon.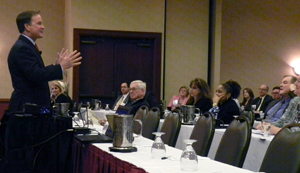 Attorney General Bill Schuette talks to credit union leaders at the GAC.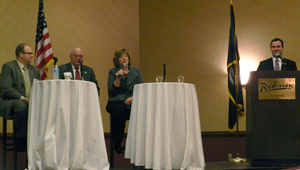 Kieran Marion, MCUL vice president of legislative and regulatory affairs, introduces political activism panelists Steve Dedene, left, of Credit Union ONE, Lon Bone of Genisys CU and Cheryl Sclater of ELGA CU.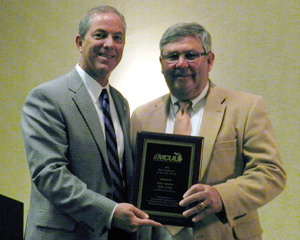 Adams congratulates Sen. Mike Green for being named State Lawmaker of the Year.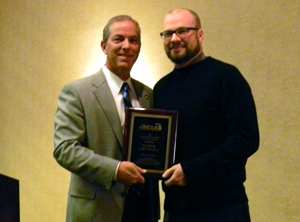 Adams thanks Matt Blakely, legislative director for state Rep. Peter Pettalia, R-Presque Isle, who was named MCUL Staffer of the Year.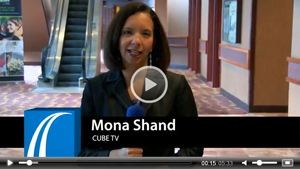 LANSING – The message out of this year's state GAC is simple: Make your voices heard in Lansing and Washington.
MCUL & Affiliates CEO David Adams opened the conference by reinforcing the importance of advocacy and celebrating the successes of the credit union community over the last year. The two-day conference gave more than 125 credit union professionals the chance to meet with several of their state legislators during the annual legislative luncheon.
On Tuesday, Kieran Marion, vice president of legislative and regulatory affairs for MCUL & Affiliates, outlined a few of the league's top priorities, including state foreclosure reform and reducing urban blight.
On Wednesday, conference attendees heard from speakers who said their voices can make a difference in laws and regulations.
John Kolhoff, head of the Credit Union Division in the new state Department of Insurance and Financial Services (formerly OFIR), said one of the reasons he is involved in the National Association of State Credit Union Supervisors is to advocate on behalf of the industry. Kolhoff is NASCUS chairman-elect.
Kolhoff said giving financial sector regulation its own department is good because it will allow Director Kevin Clinton to have a bigger voice in government affairs.
"He has greater access to the governor," Kolhoff said.
Richard Gose, CUNA senior vice president of political affairs, said that most of the people at the GAC already know the importance of interacting with legislators and regulators.
One of the big discussion points in Washington right now is tax reform and searching for revenue to help reduce the federal budget deficit. He said credit unions need to be vigilant to protect the federal tax exemption.
"We could be perceived as a source of revenue," Gose said. "The more people know about credit unions, the better and stronger we are."
Michigan Attorney General Bill Schuette said credit unions play a critical role in the state's recovery.
"You're part of the infrastructure of a new Michigan," Schuette said. "I understand the importance of credit unions in Michigan.
During a panel on political activism, Cheryl Sclater of ELGA CU said she gives every employee two MCULLAF (federal PAC) Grand Raffle tickets to sell. She added that the easiest way to become politically active is to reach out to lawmakers, invite them to your events and attend theirs.
"Pick up the phone and call them," she said.
Lon Bone of Genisys CU said political activism is about "protecting your jobs and our members."
"We don't look at whether they are a D or whether they are an R," said Bone, who is a member of the MCUL & Affiliates' PAC board. "We look at how they vote."
He also suggested that CEOs should recruit board members who are passionate about political activism.
Steve Dedene of Credit Union ONE said that he sends out a credit union factsheet whenever there is a new lawmaker in one of his service areas.
"The response is phenomenal," said Dedene, who added that he also sends the credit union's press releases to lawmakers.
During the annual awards luncheon, Sen. Mike Green, R-Mayville, was named MCUL Lawmaker of the Year and Matt Blakely, legislative director for state Rep. Peter Pettalia, R-Presque Isle, was named MCUL Staffer of the Year.
Green said the league has been a great resource for him on complicated subjects.
"My hat's off to you for helping me have the right information," Green said.
Submissions to Monitor may be
emailed
. Bryan Laviolette is the editor of Monitor. Contact him
by email
or call (800) 262-6285, ext. 233. The newsletter of the Michigan Credit Union League is published Monday mornings or Tuesday mornings when Monday is a holiday. There is no Monitor the week after Christmas and the week after the Annual Convention and Exposition. The MCUL reserves the right to edit submissions for clarity and space.