In Brief…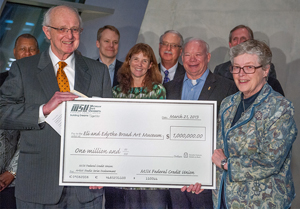 Dr. John R. Brick, chairman of MSUFCU's Board of Directors, presents MSUFCU's donation to MSU President Lou Anna K. Simon along with other members of the MSUFCU Board of Directors and MSUFCU President and CEO Patrick McPharlin.
… MSUFCU announced a $1 million donation to the Eli and Edythe Broad Art Museum at Michigan State University for the MSU Federal Credit Union Artist Studio Series Endowment. This gift will bring renowned artists to MSU's campus to provide engagement opportunities for MSU students and faculty, school children throughout Mid-Michigan, and the general public. With this new residency program, nationally and internationally known artists will lead art-making activities, lectures, and community events. Visiting artists will travel to schools in the Lansing area to help support local arts programs, and MSU students and faculty will spend time with these artists, learning from the best in the industry. The endowment will also provide the local community with access to lectures and exhibits offered by the visiting artists-in-residence. MSUFCU President and CEO Patrick McPharlin said giving back is one of the credit union's core values. "At MSUFCU, we are committed to making a positive impact on as many people's lives as possible and investing in our community to help create a place where people are proud to live, work, and visit," he said. "We are thrilled to announce the MSU Federal Credit Union Artist Studio Series Endowment and are proud to support programs that help ensure Mid-Michigan is a place full of vibrant arts and entertainment."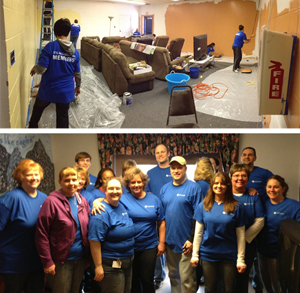 Employees from FinancialEdge Community CU worked at Boys & Girls Club of Bay County and Lutheran Child & Family Service of Michigan.
… FinancialEdge Community CU staff have an annual training day in February which usually involves some kind of team-building activity. In the past, these activities have been team games or contests of some sort, but this year they decided to change things up. FinancialEdge staff split up into teams and helped two local youth organizations by purchasing supplies and giving them each a makeover. The two organizations were the Boys & Girls Club of Bay County and the Lutheran Child & Family Services Home. Lutheran Child & Family Service of Michigan provides a safe, transitional living arrangement with adult supervision and individualized treatment for young men ages 14-17 as they prepare to move toward more permanent placements. FinancialEdge did a lot of repair work and updated many of the rooms at the Lutheran Home. The Boys & Girls Club asked FinancialEdge to redesign and redecorate their teen room which is used to host Keystone Club meetings among other things. Keystone Club is a dynamic teen program which provides opportunities for young people ages 14-18 to gain valuable leadership experience by participating in activities that focus on academic success, career exploration and community service. FinancialEdge painted, assembled new furniture and updated the teen room in just three hours. Boys & Girls Club Executive Director/CEO William Palmer stated, "On behalf of all the children we serve at our Boys & Girls Clubs, thank your amazing staff for the wonderful transformation of our teen room. It is a true gift to our children."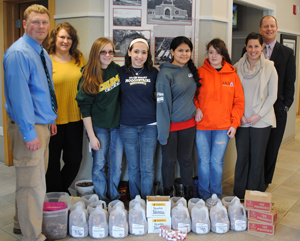 From left are Travis Hargan, JAG Instructor in Coloma; Berrien Springs Branch Manager Kellie Eldridge; Sarah Spitzke of Coloma; Emily Morris of Coloma; Luisa Aburo of Covert; Marbella Ruiz of Covert; Lindsey Ledyard, JAG Instructor in Covert; Honor CEO Scott McFarland.
… Students from Bridge Academy, Benton Harbor, Cassopolis, Coloma, Covert and Niles high schools recently visited Honor CU to count their pennies. The students are a part of the JAG program (Jobs for America's Graduates) run by Michigan Works. Last year, the JAG program in Coloma was tasked with finding a community service event to support and chose the Pennies for Patients fundraiser, which benefits the Leukemia and Lymphoma Society. This year, the Pennies for Patients fundraising event gained even more support as local schools joined together to contribute to this great cause. After a few hours and counting just more than 180,000 pennies, Honor rounded that number up and cut a check for an even $2,000. "Honor is proud to support the collaborative effort of these students by counting their pennies and even donating a few of our own," Berrien Springs Branch Manager Kellie Eldridge said.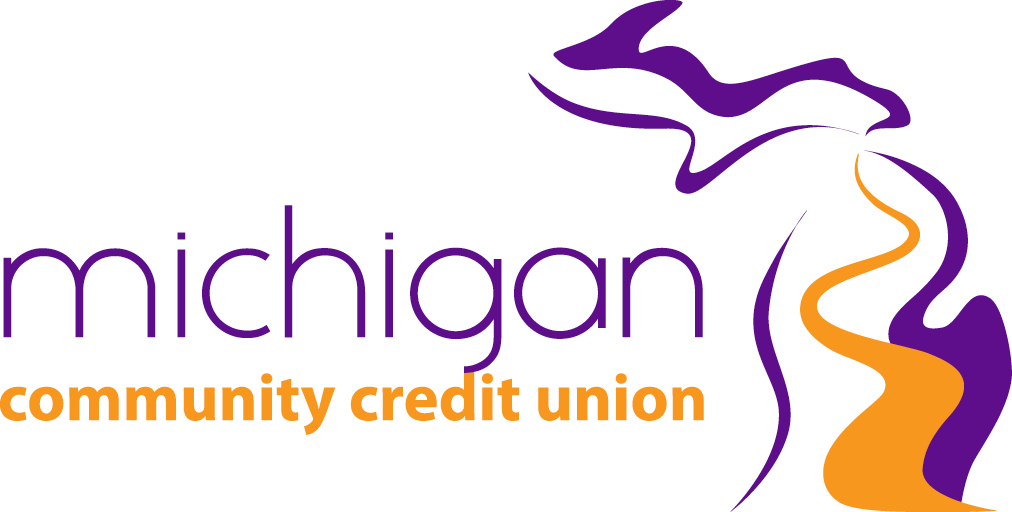 ... EECU is adopting a new name – Michigan Community CU to position the credit union for future growth. EECU received permission from NCUA and the Department of Insurance and Financial Services (formerly known as OFIR) to adopt a new name. The process of changing the name begins April 1. The decision emerged as a result of research and evaluation in the marketplace. EECU remains committed to its local educational community, the original founders and owners of the credit union. Since 1936, local educators and their families have counted on the support and services of EECU. Over the years, the credit union has continued to thrive and prosper thanks to its valued members. Membership has since expanded to a community-chartered credit union. "EECU members are and always will be the most important reason for our success," EECU President and CEO Steve Cobb said. "The credit union's name may be changing but our employees and the high level of personal service that members have come to know and trust, will continue as always. The Credit Union was built on our members' loyalty, and we are thankful for their support and confidence in us. EECU members can be assured that the credit union remains committed to making their Credit Union the financial institution of choice … one with a social purpose and passion for meeting all of their financial needs at any stage of life and for contributing to the communities in which we all live, work and play!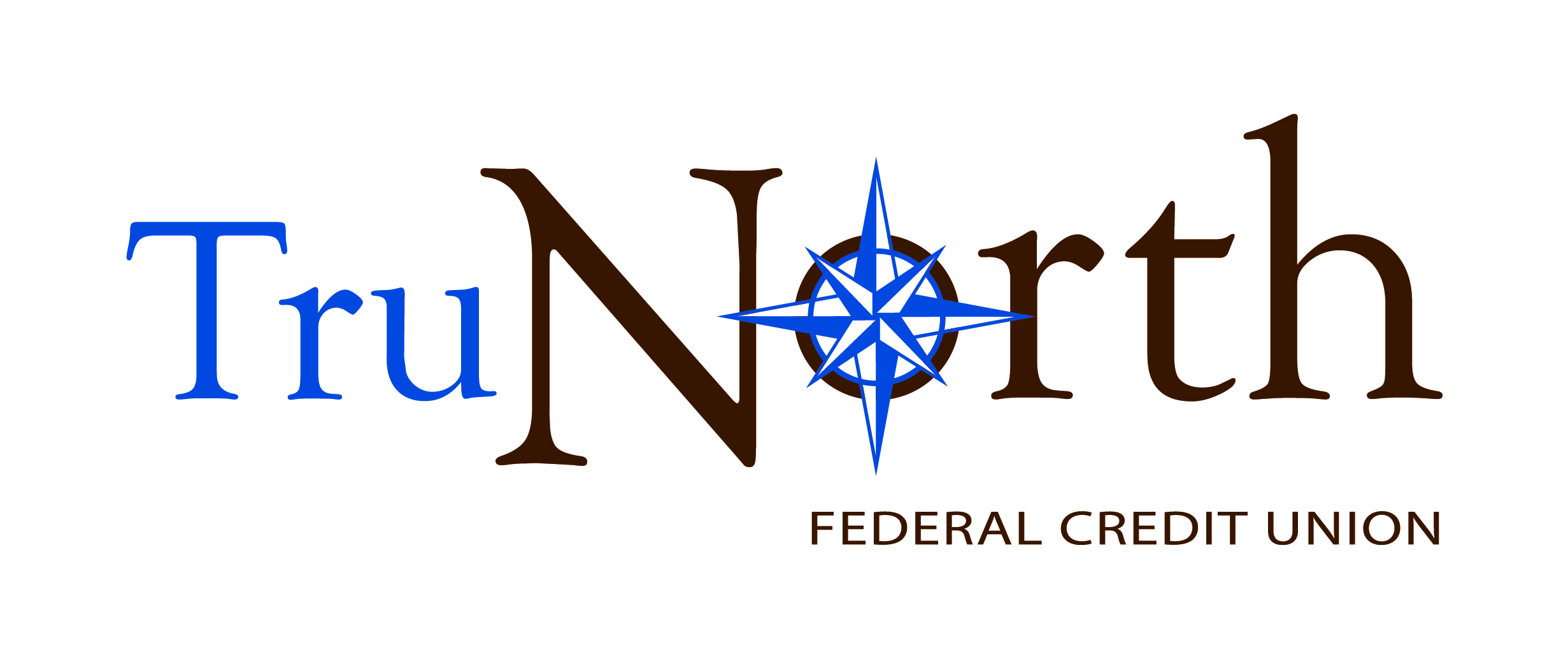 … Ishpeming Community FCU is the latest Michigan credit union to change its name to reflect a broader membership base. On April 8, ICFCU becomes TruNorth FCU. "We are changing our name to better reflect our broad, five-county, community-based field of membership," credit union General Manager George Isola said in a letter to partners and vendors.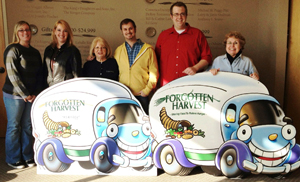 Volunteering at Forgotten Harvest are members of Co-op Services CU's marketing department including, from left, Jennifer Shelton, Lisa Fawcett, Kathy Hurt, Jeremy Cybulski, Bryan Feldpausch and Beverly Outland.
… Six members of Co-op Services CU's marketing department demonstrated their team spirit during a recent visit to Forgotten Harvest. The team volunteered to repackage nearly 3,500 pounds of food that is sent to soup kitchens, shelters, food pantries and other locations throughout the Detroit area to help feed the hungry. "Forgotten Harvest's mission aligns very closely with the credit union philosophy of 'people helping people,' " said Lisa Fawcett, Co-op Services' vice president of marketing. "Volunteering at Forgotten Harvest gave us the opportunity to share our team spirit and bring us even closer together — knowing that we are helping others." Forgotten Harvest relies on volunteers, including representatives from local businesses like Co-op Services. Founded in 1990 to fight hunger and waste, Forgotten Harvest services Wayne, Oakland and Macomb Counties, and is the nation's largest food rescue organization.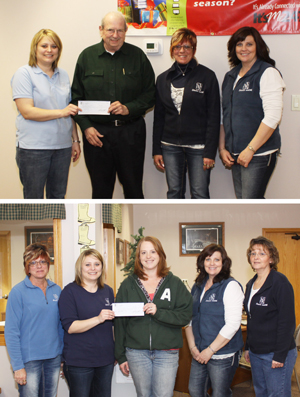 Check presentations from AAACU Atlanta staff present their donations to the Salvation Army and The Caring Place.
… Alpena Alcona Area CU raised $764 for 3 local charities. Donations were given to The Caring Place and the Salvation Army, in the amounts of $370 and $394 respectively, and 50 presents were given to the Community Giving Program. The Caring Place feeds needy families in the Atlanta area as well as providing food baskets during the holidays. The local Salvation Army also makes food baskets for local families and provides assistance during emergencies. Community Giving (part of DHS) received 50 presents that were distributed during the holidays. These presents were donated by members and staff of AAACU. Each AAACU branch organized many fundraisers to raise money for their charity of choice. This quarter, the Atlanta branch sold paper ornaments and had a silent auction for dinner coupons. Candy bars were sold at teller windows and staff could donate $2 on Fridays to dress down in jeans and sneakers.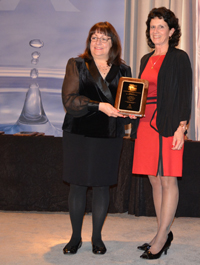 A CUNA representative presents Linda Wallace, vice president of operations for Public Service CU, with the Louise Herring Award.
… Public Service CU was given honorable mention for the Louise Herring's Award in February at the CUNA GAC in Washington. Out of 7,000 credit unions, PSCU was recognized for its presence in the Focus: HOPE community. Throughout the year, the credit union sponsored classes, seminars and one-on-one counseling sessions to help people understand the importance and power of money. During the process, the ultimate goal is to build trust with members and empower and enrich the community.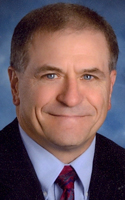 Beyerlein
… Catholic FCU's 57th Annual Meeting was Feb. 23 at Horizon's Conference Center in Saginaw. David Beyerlein was elected to serve on the Board of Directors for a three-year term. After the annual meeting, there was a buffet dinner with music and dancing for the 650 members who attended.
Go to main navigation