Print
CU Orgs Across Country Host Financially Fit Day on April 3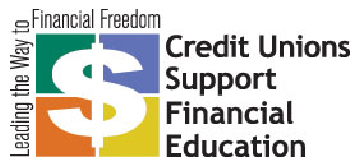 The National CU Foundation is inviting credit union organizations to host a "Financially Fit Day" on April 3 to kick off National Financial Literacy Month. This fundraising day is part of a relatively new campaign, entitled "Credit Unions Support Financial Education: Leading the Way to Financial Freedom."
In order to join in this initiative, credit unions can carry out either (or both) of the following activities to fundraise among staff and members:
host a "Financially Fit Day" on Wednesday, April 3
fundraising throughout the month of April
Fundraising could be as simple as a jeans or casual day for staff, but additional ideas are included in a toolkit at financialeducation.coop, the campaign website. Also included on the website are other campaign resources such as optional pledge forms, sample newsletter articles, sign-up sheets, stickers, flyer, statement stuffer, wall pin-up templates, a YouTube video, web buttons, and more.
"Holding a casual day on April 3 is a simple way for credit union organizations to make an impact on state and national financial education efforts," said Christopher Morris, NCUF director of communications. "With the campaign toolkit and templates, we've also tried to make it as easy as possible to participate."
Last year, NCUF and the Texas CU Foundation developed this initiative to raise awareness of financial education and also raise funds for programs and grants of NCUF and state credit union foundations. It was successfully piloted in partnership with a few state credit union foundations and the State CU Foundation Network encouraged broadening the campaign for 2013, inviting all credit unions and leagues to participate.
Credit unions are also encouraged to leverage this campaign as part of a broader appeal to staff and members around financial education. This could include things such as raising awareness of educational offerings by the credit union, the optional campaign pledges, financial education tips, and more.
"If credit unions want to do more than casual days or fundraising, we encourage them to be creative in their efforts and use any of our materials as a starting point," Morris said.
Donations made as part of the initiative will be split 50/50 between NCUF and the state credit union foundation in which the donation was made. The donations can be made at financialeducation.coop.
Submissions to Monitor may be
emailed
. Bryan Laviolette is the editor of Monitor. Contact him
by email
or call (800) 262-6285, ext. 233. The newsletter of the Michigan Credit Union League is published Monday mornings or Tuesday mornings when Monday is a holiday. There is no Monitor the week after Christmas and the week after the Annual Convention and Exposition. The MCUL reserves the right to edit submissions for clarity and space.