Print
Credit Union Auto Club is Newest Invest in America Partner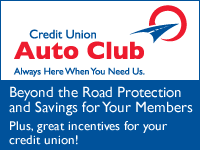 CU Solutions Group has introduced Credit Union Auto Club, the newest program in its credit union membership enhancement program Invest in America. Credit Union Auto Club was created exclusively for credit union members and offers a wide range of roadside assistance services and other benefits to credit union members at a significant savings compared to competing auto club plans. The program provides members of enrolled credit unions unparalleled service and unprecedented value in roadside assistance services and other benefits.
"Credit Union Auto Club is a great addition to Invest in America and we're proud to offer this valuable program to credit unions and their members," CU Solutions Group CEO David Adams said. "Invest in America is already known for helping members save hundreds of millions on new vehicles from GM, and our new roadside assistance program perfectly complements this. Credit Union Auto Club joins a long list of exclusive Invest in America partner discounts including Sprint, Intuit's TurboTax, Dell, DIRECTV and more."
Credit unions can earn marketing reimbursements when they offer Credit Union Auto Club to their members, and their members can receive these roadside assistance benefits when they sign up:
Emergency Roadside Assistance
Emergency Ambulance Expense
Emergency Tow and Extrication
Emergency Travel Expense
Emergency Lockout
Traffic Court Defense
Fuel Delivery Service
Legal Fees related to traffic accident
Flat Tire Repair Reimbursement
Enrolled credit unions not only earn marketing reimbursements when they actively promote the program, they also have access to free turnkey marketing materials. Credit unions should visit LoveMyCreditUnion.org to learn more and to enroll.
Submissions to Monitor may be
emailed
. Bryan Laviolette is the editor of Monitor. Contact him
by email
or call (800) 262-6285, ext. 233. The newsletter of the Michigan Credit Union League is published Monday mornings or Tuesday mornings when Monday is a holiday. There is no Monitor the week after Christmas and the week after the Annual Convention and Exposition. The MCUL reserves the right to edit submissions for clarity and space.