Print
STW "Week of Winning" a Success for Members and CUs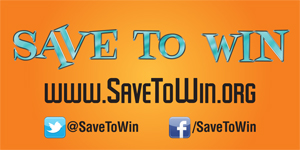 The first statewide Save to Win "Week of Winning" in which 10 lucky credit union members from 10 credit unions across the state received a $10,000 grand prize check in a special visit from the Prize Squad was a huge success, drawing attention from the media, the public and lawmakers.
The winners were all participants in Save to Win, MCUL's groundbreaking prize-linked savings program which rewards members for saving their own money.
Each $25 deposit into a Save to Win certificate of deposit by a credit union member entitles them to one entry into the Grand Prize drawing. In addition, most credit unions also individually award prizes to members who sign up for Save to Win, with prizes varying from credit union to credit union. All Save to Win deposits generate interest and build savings.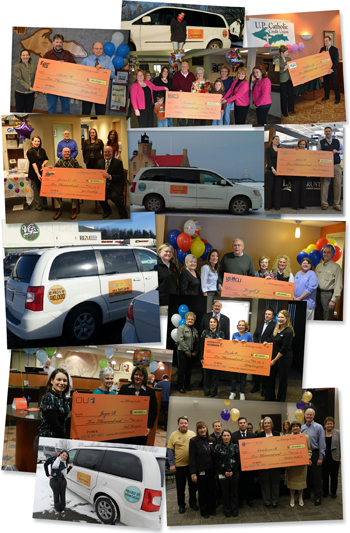 The big celebrations began Tuesday in Marquette, where the Prize Squad braved a blizzard to deliver the first $10,000 grand prize check to Kathy Grisham, a lifelong member of U.P. Catholic CU. From there it was on to Ishpeming Community FCU to deliver another $10,000 check to Scott Magnuson. A CCI mining maintenance worker for the Empire mine, Magnuson has been a member of ICFCU since 1991.
On Wednesday, the Prize Squad made their way south, beginning the day in Escanaba, where they surprised James C. Anderson with a big check. Anderson, who has been a member of Peninsula FCU for more than 50 years, said he and his wife Judith plan to help their grandson pay for college with their winnings. Anderson lives in Escanaba and retired from Newpage 16 years ago.
From there, the prize squad had a long drive but arrived at Besser CU in Alpena just in time to deliver a $10,000 check for Norma Smith. Smith and her husband Ron have been members of the credit union for 34 years.
Thursday and Friday were busy days for the Prize Squad, with three grand prize celebrations each day. First, they made their way across the state with stops in Grand Rapids, Lansing and Fenton. Joseph Janulis was the first big winner of the day. Janulis, a retired Grand Rapids police captain, has been a member of Grand Rapids Family CU since 1958 and has participated in Save to Win since 2011.
Lake Trust CU member Julie Benvenuto was the next lucky grand prize winner. Benvenuto, a retired state employee, works part-time at H&R Block preparing taxes.
And the final winner of the day was ELGA CU member Pam Spohn. Spohn plans to use some of her winnings for rest and relaxation. At ELGA, participation in the Save to Win program has more than doubled from 2011, growing at one of the fastest rates in the entire state.
Friday's celebrations were all in and around metro Detroit, with the first stop at OUR CU in Royal Oak where Joyce Rust was the first big winner of the day. Rust has participated in the prize-linked savings program since 2010. The second stop of the day was Roseville's Christian Financial CU, where member Linda O. received her $10,000 check. There, the Prize Squad was joined by the Mayor of Roseville John Chirkun, Councilwoman Jan Haggerty, and Keith Nelson, a representative from Congressman Levin's Office for the big event.
The final stop on the Prize Squad's tour was Dearborn, where where Carolann Broekhuizen received her $10,000 check. Broekhuizen has been a member of Community Alliance CU in Dearborn since 1979. Christian Financial, one of the original group of credit unions offer Save to Win, was thrilled to have its first Grand Prize winner.
The "Week of Winning" drew plenty of media coverage, with reporters stopping by many of the celebrations to cover the stories. Here are just a few of the many stories about the program and the week:
MCUL & Affiliates CEO David Adams offered his congratulations to all of the winners and said the excitement generated by the Week of Winning is proof of the principle behind Save to Win- that saving money really can be fun.
"Save to Win is the consummate example of Michigan credit unions doing what they do best: helping members to better their lives," Adams said. "Through Save to Win, members are learning a critical life skill, growing their personal wealth, and having fun all at the same time."
The Prize Squad posted videos each day of their tour. You can view the whole week's events by clicking here.

Submissions to Monitor may be
emailed
. Bryan Laviolette is the editor of Monitor. Contact him
by email
or call (800) 262-6285, ext. 233. The newsletter of the Michigan Credit Union League is published Monday mornings or Tuesday mornings when Monday is a holiday. There is no Monitor the week after Christmas and the week after the Annual Convention and Exposition. The MCUL reserves the right to edit submissions for clarity and space.