Kolhoff is New Chairman-Elect of NASCUS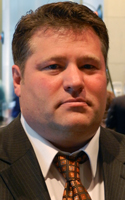 Kolhoff
The NASCUS Board of Directors recently elected John Kolhoff, deputy commissioner for credit unions for OFIR in Michigan, as its chairman-elect.
At the same time, the board for the National Association of State Credit Union Supervisors elected Michael Wettrich, deputy superintendent for credit unions in Ohio's Division of Financial Institutions, was elected secretary-treasurer.
Earlier this year, Gov. Rick Snyder signed an executive order making OFIR into its own department, known as the Department of Insurance and Financial Services, but that transition is not yet complete.
Kolhoff has held various positions with the Michigan agency since 1994, has served on the NASCUS board since May 2011. He is an active member of NASCUS, currently serving as chairman of NASCUS' National Institute for State Credit Union Examination. Wettrich has nearly 20 years of service with the State of Ohio, including over twelve years with the Division of Financial Institutions. Wettrich has served on the NASCUS Board since February 2011.
"John and Mike are respected, long-time members of NASCUS and the state regulatory community, and we are grateful for their commitment to NASCUS," said NASCUS President and CEO Mary Martha Fortney. "We congratulate them both in their new leadership positions and look forward to the continued benefit of their informed perspectives and guidance on issues impacting the state credit union system."
Chairman Orla Beth Peck also appointed Georgia regulator Stephen S. Pleger to the NASCUS Board to fill an unexpired term. Pleger currently serves as senior deputy commissioner for the Georgia Department of Banking and Finance, a position he has held since May 2010.
Go to main navigation