Print
2013 Lapel Pins Available for Purchase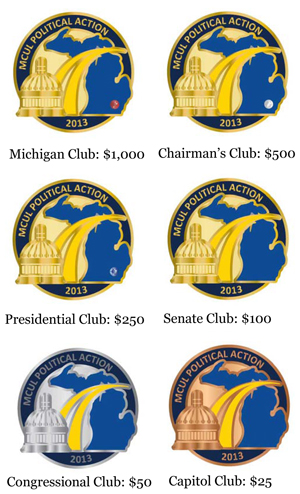 The 2013 Lapel Pin campaign is officially in full swing. If you have yet to begin your campaign, take a moment to go through the MCUL & Affiliates website and view the newly redesigned 2013 pins, payroll deduction options, and to learn more about the program.

Payroll deduction forms are available for 12 months, 10 months and 5 months.

Although the year has already begun, 12-month payroll deduction can begin at any time and run for 12 consecutive months (Proceeds raised until Dec 31 will be credited toward your 2013 state PAC goal with 2014 deductions being credited towards next year's goal).You can choose your club status and pin for 2013. Your corresponding pin will be mailed once your order form is received. Contact MCUL Grassroots Coordinator Ashley Ligon at Ashley.Ligon@mcul.org or (800) 262-6285, ext. 353, with any questions.

Submissions to Monitor may be
emailed
. Bryan Laviolette is the editor of Monitor. Contact him
by email
or call (800) 262-6285, ext. 233. The newsletter of the Michigan Credit Union League is published Monday mornings or Tuesday mornings when Monday is a holiday. There is no Monitor the week after Christmas and the week after the Annual Convention and Exposition. The MCUL reserves the right to edit submissions for clarity and space.