In Brief…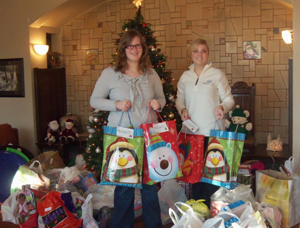 Parkside CU marketing intern Rachel Reynolds, left, and Marketing Coordinator Heather Gatewood show some of the presents the credit union collected for the boys at Methodist Children's Home Society.
… Many hours were spent walking the aisles of local toy stores looking for mp3 players, walkie talkies and Bayblades. Because of the efforts of Parkside CU, the boys at the Methodist Children's Home Society woke up on Christmas morning with their wishes fulfilled. This holiday season, the employees of Parkside played Secret Santa for 28 of the boys who reside on the Methodist Home campus in Redford. The Methodist Children's Home has been caring for children in need for 95 years. They currently help boys who have been abused or neglected, creating a safe haven for them. The boys Parkside purchased presents for range in age from six to 17. A trunk-load of gifts was dropped off on Dec. 14 at the Methodist Home and was opened by the children on Christmas morning. "We're excited to say that the boys' wish lists have been filled," Heather Karschner, development and marketing associate at the Methodist Children's Home said. "We want to say 'thank you so much' to those who made our Donation Drop-Off Day a success." Parkside staff had a blast shopping for the boys. Many of the toys were items staff had never heard of. The shopping trips were definitely filled with education on what toys are hot this year. The Parkside staff is excited to help the residents of the Methodist Children's Home Society this Christmas and throughout the coming year.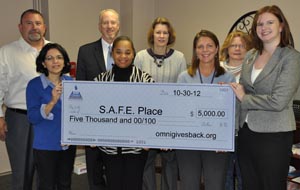 From left are George Jenkot, Bindu Madhok, John Hallacy, Denise McCoy, Tracy Beatty, Jennifer Fopma and Stacy Skalka of S.A.F.E. Place with Debi Southworth of OMNI Community CU.
… S.A.F.E. Place serves Barry, Eaton and Calhoun counties, but will never turn anyone away. With this philosophy, S.A.F.E. Place has helped thousands of domestic abuse victims and their children. With the OMNI "Gives Back" Grant from OMNI Community CU, S.A.F.E. Place will be able to continue to provide shelter services to victims at no cost. "S.A.F.E. Place is an organization that is invaluable," OMNI CEO Ted Parsons said. "Helping domestic violence victims by giving them the peace of mind that they are safe and don't have to worry about money at such a difficult time is vital. We are proud to be given the opportunity to help these families." "As a longstanding member of the community, I am amazed by OMNI's generosity of spirit and their decision to actually increase their gift to us following all these years of support," S.A.F.E. Place board member George Jenkot said. "This speaks incredibly well of them and their members. Their dedication to S.A.F.E. Place and their ability to recognize the large need is indicative of their noble stewardship. It's no wonder that across the community, they hold the entrusted role they do."
Special Delivery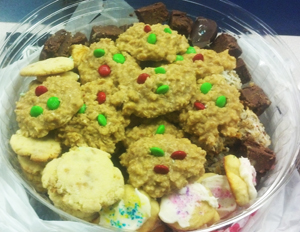 American 1 CU's Brooklyn Branch recently made baked goods and delivered them to the Brooklyn Police and Fire Station on Christmas Eve. The staff members at the Brooklyn Branch were excited to provide a few holiday treats for the service men and women who had to work on Christmas Eve and Christmas Day. The treats were gladly accepted by the Police and Fire Department employees.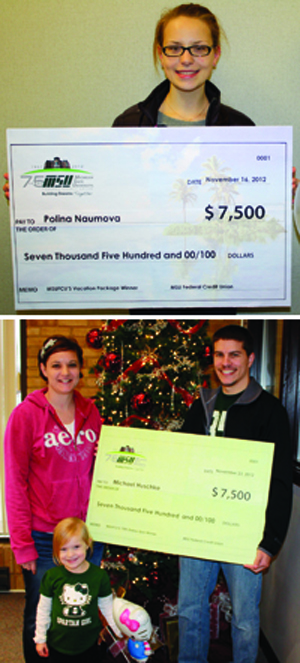 Polina Naumova, top, a freshman at Michigan State University, won a $7,500 travel package. Michael Huschke, below, with his family, won a $7,500 gift card to Wheat Jewelers.
… Throughout 2012, MSUFCU offered a variety of special promotions, events and giveaways to celebrate its 75th anniversary. MSUFCU recently announced the winners of its two 75th anniversary grand prizes: Polina Naumova, who won a $7,500 travel vacation package, and Michael Huschke, who won a $7,500 gift card to Wheat Jewelers. Naumova, a freshman at Michigan State University, and Huschke, of Midland, were announced as contest winners at MSUFCU's 75th anniversary member event. This celebration, hosted for MSUFCU members at the credit union's headquarters, featured food, games, appearances by MSU's mascot Sparty and the MSU marching band, and guest speakers including MSU President Lou Anna K. Simon. MSUFCU members were able to enter to win the $7,500 Classic Travel vacation package on MSUFCU's website and at any of its branch locations. Members entered to win the $7,500 Wheat Jewelers gift card by watching short videos online about MSUFCU's history and then taking quizzes related to the videos. A new video and quiz were available each quarter of 2012, and members could enter once during each quarter by receiving 100% on the featured quiz.




… As with all financial institutions of its kind, Michigan Schools & Government CU embraces the credit union philosophy of "People Helping People" and once again, MSGCU is rewarding its student members for embodying these values. MSGCU is offering its graduating high school senior members the opportunity to earn one of 12 Rudolph Heino Scholarship awards and each student chosen will receive a one-time scholarship valued at $1,000 to help them reach their educational goals. "We strongly believe that education is the most powerful tool that one could possess," MSGCU President and CEO Pete Gates said. "The Rudolph Heino Scholarship program is designed to assist students whose actions support the 'people helping people' credit union philosophy and demonstrate their commitment to learning. We are honored to help our students continue on the path of educational excellence." Recipients of the scholarships are selected based on a number of criteria, including credit union membership, a critical-thinking essay, academic achievement, community involvement, school involvement, significant contributions to family or society, work history and other outstanding achievements. Starting Thursday, Jan. 3, scholarship applications will be available on MSGCU's website homepage or at any of their locations. Submissions will be accepted through Friday, March 8. The Rudolph Heino Scholarship program is one of four offered by MSGCU. Each year, the credit union awards nearly $50,000 worth of scholarships to deserving high school students and adults alike.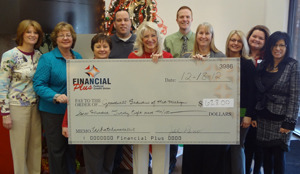 Financial Plus FCU recently took part in the ninth-annual Whatchamacallit, a community fundraiser.
… Generosity and the giving spirit were in full force at the ninth-annual Whatchamacallit, hosted by Financial Plus FCU and The Swartz Creek Chamber of Commerce last month. This once-a-year fundraiser and networking event attracted over 250 guests from the media, retail, service, nonprofit, restaurant, and civic communities across Genesee County. The event raised $1,672 for the two nonprofit beneficiaries, Goodwill Industries of Mid-Michigan and Food Bank of Eastern Michigan. Nine Hundred and forty pounds of food were also donated to the Food Bank, for a total of six hundred and 40 pounds more than last year. The event began at 6 a.m. with five radio stations broadcasting live from Financial Plus' Main office located on Van Slyke Road in Flint. Throughout the morning, attendees entered into a raffle for numerous prizes, took Holiday pictures with Freeze Frame Photo Lounge, listened to beautiful music from the Swartz Creek High School Madrigals and enjoyed a complimentary breakfast from a variety of local restaurants all in honor of the holiday season. Each year, two local charitable organizations are chosen by the Whatchamacallit planning committee.

… Filer CU CEO Patty Preuss announced that for the third year in a row, the credit union will pay a bonus dividend and loan interest rebate back to its members totaling over $58,000. "Our credit union has done very well this year and when that happens we return the money to our members," Preuss said. "A large part of that money is based on the interest our members have paid on loans which we will return to them. So you not only enjoy the credit union's low loan rates all year long, but then you get a little extra back at the end of the year."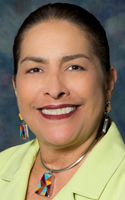 Lara
… One of members of Credit Union ONE's Board of Directors has been recently recruited for a important position with the Department of Homeland Security. Guadalupe G. Lara, vice chairwoman of the Credit Union ONE board is the new director of knowledge management, senior fellow, IPA at Homeland Security. This position will influence national efforts through the federal executive branch to address the well-being needs of children, youth and families; specifically increasing understanding and leading to better outcomes for children and families touched by the immigration and child welfare systems. Lara has spent most of her working career advocating for children and families in a variety of leadership positions, and is also a well-recognized motivational speaker. She has served on the board of Credit Union ONE since 1992. "It is a great honor for our organization to have a director take on a role that can influence and help solve one of our nation's toughest challenges," said Gary Moody, president/CEO of Credit Union ONE. "As a member of the Credit Union ONE Board of Directors, Lupe has been at the forefront of assuring the values of fairness, respect and dignity apply to all members in all circumstances. There is no doubt that same approach will lead her to great success in this new position."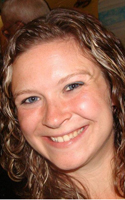 MacGregor
… Since 2008, CO-OP Financial Services has hosted a THiNK Conference every year for credit union professionals. The THiNK Conference was created to put a fresh perspective on the challenges and opportunities faced by credit unions every day through innovation and inspiration. To coincide with the conference, CO-OP also hosts a THiNK Prize, where credit union employees can submit new innovative ideas that all credit unions can use. This year, Jessica MacGregor, marketing coordinator from Awakon FCU – formerly Onaway Community FCU – in Onaway was chosen as a semi-finalist for the THiNK Prize. CO-OP chooses 25 Semi-Finalist ideas nationwide for the Grand Prize. The Grand Prize winner is awarded a grant for $10,000 to implement their idea, three finalists are awarded a five-day/four-night trip for the finalist and a guest to this year's THiNK Conference in Chicago, and there are also 22 semi-finalist prizes of $100 Gift Cards. In order to participate as a finalist in the prize, Jessica had to submit a biography with photo and a detailed business plan, outlining her idea. Jessica's idea is to implement a face-to-face call service product into the credit union world. It would be similar to Skyping a member or business professional. "It would put the personal back into this virtual world," MacGregor said. Voting opens up on March 26, 2012. To see the full list of semi-finalists or to click here.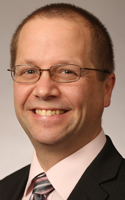 Sargeant
… Charles Cornelius, president and CEO of Educational Community CU, announced the promotion of Keith Sargeant as branch manager for the credit union's Three Rivers Branch. Sargeant's new responsibilities include managing the daily operations and supervision of personnel for the Three Rivers Branch. With a bachelor's degree in management from Davenport College as well as an associate's degree in business from Kalamazoo Valley Community College, Keith has 16 years of experience in the financial industry. Most recently, he served as a financial services representative at the credit union, where he assisted in operations, sales training and goal attainment. His previous industry experience also includes serving as senior relationship banker at LaSalle Bank in Kalamazoo, where he received several recognitions and awards for providing excellent customer service. "I love working with the Three Rivers community, helping our members meet their financial goals," Sargeant said. "I'm excited to serve as their new Branch Manager. I look forward to this new chapter in my career and feel like this is definitely where I belong." Keith is an active parent volunteer within the Schoolcraft Community Schools system, helping with Band Boosters, the district's drama productions and coaching his son's Battle of the Books team. He and his wife, Christine, reside in Schoolcraft with their three children.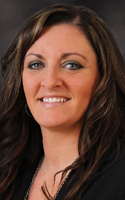 Wildfong
… Lake Michigan CU announced the promotion of Jodi Wildfong to district manager. Wildfong is a 12-year LMCU employee who has worked her way up the management ladder. She held prior positions as teller, head teller, assistant manager and branch supervisor before being promoted to district manager. Julie Hemmes, vice president of branch operation, is excited to have Wildfong as part of LMCU's retail management team. "Jodi has over nine years of management experience and has spent the past three years as the Saint Mary's Hospital branch supervisor. Under Jodi's watch, our Saint Mary's branch has become one of LMCU's top performers in many categories. She has built great relationships with our key partners and will now be overseeing all of our Grand Rapids partnership branches – Saint Mary's Hospital, Blodgett Learning Corner and Grand Rapids Community College," Hemmes said. Wildfong looks forward to expanding her career horizons. "LMCU has been a wonderful place to grow, both personally and professionally. This new opportunity allows me to maintain my relationships with Saint Mary's while reaching out to other partnership branches." Wildfong is a lifelong west Michigan native who enjoys camping and travel with her husband and two children.
Go to main navigation