Print
Plan to Take Part in Money Smart Week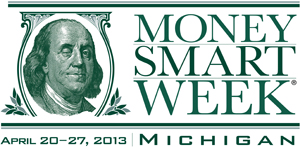 Get involved in Money Smart Week, which is April 20-27.
Money Smart Week, sponsored by Federal Reserve Bank of Chicago, is a public awareness campaign designed to help consumers better manage their personal finances. This is achieved through the collaboration and coordinated effort of hundreds of organizations across the country including businesses, financial institutions, schools, libraries, not-for-profits, government agencies, places of worship, and the media. These groups come together once a year to stress the importance of financial literacy, inform consumers about where they can get help and provide free, noncommercial, educational seminars and activities throughout the week.
Programming is offered to all demographics and income levels and covers all facets of personal finance from establishing a budget to first time home buying, to estate and retirement planning. Now in its 11th year, Money Smart Week partners will host their events April 20-27.
To become a Money Smart Week partner, your credit union simply needs to actively participate in one or more of the following ways:
Provide educational materials, instructors, or a seminar for consumers
Provide facilities to host events, sponsor events or promotional materials
Leverage resources to publicly support or endorse Money Smart Week
If you are too busy to create something from scratch, there are several financial presentations already scheduled that are available for your location to simulcast, making you a satellite site for the Be A Money SMARTY! presentation. This entertaining and educational presentation will provide consumers with the "top 10" things they need to know about credit/debt, identity theft/investment fraud, annuities/long-term care, and pre/post retirement issues – all in 90 minutes. For the list of dates and times for these simulcast options, email your request to MichiganChair@MoneySmartWeek.org. You can simulcast the presentation and augment it with your own, localized resources if you choose.
To sign up as a Money Smart Week partner, please review the partner responsibilities and register under the Partner link at www.MoneySmartWeek.org. Once registered, you will have the ability to enter your event details into the database of all 200+ MSW events, searchable by consumers. By registering, you'll also receive periodic Money Smart Week updates from the Federal Reserve Bank.
For assistance or further information, contact Kelly Masters at (248) 761-1762 or MichiganChair@MoneySmartWeek.org.
Submissions to Monitor may be
emailed
. Bryan Laviolette is the editor of Monitor. Contact him
by email
or call (800) 262-6285, ext. 233. The newsletter of the Michigan Credit Union League is published Monday mornings or Tuesday mornings when Monday is a holiday. There is no Monitor the week after Christmas and the week after the Annual Convention and Exposition. The MCUL reserves the right to edit submissions for clarity and space.