National Youth Saving Challenge and Credit Union Youth Week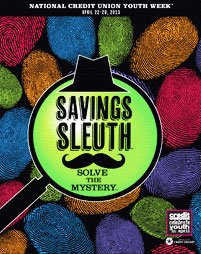 The National Youth Saving Challenge takes place during the month of April. It is sponsored by CUNA and held in conjunction with National CU Youth Week. Credit unions are encouraged to sign up now to join hundreds of other credit unions who teach youth the benefits of saving. Last year, nearly 146,000 young members deposited $28.5 million into their saving accounts during this national event—with 9,058 of these new accounts. For more information on the saving challenge see this CUNA web page.
This year's theme for Credit Union Youth Week is "Savings Sleuth, Solve the Mystery" and is slated for April 21-27, 2013. Through the CUNA website, credit unions can access several ready-to-use items to help show youth they can benefit from visiting – and saving at – their credit union. CU Youth Week will be the same week as Michigan's Money Smart Week which provides an opportunity for synergy with both of these financial education initiatives.

Go to main navigation