Print
Rep. Dan Kildee Appointed to House Financial Services Committee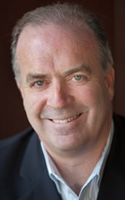 Dan Kildee
Freshman Rep. Dan Kildee, D-Flint, was appointed to serve on the House Financial Services Committee.

Kildee won the seat previously held by his uncle, Dale Kildee. Dan Kildee is the former Genesee County treasurer, led efforts to establish the Bishop International Airport Authority and was president of The Center for Community Progress, a national nonprofit organization that he founded with the intention to reform land sales to stop the spread of blight.
"The MCUL & Affiliates congratulates Representative Kildee on his appointment, and we are excited that Michigan has yet another strong voice on the House Financial Services Committee," MCUL & Affiliates CEO David Adams said. "We look forward to working with him on matters of great importance to Michigan's credit union industry in the coming Session."
Submissions to Monitor may be
emailed
. Bryan Laviolette is the editor of Monitor. Contact him
by email
or call (800) 262-6285, ext. 233. The newsletter of the Michigan Credit Union League is published Monday mornings or Tuesday mornings when Monday is a holiday. There is no Monitor the week after Christmas and the week after the Annual Convention and Exposition. The MCUL reserves the right to edit submissions for clarity and space.