Print
In Brief…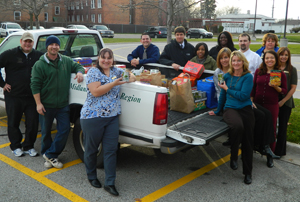 Team One CU donated food collected during their annual food drive to Hidden Harvest
… Team One CU recently had its annual Food Drive to collect nonperishable food items in Saginaw, Tuscola, Huron and Sanilac counties. Credit union-wide, more than 1,950 food items were collected. Team One employees and members brought in food to be distributed to food banks and organizations in time for Thanksgiving. The food collected was donated to Hidden Harvest in Saginaw, the Fill the Trucks event to support Tuscola county families sponsored by Moore Motors in Caro, Eva's Place in Sandusky and the Elkton United Methodist Church Food Pantry. Additionally, the three Team One branches that collected the most food were awarded a cash prize to donate to the charity of their choice. The main office in Saginaw donated to the Lighthouse Outreach of Saginaw. The two other winning teams donated to the Thumb Area Assault Crisis Center in Caro and Toys for Tots in Sandusky.
Rivers Edge Community CU Wears Jeans to Help a Needy Family

Employees of Rivers Edge Community CU participated in jeans day fundraisers during 2012 to support the needy family they adopted for Christmas. More than $1,000 was raised plus some departments of the credit union opted to donate funds to the cause instead of exchanging gifts. Each year the credit union adopts a family through the Family Resource Center.
… Some savvy shopping and a bit of good luck helped Lake Michigan CU double the number of presents it was able to donate to Toys for Tots from donations this year. Credit union employees Vickie Smith and Rachel Decker had taken $1,600 in donations from its members to Kohl's to purchase gifts for the well-known Marine Corps program. Smith furthered the donation by using a coupon for 30 percent as well as $240 in "Kohl's cash" as a user of the store's rewards program. But what happened next is what truly makes the story special. According to MLive.com, the pair was approached by the manager as they exited Kohl's Grandville store and told that they had been selected as that day's winner of the store's Dream Receipt Holiday Sweepstakes and the store would pick up the tab for the entire purchase. "Rachel and I looked at each other and started crying. We had to compose ourselves," said Smith, who is the Grand Rapids-based credit union's director of community involvement and business development. Decker is the coordinator of those programs. So the pair went back into the store and bought more toys totaling about $1,000. They spent the remainder of the money at another store where they bought games geared toward older boys. The toys were to be distributed to children in Ottawa and Kent counties. The pair were selected at random, store Manager Bob Carlton said. "We have no idea who it is, it's just the first person that comes by us," Carlton said. "It just worked out that an organization benefited."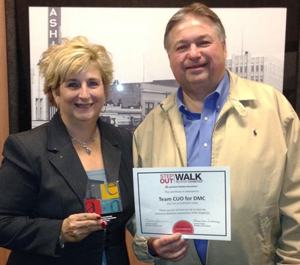 Judi Desilets, Credit Union ONE director of public relations, and John Kozich, Credit Union ONE executive director of community relations, show the credit union's awards.
... For the second year, Credit Union ONE has participated in the Step Out Walk for Diabetes, but this year the credit union really increased its efforts. At an awards ceremony on Nov. 7 the credit union was recognized for its outstanding efforts for the walk. Having 165 walkers from the Credit Union ONE team earned it the 2012 Largest Team Award, and because of its sponsorship and team donations the credit union was awarded 2012 Top Ten Corporate Team. "We are so appreciative of these awards, they are a true testament to the efforts of our walkers, said Judi Desilets, Credit Union ONE director of public relations. The commitment by our entire organization was evident as we joined the community to help fight such a dreadful disease."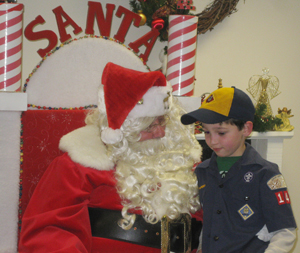 Many children told Santa what they wanted for Christmas this year at the Chesterfield Township Tree Lighting Ceremony.
… Genisys CU sponsored the Chesterfield Twp.Tree Lighting Ceremony on Dec. 7 at the Chesterfield Township Municipal Offices. This festive event included Christmas caroling, a holiday craft, cookies, cocoa and Santa's arrival by fire truck. "Santa's arrival is a memorable holiday experience enjoyed by the young and old alike," said Amanda Willard, Chesterfield Twp. Parks and Recreation programmer. "Santa not only gives kids a candy cane but also a special wrapped gift." More than 300 people attended the annual tree-lighting event to see the township supervisor present Santa with the key to the township and to participate in the community sing-a-long. "We are lucky to have the continued participation of the Chippewa Valley Alumni Choir who captures the spirit of the season with their uplifting vocals," Willard said. "They are always a delight." The neighboring historical village also opened its doors for guests to step back in time for an old fashion Christmas celebration, and the historical Weller School House was available to visit. "The tree lighting ceremony is one of the many wonderful events that Genisys sponsors in Chesterfield Township throughout the year," Genisys President/CEO Jackie Buchanan said. "It's a great way for families to celebrate all that the season has to offer."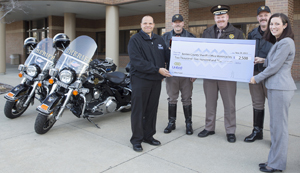 James Knight, United FCU vice president of member relations, Berrien Sheriff's Deputy deputy Jamie Laughlin, Undersheriff Charles Heit, Deputy Donald Lighthart, Jr., and UFCU Branch Manager Brittany Grasley recognize the UFCU's donation for the department's motorcycle unit.
… United FCU donated $2,500 to the Berrien Sheriff's Department to help keep the motorcycle unit operating in the county. Earlier this fall, it was announced that the motorcycle unit would be disbanded unless funds were raised to help offset costs. Several local organizations stepped up with donations to keep the bikes rolling. The motorcycle unit operates six Harley-Davidson Police Road King motorcycles in more than 40 events each year. "United Federal Credit Union wants to keep the Berrien County Sheriff's Department Motorcycle Unit in the community," UFCU Chief Development Officer Duane Nelson said. "The motorcycle unit's assistance in the area is key to keeping the residents of Berrien County safe and UFCU is supporting the unit's efforts." The Berrien County Sheriff's Department Motorcycle Unit operates police motorcycles April through November. The motorcycles are used for routine patrol in addition to participating in community events such as motorcade escorts for funerals, benefit rides and visiting dignitaries; school and community programs; parade escorts; traffic assistance, and the Blossomtime Queen Tour. The motorcycle unit has eight certified officers who participate in monthly training and are recertified each year with additional training. Officers train in low-speed maneuvers, emergency deceleration and braking, high-speed lane changes and collision avoidance. The motorcycle unit provides public safety service where standard patrol units are not practical. "The bikes are a vital tool to providing safety for many events we have throughout the summer and it's great to have support from businesses like United Federal Credit Union and other private funding to help us get through tough economic times," Undersheriff Charles Heit said. Other donors include Kalin Construction, Lane Automotive, Honor CU, and Whirlpool Corp.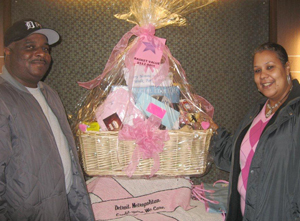 Jacqueline Birotte, Vera Geniac and Veronica Johnson help at the Detroit Metropolitan CU bake sale.
… Detroit Metropolitan CU recently had a bake sale and charity raffle to raise money for Breast Cancer Society. The DMCU staff baked food, paid for casual dress days and donated a very large basket for the cause. By pulling together all of these efforts the staff at DMCU raised $2,720.

… . From Nov. 12 through Dec. 12, American 1 CU's home office team had a coin drive to raise money for Consumer's Energy gift certificates for a local Jackson family. American 1 as a whole adopted a local family, and to add to the gifts, the home office decided to do a coin drive for this families heating bill this winter. The American 1 Home Office team raised more than $300 for this family.
Chapter Supports Breast Cancer Awareness

The Downriver Chapter collected donations for the Breast Cancer Awareness program at Mercy Memorial Hospital System in Monroe and Henry Ford Wyandotte Hospital's Yes Ma'am Program. The combined efforts of the credit unions in the Downriver Chapter raised $11,188 in October. From left are: Laura Cipielewski of Community Focus FCU; Jayson Bauer of Downriver Community FCU; Dawn Millisor of Shore to Shore Community FCU; Katie Grignon of Henry Ford Wyandotte Hospital; Mary Rose Giles of First Catholic FCU; Karen Carrer of Wyandotte FCU (soon to be NuPath Community FCU); Molly Moore of Mercy Memorial Hospital System; Jackie Swearingen of Mercy Memorial Hospital System; Tonya Wilson of Advantage One FCU; Kristi Leppen of Taylor Community CU; Brittany Prater of Monroe County Community CU; Katherine Hall of Monroe County Community CU; Lisa Hill of First Community FCU; Nancy Zack of Henry Ford Wyandotte Hospital; Kerri Marentette of Wy-South Affinty Group CU, andTracy Aloisi of First Catholic FCU.


Chapter Donates Toys to Salvation Army

The Downriver Chapter donated toys at its Holiday Luncheon for the Salvation Army located in Wyandotte. From left are: Lisa Hill of First Community FCU; Kerri Marentette of Wy-South Affinty Group CU; Tonya Wilson of Advantage One FCU; Jayson Bauer of Downriver Community FCU; Karen Carrer of Wyandotte FCU (soon to be NuPath Community FCU); Laura Cipielewski of Community Focus FCU; Tracy Aloisi of First Catholic FCU; Dawn Millisor of Shore to Shore Community FCU; Mary Rose Giles of First Catholic FCU; Brittany Prater of Monroe County Community CU; Katherine Hall of Monroe County Community CU.

… OMNI Community CU announced it will be rewarding members with its fifth annual Cashback Rebate. OMNI started the rebate program in 2008 and since then has returned $4 million to members. "We want our membership to know we truly appreciate their trust in us and that they are what make this cooperative so successful," OMNI CEO Ted Parsons said. "Without their faith that we are always looking out for their best interests, we wouldn't be the institution we are today. That's a responsibility everyone at OMNI takes very seriously. Our membership is the best out there, and every time we help someone we're trying to show them why they made the right decision coming to us." OMNI's Cashback Rebate is simple: The more savings and loans balances you have with the Credit Union, the more your share of the rebate will be. The rebate will be deposited to members' regular savings accounts on Jan. 11. "Explaining the Cashback Rebate to members, new and old, is always a joy," OMNI Personal Advisor Anne Johnson said. "I love seeing their astonished faces when they realize that OMNI pays them just for belonging. Knowing that we are here to help them has really solidified that family feeling we are known for." "Providing the Cashback Rebate to members is something our team strives for every year," OMNI CFO Mark Cramer said. "With the loyalty of our membership and the excellent guidance of our Board of Directors, we are proud to say the Cashback Rebate has been possible for the past five years."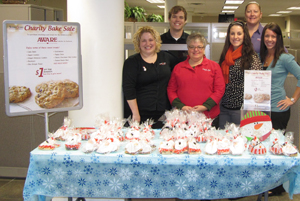 American I CU employees show off the goodies available at its recent bake sale. From left are Communications Specialist Marla Sanford, Communications Specialist Shaun Whitehouse, Product Specialist Roslyn Chorkey, Event Coordinator Jayme Bicknell, Community Relations Manager Liz Niles and Kristi Latoszewski, vice president of marketing and communications.
… American 1 CU's marketing department had a Bake Sale on Dec. 14. The fundraiser brought in more than $350 for Christmas stockings for those at the AWARE Shelter. All together 64 stockings were filled for those at the shelter; 34 of which were for the kids. There were piggy banks, lotion, candy, nail polish, and more that filled the stockings. The items were delivered to the AWARE Shelter on Dec. 17. The staff at the AWARE shelter was overjoyed by the donation, and that each person at the shelter would have at least one present to open on Christmas. Also purchased with the money raised at the bake sale were bath and kitchen towels for general use at the shelter.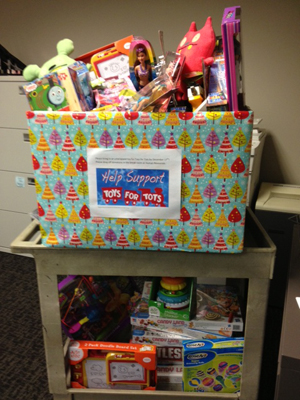 Employees from the league and its affiliated companies, CU Solutions Group and CUcorp, donated dozens of toys to Toys for Tots.
… MCUL & Affiliates collected toys for the Marine Corps' Toys for Tots campaign. "This afternoon I delivered a car load of trucks, dolls and games to the Toys for Tots collection center in Farmington," said Emily Sternberg, director of human releations for the league. "Thanks to the generosity of our staff, a few more children in the metro Detroit area will wake up Christmas morning and be able to new toys and games under the Christmas tree."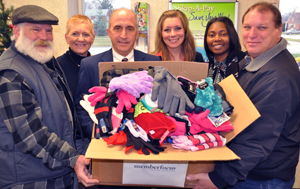 From left are Dearborn Goodfellows President Larry Johnson, Marilynn Hammond of MemberFocus, Karl Fava of the Goodfellows, Christine Clark and Patricia Morris of MemberFocus, and Ken Preiss, vice president of the Goodfellows.
… MemberFocus Community CU hosted its second annual gloves and mittens drive for the Dearborn Goodfellows. The Goodfellows distribute all donations to local families in need. Thanks to the credit union staff and members, 164 pairs of gloves and mittens were collected this year, and thanks to the Goodfellows, local families in need will have warm hands this winter.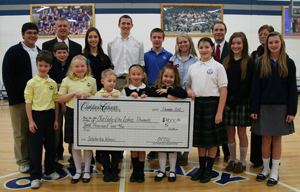 Fourteen students and several OCCU staff members stand together after the students were recently awarded $5,000 in scholarships.
… Fourteen Waterford Our Lady of the Lakes students recently won scholarships ranging from $250 to $1,000 from Oakland County CU. All students submitted either an essay or a drawing depicting "How they have, or could, help those less fortunate." All students in the contest won at least $20 and were challenged to donate $10 of their award to their favorite charity. "This is truly one of my favorite days of the year," OCCU President/CEO Allan McMorris said. "The school only gathers all of its students in a single setting once a year and this is it. It's an honor. The kids at Lakes are doing so many incredible things in and out of school. We're proud of these students and the affiliation between Lakes and Oakland County Credit Union." Our Lady of the Lakes is the host to a new OCCU student branch in its cafeteria.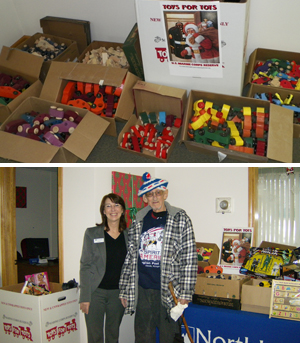 Top: Oscoda resident Alvin Miller, a Northland Area FCU member, donated hundreds of handmade wooden toy cars and trucks for the credit union's Toys for Tots campaign. Bottom: Oscoda branch Manager Alane Taylor thanks Miller.
… Northland Area FCU had an exceptional Toys for Tots campaign in December. "Everyone's been so generous – this is the most toys we've collected in years," said Oscoda branch Manager Alane Taylor. Amid dozens of games, dolls and stuffed animals donated by Northland members and staff, retired woodworking enthusiast Alvin Miller (a Northland member since 1961) brought his own special donation – hundreds of wooden toy cars and trucks he'd crafted with his own hands. "We were just overwhelmed by everyone's generosity," Taylor said. Staff at seven Northland branches chose Toys for Tots as their charity for December.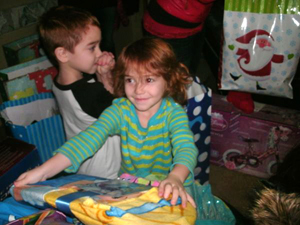 Cheyanne and Tyson Torres receive early holiday gifts from Community Choice CU and WKQI 95.5-FM's Mojo in the Morning show. Cheyanne and Tyson's parents, Jami and Robert Torres, are both former U.S. Marines and have experienced financial and medical hardships since retiring from active duty.
… Jami, Robert, Tyson and Cheyanne Torres of Romeo got an early visit from Santa this year with WKQI 95.5-FM Channel 955's Mojo in the Morning "Breaking & Entering" and Community Choice CU. Along with many hard-working families, the Torres family has been hit during this difficult economic time. Jami and Robert, both veteran marines, have been dealt a tough hand bouncing back from service; along with Jami's growing health concerns. Channel 955's Mojo in the Morning brings the holidays to local families who are experiencing hardship. Year after year, they "break in" and load 'em up with truck-loads of food, necessities and gifts. This is the second time this year that the radio show teamed up with Community Choice to help a family in need. The credit union and 120 team members pitched in, totaling $2,500. The money raised purchased home and personal necessities, including clothing, toys and money to help with bills. "Community Choice Credit Union has a tremendous respect for those who provide military service for our country." Community Choice CU CEO Robert Bava said. "We are thankful for the Torres' sacrifice while enlisted, and honored to be able to give back in their time of need. Our prayers are with Jamie and the whole Torres family in hopes for a safe, healthy and happy new year."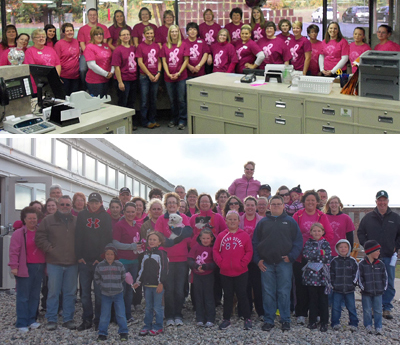 AAACU employees show their support for Breast Cancer Awareness by walking as a team at the Relay for Life and the sixth annual Zonta Walks for Women.
… Throughout the third quarter of 2012, Alpena Alcona Area CU's Main and North offices focused their fundraising efforts on the Relay for Life and the sixth annual Zonta Walks for Women event. With the help of the credit union's membership, employees raised a combined total of $3,793. These funds will help pay for mammograms for those who cannot afford to get an annual exam as well as assist in research to find a cure for cancer. Both the Relay for Life and the Zonta Walks for Women celebrate cancer survivors, celebrate the lives of those lost to cancer and provide encouragement to those currently battling the disease. They also stress the importance of early detection and prevention. These life changing events truly make a difference in the fight against cancer. Each branch accepted monetary donations from its members and sold candy bars and snacks. Along with the member donations, a raffle was held for a grill package. AAACU also donated $1 for every "like" received on its Facebook page.

… When important information gets into the wrong hands it can be devastating for those affected. In an effort to help members and the community at large, Credit Union ONE recently hosted a document shredding day at its Ferndale branch. Approximately 150 people turned out on Oct. 27 to protect themselves from identity theft and fraud by shredding more than 5,000 pounds of confidential personal and business documents. Documents containing information such as social security numbers, addresses, account information, financial records or personal data, can be stolen and used to open lines of credit, use existing credit cards or to falsify personal information. Shredding documents that contain private information can protect individuals and businesses from fraudulent use of confidential data. "The shredding event was created to raise awareness about the risks of identity theft and fraud, and to provide a safe and convenient way to dispose of unneeded paperwork," said John Kozich, executive director of community relations for Credit Union ONE. "Credit Union ONE has plans to continue offering this service at various Credit Union ONE branches continuing into next year." Kozich coordinated the three hour event, working closely with Shred Corp., the industry-leading company that donated its time and equipment to provide secure onsite shredding services. The shredded paper waste collected was taken away for recycling into paper towel.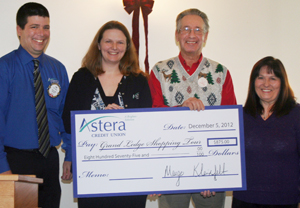 From left are Astera CU's Tim Lipsey, Dana Hartwick, Dave Sands and Sandy Sipes.
… On Dec. 5, Astera CU presented a check for $854 to the Grand Ledge Shopping Tour, a nonprofit organization that takes local elementary students shopping for school clothes and buys them Christmas presents for the holidays. The presentation marks Astera's second year raising funds for the Grand Ledge Shopping Tour. Dana Hartwick, senior teller at Astera's Marketplace Branch, has spearheaded Astera's fundraising efforts both years by organizing candy sales, bake sales and raffle contests. "I do this," said Hartwick, "because my children have benefitted from the program. I know how deeply it affects a family and now it's my chance to return the kindness." Hartwick is already planning fundraising opportunities for next year's Grand Ledge Shopping Tour.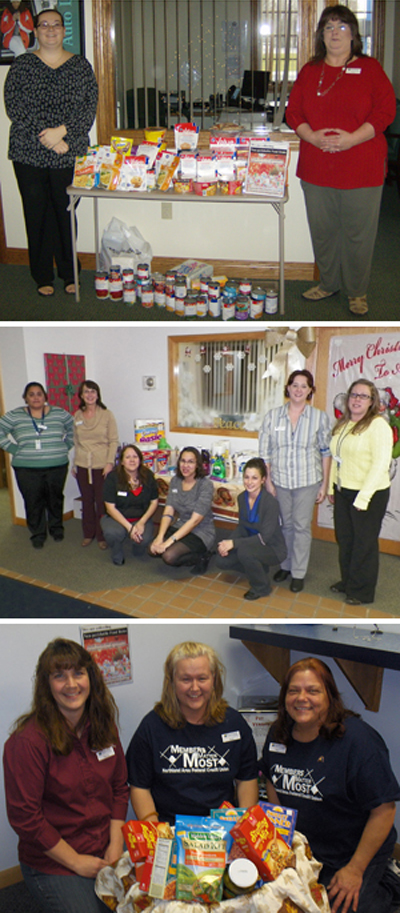 Collectively, Northland Area FCU's 13 branches distributed much needed supplies across seven counties in northeastern Michigan. Northland staff members - from the West Branch (top), Oscoda and Fairview branches - display a few of the items collected for needy families during the month of November.
… Northland Area FCU compiled donations for local families in need during the month of November. The lobby collection tables filled up quickly as staff donated items and generous members added to the mix. Food, cleaning supplies and personal hygiene products were among the many items collected for area food pantries, homeless and women's shelters. "We were so happy to be able to do this for our community," Fairview branch Manager Sue Jurkiewicz said. "Our members are the best – they added to our donations in a big way. Thank you to everyone who helped us out." West Branch II Brianna Crandall branch manager said helping those in needs feels good. "Thanks to all the generous donations from Northland members and staff, we were able to collect over 200 items to donate to this worthy cause."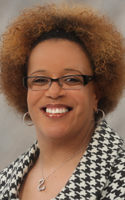 Ellsworth-Etchison
… The YMCA of Metropolitan Lansing named LAFCU's Kelli Ellsworth-Etchison as Campaigner of the Year for 2012. "Kelli Ellsworth-Etchison has raised thousands of dollars for the YMCA's annual campaign and inspires others to do their best to support the Y," said Tony Fragale, YMCA of Metropolitan Lansing president and CEO. "Her enthusiasm for community engagement and her passion for helping others was clearly demonstrated for the Y as it is through her work at LAFCU and in other philanthropic efforts." Ellsworth-Etchison said she was honored by the award. "It was a complete surprise and a sincere honor to be recognized for supporting a great organization's mission and programs and to ask others to do the same," said Ellsworth-Etchison, vice president of community & business development at LAFCU. Ellsworth-Etchison has served as vice chair and now serves as chair of the YMCA metro board annual campaign. She also serves on the Y's executive committee and the board development committee.
… Ginny Whelton was chosen as the 2012 Deborah L. Frisch Employee of the Year at Catholic FCU in Saginaw. Annually, CFCU management staff selects one employee that has displayed exceptional work performance; service to the membership and dedication the credit union goals. "It is truly an honor being named the Deborah L. Frisch Employee of the Year for 2012," Whelton said. "Deb impacted many lives at Catholic Federal Credit Union, including mine and I am proud to be part of her legacy. She was a fine lady." Whelton has worked at the credit union for seven years as the receptionist at the main office Welcome & Information Member Center.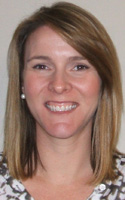 Maki

… Michigan Business Connection in Ann Arbor announced that Jillian Maki has joined the firm as senior underwriting manager. "Our mission to energize and enable credit union success in business lending is enhanced by Jillian joining us," MBC President Bill Beardsley said. "She has a dynamic leadership attitude and the expertise that fits well with our core focus and the types of loan requests we regularly underwriter." Maki worked as a commercial credit analyst and commercial lender at Harris Bank in Chicago after completing the bank's formal credit training program in 2004. In 2006, she began working for Prudential Mortgage Capital, also in Chicago, spending more than five years with the company before relocating back to Michigan to be closer to family. While at Prudential, Maki spent time in various roles including: credit, portfolio management and originations. She graduated from Michigan State University in 2003 with a bachelor's degree in accounting. Maki lives in Brighton with her husband and son.
… BauerFinancial Inc., a credit union rating and research firm, recognized Great Lakes First FCU in Escanaba with its highest 5-Star rating. To earn this Superior 5-Star rating, Great Lakes First excels in areas of capital, asset quality, profitability and much more. GLFFCU has earned the rating for the latest 33 consecutive quarters. "It isn't surprising to those of us who watch the industry that 'plain vanilla' institutions, those that didn't get into risky investments or lending, are the ones that are still standing strong today," BauerFinancial President Karen L. Dorway. "Great Lakes First Federal Credit Union has stayed true to its purpose of serving its members in a prudent and responsible manner."
Submissions to Monitor may be
emailed
. Bryan Laviolette is the editor of Monitor. Contact him
by email
or call (800) 262-6285, ext. 233. The newsletter of the Michigan Credit Union League is published Monday mornings or Tuesday mornings when Monday is a holiday. There is no Monitor the week after Christmas and the week after the Annual Convention and Exposition. The MCUL reserves the right to edit submissions for clarity and space.