In Brief…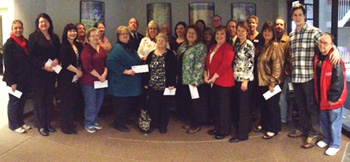 Representatives from several local agencies accept checks from TLC for their organizations.
… In 2012, the employees of TLC Community CU worked together to raise $23,233 to benefit 20 local charities. The funds are collected throughout 2012 and distributed to the agencies in time for the holidays. The employees wish to recognize the important work of these charities and help the community during this important time of year. Each year, the employees form a committee to decide where the funds are to be distributed. The program is designed to benefit local charities in Lenawee County, where TLC has five branches. "Employees purchased days off this year with the proceeds from their purchase going to the campaign," TLC Human Resources Manager Deb Elliott said. Twenty local agencies were chosen to receive funds from the donations: Region 2 Area Agency on Aging's Senior Christmas Program, Lenawee County Continuum of Care, LEAHC (Lenawee Emergency and Affordable Housing Corp.), Fishes and Loaves Food Pantry, Catherine Cobb Domestic Violence Shelter, Associated Charities of Lenawee, Lenawee County Mission, Hospice of Lenawee, The Salvation Army's Food Pantry, The Daily Bread, The Lenawee Humane Society, HOPE Community Center, Hickman Cancer Center – Adrian location, Re-Bicycle Lenawee, Helping Hands Loving Hearts, St. Vincent's Society-St. Joseph Church Food Pantry, St. Mary's Catholic Church Food Pantry, St. Paul's Evangelical Lutheran Church Food Pantry, God's Bread Basket-Tecumseh Church of Christ and the Disabled American Veterans.

... For the 17th year, several Upper Peninsula Chapter credit unions have become collection sites for the Marine Corp's Toys for Tots campaign. This year, each credit union donated two Visa gift cards as prizes to help promote the program. Members get one entry in a prize drawing for each toy they donate. Participating credit unions included Great Lakes First FCU, Peninsula FCU, Delta County CU, Upper Peninsula State Employees CU and Northern United FCU.

… Co-op Services CU recently sponsored Santa's Polar Express at Westland Shopping Center. The Express is a large train modeled after the 2004 computer-animated fantasy film. Free train rides were available to all ages. "This is a fun holiday activity for everyone," said Lisa Fawcett, the credit union's marketing vice president. "Our ongoing partnership with Westland Shopping Center is one that helps us to sponsor events and activities that benefit the local community."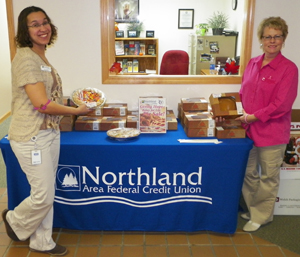 Relay teammates Amanda Walker-Fleming, left, and co-captain Terri King display a few of the fundraising pies.
… Northland Area FCU's Iosco County branches hosted a Relay for Life fundraiser the day before Thanksgiving. Staff from three branches, (Hale, Tawas and Oscoda), make up the credit union's Pink Warriors Relay team. The team sold nearly 90 pies to coworkers and visiting credit union members to raise money for cancer research. Collectively they raised $300 for Relay for Life. Since the start of the 2012-13 Relay fundraising year in June, Northland's Pink Warriors have raised more than $1,300 in Relay donations. The credit union has been an active fundraiser for cancer research for more than a decade.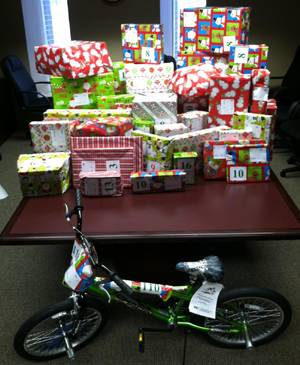 EECU employees provide good cheer with wrapped gifts for 17 children in need from around Michigan.
… Nearly 50 employees from EECU participated in raising funds for a Michigan-based charity. EECU members and staff have raised more than $2,700 for Operation Good Cheer this year. This amount was $150 more than the annual goal, attained via member and staff donations, jean day funds, employee luncheons/chili cook-offs, book sales, bake sales and more. Together, they were able to provide 17 children with gifts for the holiday season. "EECU is proud to support such important and worthy causes," said Kathy Spahr, EECU employee and fundraising coordinator. Operation Good Cheer was started by a group of Ford Motor Co. employees in 1971, and the organization celebrated 40 years of providing good cheer to children in 2011. In the beginning, the group pooled money and bought gifts for 66 children. Today, Operation Good Cheer has grown and delivers gifts to more than 7,000 children, teens and adults with disabilities who are in foster care, residential treatment, and group homes across Michigan.


… In a world where the financial landscape is constantly changing, the greatest tool a consumer can have is knowledge, which is why Michigan Schools and Government CU is dedicated to being the best resource for financial literacy. The credit union is pleased to announce that 70 of its employees graduated from the Investor Educator in Your Workplace ® program and will be recognized with a Gold Level of completion. The IEiYW ® program kicked off in April, allowing employees to improve their investment knowledge and behaviors as they volunteered to participate in 10 hours of online investment and financial education training over a 10-week period. "At MSGCU, we take pride in helping our members set their finances right," MSGCU President and CEO Peter Gates said. "We are proud of our employees for constantly arming themselves with knowledge on financial literacy so we can give our members the most helpful and up-to-date information." The online program covered 10-key basic personal finance, saving and investing concepts and used pre- and post-testing to help measure and demonstrate the positive impact on participants. MSGCU was one of 18 credit unions and 509 employees in Michigan to take advantage of the program, which brought online investor education to 75 companies and 3,318 employees. Overall, participants have shown measurable improvements in financial knowledge, attitudes and behavior. The national Investor Education in Your Workplace® program is sponsored and underwritten by the nonprofit Investor Protection Trust. Since 1993, the IPT has worked with states and at the national level to provide the independent, objective investor education needed by all Americans to make informed investment decisions.

… Lake Trust CU chose Contracting Resources to help it design a new high-tech service model that will introduce teller pods inside its branches. Its soon-to-be relocated Auburn Hills branch will be the first one to pilot the new system. The branch, scheduled for early 2013, will be positioned in the busy storefront area of the Auburn Square Shopping Center, across from Oakland University. The credit union said the branch will create a new experience for members, with credit union representatives specializing in service and cross-trained in many specialty areas creating more of a "retail feel" to the new location. At just 1,200 square feet, the new Auburn Hills location will be the smallest of all of Lake Trust's branches. "The new model will serve members in a much different way," said Terri Guastella, project manager for the $1.5-billion credit union. "It is a great location to house this pilot right across from the university. We will get a chance to see just how well it plays out with many different segments of our membership."

… Marshall Community CU's Member's First Department recently raised $100 by having weekly 50/50 raffles for the staff of MCCU. The funds were then donated to Pink Saturdays, a program funded through the Susan G. Komen Foundation. Pink Saturdays provide uninsured women (ages 40-64) of Southwest Michigan with free mammograms.

… Astera CU has completed its first five-week financial basics class and is preparing a second for Grand Ledge High School students. After being approached by Grand Ledge guidance counselor Laura Wyble, Astera developed a course for high school seniors, which had topics ranging from "Choosing a Financial Institution" to "Understanding Credit." Throughout the five weeks, students peppered the speakers with questions as they developed a financial game plan for after graduation. The course was so well received that the Astera team was asked to return for the upcoming term to teach a similar course the business finance class.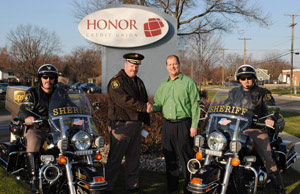 Honor CU CEO Scott McFarland stands with deputies from the Berrien County Sheriff's Department Motorcycle Team. From left are Donald Lighthart Jr., Charles Heit, McFarland and Jamie Laughlin.
… Honor CU is proud to announce support of the Berrien County Sheriff's Department Motorcycle Team, which was on the verge of elimination because of budget restraints. "We are proud to be able to provide support to the motorcycle division which provides safety patrols and are a part of many community events" Honor CEO Scott McFarland said. A donation was made to the organization in efforts to keep the program up and running for one year.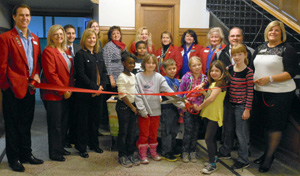 The Battle Creek Chamber of Commerce held a ribbon cutting ceremony for the new Kellogg Community FCU Student Run Branch at Prairieview Elementary School.
… Kellogg Community FCU and Prairieview Elementary School announced the grand opening of the school's new KCFCU student-run credit union. The credit union is located in the lobby of the school and officially opened Wednesday, Oct. 3. This is KCFCU's third student-run credit union within the Lakeview School system. KCFCU's partnership with Prairieview Elementary School offers students the chance to gain real life experience while giving them the opportunity to start saving money. Students in selected grades volunteer to operate the school branch with the assistance and supervision of credit union personnel. These volunteer positions include tellers, computer operators and security guards. All volunteers go through a real-life employment process in which they submit an application, are interviewed then trained for their position. Students opening accounts and making transactions not only learn valuable "life skills" in this hands-on banking experience, they also see and better understand the banking process. While developing career awareness, they learn the importance of working together and being responsible for their job. "We hope to instill upon our students the value in saving for their future," Prairieview Elementary School Principal Don Hoaglin said. "We want our students to be lifelong learners and savers, to help them be better prepared."

… Area residents are invited to use cellphones and social media to help make a difference this holiday season during Community Financial CU's "Warming Hearts & Homes" program. Community Financial announced the program today, which will contribute $30,000 to local nonprofit organizations that help people in need stay warm through the winter. The program, running from through Dec. 21, encourages people to: "like" Community Financial on Facebook at www.LikeCFCU.org, tweet Community Financial using the hashtag #CFCUWarms or text "CFCUwarms" to 70-000 on their cellphone. Each week, Community Financial will donate $25 for every like, tweet or text, to The Heat and Warmth Fund (THAW), local food pantries or the Salvation Army's Coats For Kids Program, up to $10,000 each. "Engaging our members and area residents through these digital platforms allows them to participate with us in a new way to help make the holiday season brighter for those in need," Community Financial President/CEO Bill Lawton, said. "We are committed to supporting our communities and hope residents in the area help us."
Member Service Representative Zandra Tillman, Receptionist Kathy Turbin and Teller Supervisor Sherry Holt helped staff Catholic Vantage Financial's Black Wednesday promotion in advance of Black Friday shopping the day after Thanksgiving.
… One credit union found a new way to stand out in the crowd. This year before the shopping rush of Black Friday, Catholic Vantage Financial started announcing its own Black Wednesday specials – credit union style. The credit union, which serves the Catholic community, has a reputation for doing things in the best interest of their members and according to Director of Marketing Emma Teller. "We are always looking for ways to add a little fun to our promotions." So when credit union CEO Peter Bagazinski asked what could be done to create a Black Wednesday event, Teller came up with a plan that would set it apart in the marketplace. "The retail community does a great job building anticipation for shopping deals and we wanted to take the opportunity to help our members save money when they are doing their holiday shopping. Our Black Wednesday event revolved around ways to help them to do just that," she said. First, the credit union used Facebook, Twitter and email marketing to get the word out. Early tallies show results of nearly one million dollars in new loans, (mostly car loans) and a bulk of that came in within the first three hours of the Black Wednesday event. Doors of the credit union opened early that day at 7 a.m. so that members could take advantage of Door Buster specials including a 60-month car loan rate of just .99% APR. Car loan rates increased every hour after that. Special rates for holiday loans and Visa Cards were also offered. Bagazinski says he was pleased with the results and would like to see another event next year. In addition to loan specials, members could purchase no-fee Visa Gift cards and enjoy refreshments in the lobby. Plus, the first 100 members received a special Shoppers Survival Pack filled with coupons from shops and eateries, mall maps, credit union coupons, freebies and treats. Working with local chambers of commerce, downtown development groups and business owners meant even more savings in the shopper's black bag. The credit union's Black Wednesday website page also provided links to Black Friday ads and shopping apps to help shoppers prepare for their purchases.
Helping the Local Fire Department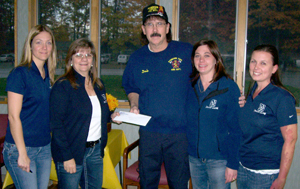 Employees of Alpena Alcona CU's Ossineke Branch present Dale Hart of the Sanborn Fire Department with a check for $233.The Ossineke Branch of AAACU focused fundraising efforts on the Sanborn Township Fire Department. They raised a total of $233 for the volunteer department. The funds raised by the Ossineke Branch help the department with ongoing expenses.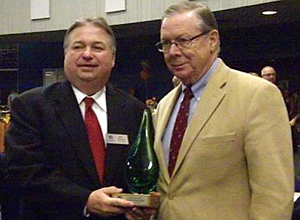 John Kozich, Credit Union ONE executive director of community relations accepts the Ferndale chamber's Philanthropy Award from Lorne Greenwood, Chairman of SCORE Detroit.
… In the true spirit of the credit union philosophy "people helping people" Credit Union ONE was honored recently with the Ferndale Chamber of Commerce 2012 Philanthropy Award. The award was given based on the credit union's donation of office space for Service Corps of Retired Executives. SCORE is a nonprofit organization with volunteers who help new generations of aspiring business owners make their dreams come true when starting or growing a business. Because of Credit Union ONE, the group was able to open a Small Business Counseling Center in Ferndale inside the office of the Ferndale Area Chamber of Commerce at 407 E. Nine Mile Road. SCORE counselors meet with an average of about seven to 10 small business owners each week. It is a benefit available for the Ferndale community and surrounding cities. "This is a significant achievement and acknowledges our commitment to the community, said Gary Moody, president/CEO of Credit Union ONE. "To be given an award for action that is for your community is special and is something we are all proud of."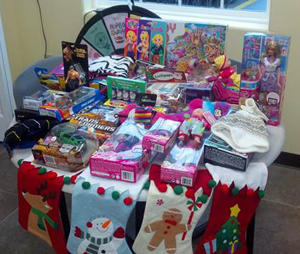 Employees at American 1 CU's North Street Branch raised nearly $150 for a family in need. With the credit union contributing $30, American 1 was able to purchase almost $180 in presents for the family.
… American 1 CU's North Street Branch in Jackson recently adopted a family through the Salvation Army Adopt-A-Family program. The branch had a bake sale where several staff members brought in baked goods raising almost $150. The credit union pitched in $30, bringing the total to almost $180. The credit union used the money to buy gifts for the family. "I am very proud of the North Street staff for their efforts to make this family's Christmas a better one," said Angela Tudor, North Street's manager in training.


… Co-op Services CU will host the fourth Annual Rock n' Roller Skate Party for the credit union's Rock Star Savers and their families. The Rock Star Savers program is designed to help teach children through age 11 that saving money, even a little at a time, can totally rock. The party is from 6 p.m. to 8 p.m. on Thursday, Dec. 27, at the Bonaventure Skate Center at 24505 Halstead Road in Farmington Hills. It will include free skate rentals, games, prize drawings, pizza and pop with the donation of a canned food donation to benefit Gleaners Community Food Bank. "Last year, more than 200 people attended, and we collected nearly 200 pounds of food to help feed hungry people in the local community," said Jeremy Cybulski, Co-op Services' youth and community development coordinator. "It's a family fun event that gives us the opportunity help others during the holiday season." The credit union's popular Rock Star Mascot will also be on hand to greet the kids and pose with them for individual picture-taking.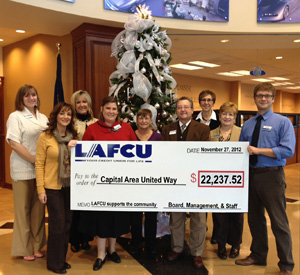 LAFCU employees present 2012 donation to Capital Area United Way representatives. From left are employees Crystal Murphy, Polly Cornish, Diana Green and Nichole Waters of CAUW; Connie Robie, LAFCU CEO Robin Frucci, Beth Gill, LAFCU employee Diana Hilleary and Nick Lynch ofCAUW.
… LAFCU recently presented one large check to the Capital Area United Way. Not only was the ceremonial check oversized, so was the amount donated. "Our goal was to raise $20,000, and we exceeded that by more than 10 percent," said Kelli Ellsworth-Etchison, vice president of community & business development at LAFCU. "Everyone at LAFCU really made a point to involve themselves in our charitable events this year, which really boosted our efforts and helped us raise a total of $22,088 for the Capital Area United Way." LAFCU had events throughout the year to support the 2012 Capital Area United Way campaign, including branch bake sales; popcorn, book and pumpkin sales; dress-down days; a sports memorabilia auction, an in-house auction; and more. Employees donated nearly half the amount raised. "I commend Diana Green, LAFCU's United Way 2012 campaign chairperson," Ellsworth-Etchison said. "It was through her leadership and the diligence of her committee that we were able to successfully demonstrate how much our employees truly care about the community and helping the people who live here." LAFCU has been doing business in the area for 75 years and its employees volunteer with many local organizations, including Big Brothers Big Sisters, the Greater Lansing Food Bank and the United Way. LAFCU supports nearly 100 Greater Lansing-area community initiatives annually.

… Birmingham Bloomfield CU announced that Linda Hatfield, vice president of marketing has been named as Birmingham Chamber of Commerce Business Person of the Year. In addition to her credit union responsibilities, Hatfield donates her time and abundance of energy to help many local charitable organizations to succeed. Hatfield describes her dedication to the credit union and its members as a "passion."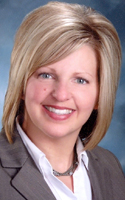 Kellogg
… Catholic FCU has promoted Gina Kellogg to vice president of human resources. Kellogg has more than seven years of banking experience and more than 20 years in the human resources field. She is a graduate of Ohio State University with a bachelor's degree in business administration majoring in management and human resources. She has also been certified as a Senior Professional in Human Resources.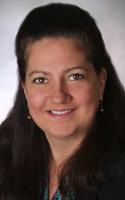 Ballast
… Kellogg Community FCU announced the hiring of Wendy Ballast as chief human resource officer. Ballast brings more than 20 years of human resource experience to KCFCU. She has achieved her MBA from Western Michigan University, and her bachelor's degree from Michigan State University. Ballast is a member of Kalamazoo Human Resource Management Association, Society for Human Resource Management, and Michigan Council for SHRM, where she is currently director-elect. Ballast will be a member of KCFCU's senior leadership team. She will be responsible for all aspects of human resources at KCFCU including benefit design and administration, payroll, performance evaluation and employee relations. Ballast will also recruit new hires and implement employee retention programs. "I am excited to be part of such a strong, upwardly mobile organization," Ballast said. "KCFCU will give me an opportunity to use the knowledge I have attained over the past 20 years to satisfy the needs of our members, as well as the organization itself. This is truly my dream career that I have always aspired to." Ballast believes in community involvement and currently serves on the MRC Industries' Board of Directors. MRC serves individuals living with developmental or learning disabilities, traumatic brain injuries, emotional impairments and mental illness. She also coordinates the Box Tops program at Woodland Elementary school in Portage.
Go to main navigation