Print
LAFCU VP Takes Part in White House Discussion on Fiscal Cliff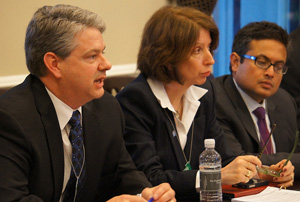 LAFCU Senior Vice President Patrick Spyke takes part in the White House Business Council.
Most executives – especially financial executives – would want to avoid fiscal cliffs at all costs, so why is LAFCU's Patrick Spyke investigating one? Turns out, Spyke has been tapped by the White House Business Council and Business Forward to do just that.

Spyke, along with other business leaders from the Midwest, participated in discussions at the White House on Dec. 3, to provide real-world input on a variety of topics, including the so-called fiscal cliff.

"Fiscal cliff" is a term being used to describe the more than $600 billion of fiscal drag that will impede the economy due to tax increases and government spending cuts slated to kick in on Jan. 1 unless U.S. lawmakers act to avert it.

"I'm impressed that the current administration is reaching out to business leaders across the country and across party lines to facilitate discussions," said Patrick Spyke, senior vice president of marketing at LAFCU. "Participating in this national meeting allows me to serve as a conduit for information to our local community with regard to some key issues."

In addition to the fiscal cliff, topics at the White House Business Council meeting included an overview of the president's agenda and budget framework, an economic overview of middle-class tax cuts and breakout sessions related to job creation and economic competitiveness.

This is Spyke's second trip in six months representing Lansing and Michigan at the White House Business Council. In June, he attended a forum to discuss creating jobs and spurring economic growth.

Through Business Forward, the country's most respected companies come together to help bring more business leaders into the policymaking process. At the core of Business Forward's activities are a series of roundtables and briefings taking place around the country and in Washington, D.C. In the first half of 2012, more than 2,000 local business leaders from 500 cities traveled to the White House to brief the president's economic advisers. For more information, visit www.businessfwd.org.
Submissions to Monitor may be
emailed
. Bryan Laviolette is the editor of Monitor. Contact him
by email
or call (800) 262-6285, ext. 233. The newsletter of the Michigan Credit Union League is published Monday mornings or Tuesday mornings when Monday is a holiday. There is no Monitor the week after Christmas and the week after the Annual Convention and Exposition. The MCUL reserves the right to edit submissions for clarity and space.