Survey: Consumers Plan to Spend More This Holiday Season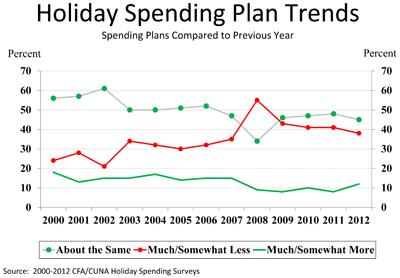 More consumers plan to spend more than last year, and fewer consumers less than last year, according to the 13th annual holiday spending survey conducted by the Consumer Federation of America and CUNA. In the past year, the percentage who said they would spend more than last year rose from 8 to 12, and the percentage who said they would spend less declined from 41 to 38.

In both years, the survey questions were developed by CFA and CUNA and were administered to a representative sample of adult Americans by ORC International in early November (9-13 this year). This year, 660 persons were interviewed by landline and 352 by cell phone.

"Our survey results suggest that holiday spending this year will likely rise by between 3.5% and 4% compared to last year," CUNA Chief Economist Bill Hampel said. "This represents the fourth year of gradual improvement in holiday spending plans since a sharp decline in such plans in 2008."

The intention of consumers to increase holiday spending from last year is consistent with, and may well reflect, perceived improvement in their financial situation. From 2011 to 2012, the percentage who said their financial situation was better than a year ago rose from 19 to 24, and the percentage who said it was worse fell from 37 to 33.

Despite the rise of student debt and continued concern about mortgage debt, the percentage of those who said they were concerned about meeting monthly debt payments fell from 45 to 43 percent. And those who said they were unconcerned rose marginally from 38 to 39 percent. One factor here might be the increasing percentage – 19 to 24 percent in the past year – who said they did not have any credit card payments.

Yet, things are still financially tight for many families. When asked if they had extra funds (not including lines of credit) available to pay for an unexpected expense of $1,000, only 49 percent said that they did. This lack of emergency savings may help explain why an increasing percentage – 38 to 43 over the past year – said that, if they received an unexpected windfall of $5,000, they would use most of it to add to savings or investments.

Go to main navigation