Print
In Brief…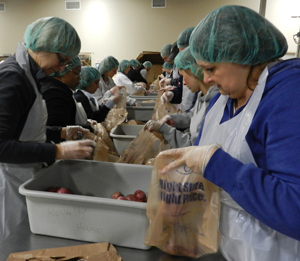 Employees from MCUL & Affiliates pack potatoes in five-pound bags for distribution.
... Want some French fries? Potato chips? Baked potato? Or how about some mashed potatoes? After spending an afternoon packaging 4,050 pounds of spuds, many of the employees from MCUL & Affiliates were not interested in dining on potatoes, but they were glad to have helped Forgotten Harvest process the spuds to help feed the poor and hungry people that count on Forgotten Harvest, a nonprofit company that provides food across the area. This group was the second from the league to work at Forgotten Harvest's Southfield warehouse. Another group of employees from the league, CUcorp and CU Solutions Group worked an afternoon two weeks earlier when they packed more than 2,500 pounds of beef jerky, tomatoes and yogurt chips. The organization "rescues" tons of food – most of which would otherwise be thrown away – from a variety of organizations including restaurants, grocery stories and food processors that it then distributes to the needy. Forgotten Harvest counts on volunteer groups to come in to package the food it takes in. For more information about Forgotten Harvest, click here.

… Consumers CU has been selected as a 2012 Best & Brightest™ Wellness Champion and one of Michigan's Healthiest Employers. The Best & Brightest™ Wellness Champions is an initiative that recognizes and celebrates excellence in work site health promotion with only 35 Michigan companies receiving the award. The program highlights companies that encourage a culture of wellness, and those that plan, implement, and evaluate efforts in employee wellness promotion. The Michigan's Healthiest Employers award, separate from Best & Brightest, is equally prestigious and recognizes organizations committed to creating a healthy workplace. The award, from Crain's Detroit Business in partnership with MiBiz and Priority Health, distinguishes companies throughout Michigan whose policies, programs, and culture create healthy employees and workplaces. Wellness is measured in six key categories: culture and leadership commitment, foundational components, strategic planning, communication and marketing, programming and interventions and reporting and analysis. Consumers unveiled its first formal wellness program to employees earlier this year. The program emphasizes education and provides one-on-one coaching to each employee to help determine appropriate wellness goals. Additionally, the credit union subsidizes gym memberships for employees; provides fruit and healthy snacks in break rooms weekly; and, offers outstanding health insurance benefits. "At Consumers, wellness isn't just about eating right or exercising to lose weight," said Shawn Premer, vice president of human resources. "It's about creating a balanced lifestyle and making good decisions for long-term well-being. The approach has proven successful for both employees and credit union." So far, the efforts have been successful. "We experienced a 75% employee participation rate in all facets of our program," Premer added. "This is astounding considering that participation is voluntary and employees are not financially incented." Consumers has also seen significant improvement (nearly a 20% reduction) in health insurance claims losses. While it cannot attribute all of the decrease to its wellness program, the credit union believes that the Wellness Program has had significant impact.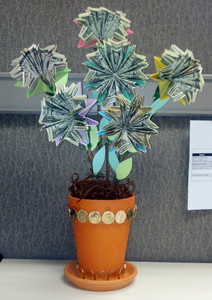 American 1 CU donated a "mystery box" with a money tree valued at $150.
… Junior Achievement of the Michigan Edge had a fundraiser lunch and silent auction at Outback Steakhouse in Jackson. The event featured more than 40 donated Silent Auction items. Tickets to lunch were $15 each, and the event was sold out. Junior Achievement also had 50/50 raffles during lunch. American 1 CU donated a "mystery box" valued at $150. The "mystery box" was a money tree, made by American 1's marketing team.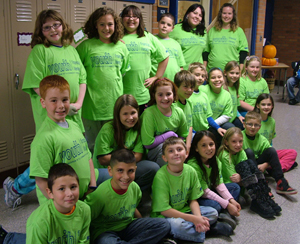 Alexander Elementary School "Student branch employees" take a moment with Amy Wright, far right, and Jenn Wagner, second from the right, TLC youth financial education coordinators.
… TLC Community CU has been training 385 student employees to work at student-run branches that will open in November. TLC added six new schools to its Youth Financial Literacy Program this year for a total of 16 Lenawee County schools. The fourth, fifth and sixth graders are being trained and will be assigned positions, including branch managers, tellers, computer operators, auditors and bookkeepers in order to run the branches. The student branches accept and process deposits weekly. Student members are encouraged to set savings goals, make wise spending choices and create a plan for their future. Jeffrey Petterson, principal of Alexander Elementary School in Adrian said he's happy to partner with TLC on the program. "We have been looking at this program for a couple of years now and are pleased to finally be able to offer this experience to our students. This will teach saving habits that will last a lifetime as children grow older. For our student-workers, it will teach them values and responsibility. What a great program for our school." During training at Alexander, students were asked "Why did you want to get involved with this program?" Student worker Maximus Perez said "to raise my knowledge and skill level." Maya Gonzalez wanted to learn how to do her own banking. Juliana Perez wants to save money to go to college. Connor Wimmer was involved with the program at Michener School and really liked it. And now he can continue at Alexander. All students asked were excited about using a calculator and learning how to save.





United Way Donation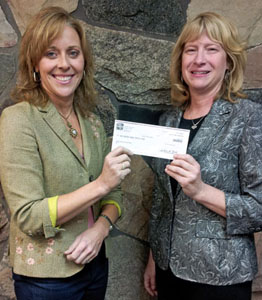 Patty Franke, left, executive director of the Marshall United Way, accepts a donation from Katie Shook, executive assistant of Marshall Community CU. MCCU and its employees donated $950 to Marshall United Way. Of that amount, $700 was provided by employees and the credit union matched $250.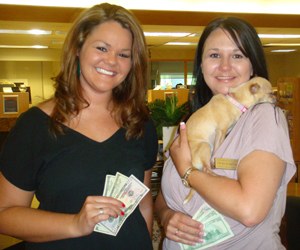 EECU Facebook contest winner Emily M, left, and Nicki of Cascades Humane Society, each receive $250 from EECU.
… EECU recently had a Facebook contest "EECU's Pets Got TAILent!" EECU members and nonmembers were encouraged to submit a cute photo of their pet onto EECU's Facebook page. An online vote by EECU's Facebook fans then took place to award the "Most Photogenically Talented Pet." M. and her cat, Izzo, won the contest. She was awarded $250 in cash, and an additional $250 was also given to the animal shelter of her choice. Emily chose The Cascades Humane Society. "We are happy to have held such a fun and engaging contest, and are very pleased to be able to award a contribution to The Cascades Humane Society as well," said Liz Hoffius, financial education coordinator of EECU.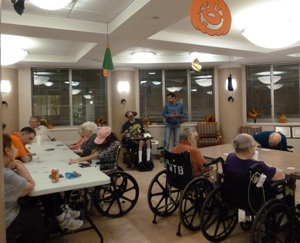 Central Macomb Community CU staffers volunteer at the Martha Berry Medical Care Facility in Mount Clemens.
… Volunteerism is the cornerstone of the credit union movement and the staff of Central Macomb Community CU took their commitment to the next level when they recently participated in the "Make-A-Difference Day" challenge which happens annually on the fourth Saturday in October. "Our goal was to make a positive impact on the community by donating our own personal time to a number of causes," CMCCU President and CEO Drema Isaac said. "We actually decided that one day was not enough time to accomplish all we wanted to do, so we stretched it out for a whole week. Staff showed their enthusiasm for serving the community of Macomb County by choosing a cause and committing themselves to it." During the week of Oct. 22, each department or branch chose an activity and then worked to get it scheduled. The activities that took place during the week were: serving food at a soup kitchen in Utica, hosting BINGO for the residents at medical care facility in Clinton Twp., pumpkin decorating with the residents of the Chesterfield Twp. nursing home, hosting a Halloween party for individuals with disabilities at Lake St. Clair Metropark, participating in Trunk or Treat to benefit the Turning Point organization, and hosting a Halloween party for the senior residents at a retirement community. "Make-A-Difference Day was a lot of fun and very rewarding," said Crystal Gracz, assistant vice president of human resources, for Central Macomb Community CU. "The residents of (the medical care facility) were all happy to have us there. They all seemed to enjoy having someone to talk to and spend time with them. It made me feel good to see what an impact you can make on someone's life just by taking a few moments out of your day."

… OMNI Community CU donated $500 to the Battle Creek Fights Hunger Fund to purchase food to serve indigent Battle Creek residents at the Community Thanksgiving Day Dinner. It is estimated that 1,000 meals will be served, including 300-400 home delivered meals for senior citizens and homebound residents. God's Kitchen – Battle Creek will host the event as well as preparing and serving the meal. "OMNI Community Credit Union has consistently demonstrated their commitment to combat hunger in the Cereal City over the years," said Pastor William Stein, chairman of God's Kitchen – Battle Creek. "God bless them for partnering with us to feed the less fortunate on Thanksgiving." "Pastor Stein and the others at the Battle Creek Fights Hunger Fund and God's Kitchen – Battle Creek are exemplary organizations in the Battle Creek community," OMNI CEO Ted Parsons said. "Their efforts to provide meals for those in need are a perfect example of the credit union motto of people helping people." God's Kitchen – Battle Creek is always looking for volunteers. If you wish to help out with the Thanksgiving Day Dinner, visit www.godskitchenbattlecreek.org/volunteer.html and fill out the application. If you are only looking to volunteer for the Thanksgiving Day Dinner, write "Thanksgiving" in the upper right corner. Applications should be forwarded to us as soon as possible in order for our coordinators to organize individuals and families into teams. Volunteers for this event are needed to work between 5pm – 10pm on Wednesday, November 21, and 8 a.m. to 5 p.m. on Thursday, Nov. 22. Those interested in delivering meals to senior citizens, sick or shut-ins, should plan on being at First Baptist Church no later than 10:30 a.m.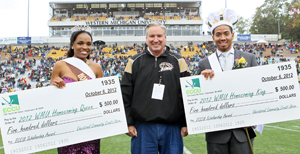 Educational Community CU President and CEO Charles Cornelius presents Western Michigan University's Homecoming King Javon Dobbs and Queen Jasmine Loney with $500 ECCU scholarship awards during halftime ceremonies on Oct. 6.
… Educational Community CU presented $500 annual scholarship awards to Western Michigan University's Homecoming king and queen during halftime ceremonies at Waldo Stadium on Saturday, Oct. 6. ECCU President and CEO Charles Cornelius presented Javon Dobbs, WMU Homecoming king and Creston High School alumnus (hometown – Grand Rapids); and Jasmine Loney, WMU Homecoming queen and Walled Lake Western High School alumna (hometown – Novi), each with $500 ECCU scholarships.Cornelius states, "It is our pleasure to support education and to honor the accomplishments of two outstanding WMU students with $500 ECCU scholarship awards. ECCU is proud to serve the faculty, staff and students of WMU, and we look forward to continuing our heritage of serving WMU and the greater educational community."

… MSUFCU recently upgraded its Platinum Plus Visa Credit Card, doubling the amount of rewards members receive for Platinum Plus Visa purchases to 1% back with additional opportunities to earn greater rewards by shopping at select local retailers. Additionally, the Platinum Plus Visa now offers expanded options for reward redemption. MSUFCU members may apply their rewards toward travel, merchandise, gift cards, cash back, or donations to a variety of local and Michigan State University-based charitable organizations. April Clobes, MSUFCU's executive vice president and COO said the credit union is always looking for ways to improve its offerings to members. "At MSUFCU, it is always our goal to provide exceptional products and services for all our members. We are proud to offer a variety of Visa credit cards suited to any number of needs from our low-rate Platinum Visa to our Michigan State University Spartan Visa which helps support programs at MSU. The recent enhancements to MSUFCU's Platinum Plus Visa Credit Card are another way for MSUFCU to best serve our membership."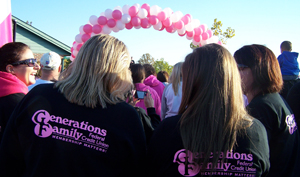 Generations Family FCU supporters raised $1,047 for the American Cancer Society's "Making Strides Against Breast Cancer."
… Generations Family FCU recently raised $1,047 for the American Cancer Society's, "Making Strides Against Breast Cancer." The staff set a goal of $1,000. The staff baked and sold treats on "Tickle Me Pink" Fridays leading up to the event and participated in a 3.5-mile walk that took place on Oct. 27. "Making Strides Against Breast Cancer" is sponsored by the American Cancer Society to raise money to help fight breast cancer.


… Many businesses face challenges when trying to finance a loan due to banks cutting back on lending practices, government regulations and credit union limits. Genisys CU understands this dilemma and has the means to offer comprehensive business solutions including full lending services for small to mid-size businesses in Michigan. "Being unable to finance day-to-day operations or growth opportunities can be detrimental to a business," Business Development Manager Norm Soucy said. "Many of our members have both personal and business needs so we are happy to provide another opportunity to help them grow their businesses." Genisys prides itself on providing personalized small business solutions with better rates and more personal service. Their partnerships bring additional benefits such as employee investment services, group benefits, human resource management, insurance programs, merchant processing, payroll administration, prepaid legal services, retirement plans and risk management to businesses and their employees. "Our company has used Genisys for many years," said Dawn Field, co-owner of J.W. Field Companies in Highland. "Lori Daniels, our loan representative, always replies promptly to inquiries and meets in person when needed. They're wonderful to work with." "We understand that smaller businesses, just like credit unions, take pride in doing business and giving back to their community," Soucy said. "Providing business solutions that quickly solve the challenges local businesses face is another way that Genisys supports our members and the entire community."
Honoring Veterans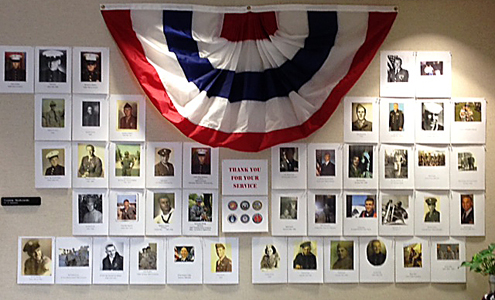 Tradewinds CU is honoring veterans by displaying photos of current servicemen and servicewomen during the week of Veterans Day. The credit union asked members to share photos of their loved ones who are serving in the military. In 2011, the first year of the tribute, the credit union had more than 40 pictures.
… FinancialEdge Community CU has promoted two employees. Pam Swope has been promoted to the credit union's executive management team as the director of marketing and compliance. Swope is a 20-year credit union industry veteran with an extensive background in areas including member services, marketing, financial education and compliance. A Certified Credit Union Financial Counselor and Credit Union Development Educator, Swope has been with FinancialEdge since 2003 and is an active member of Bay County community organizations including the Bay Area Chamber of Commerce Connections Task Team and United Way's Volunteer Advisory Board. She also serves the credit union industry as a part of the MCUL & Affiliates' FEC and CRI committees and has consulted for state and national credit union organizations across the U.S. and Canada. Mike Michalski has been named accounting and asset resolution manager. His new role will oversee the accounting and collections areas within the credit union. Michalski joined the credit union as an accountant in 2001 and has more than 20 years in the financial services arena. Besides serving as a member of the Bay County Fraud Prevention Group, he will also continue as FinancialEdge's representative on the Northeast Region Bankruptcy Task Force. FinancialEdge President and CEO Jeremy Coberley said Swope and Michalski are assets to the credit union. "Pam has been an asset to FinancialEdge Community Credit Union since joining us in June of 2003, and I have no doubt she will continue to play a key role in the credit union's continued growth and development," Coberley said. "Because of his previous experience within the financial services industry in addition to the skills he has acquired in his time with FinancialEdge, Mike's transition to the accounting and asset resolution manager will be a part of our ongoing management of credit union financial safety and soundness in today's current economy."
Submissions to Monitor may be
emailed
. Bryan Laviolette is the editor of Monitor. Contact him
by email
or call (800) 262-6285, ext. 233. The newsletter of the Michigan Credit Union League is published Monday mornings or Tuesday mornings when Monday is a holiday. There is no Monitor the week after Christmas and the week after the Annual Convention and Exposition. The MCUL reserves the right to edit submissions for clarity and space.