One Little Boy Shows What Children's Miracle Network Can Do with $126,000 donation from Michigan CUs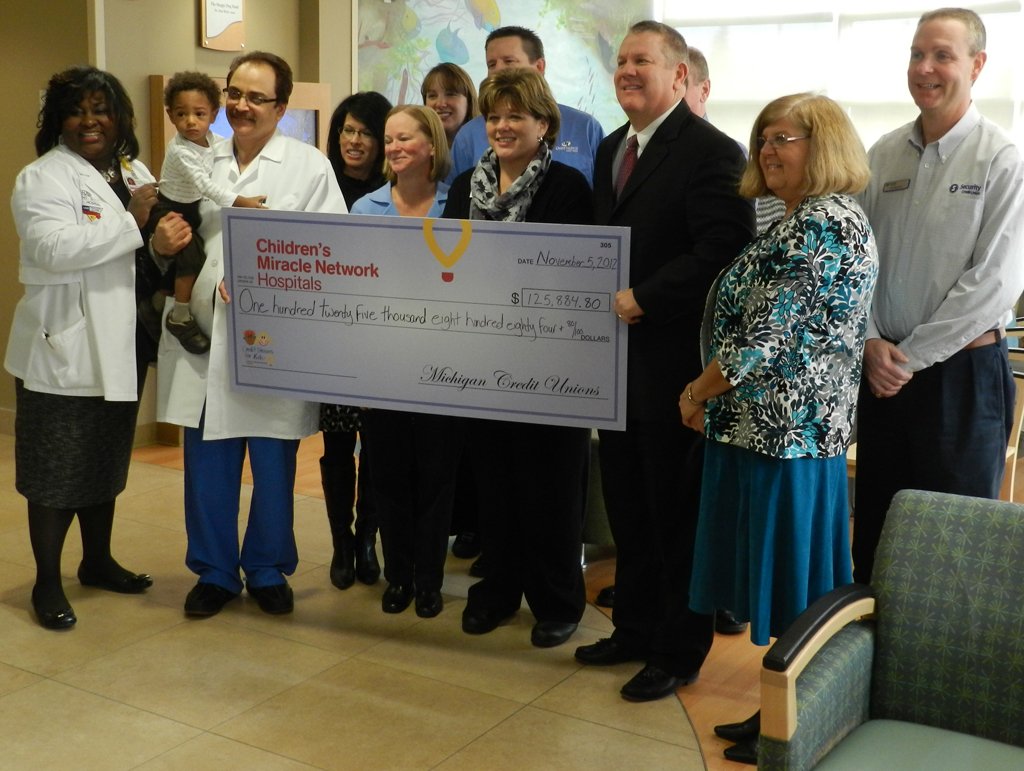 Drew Egan, holding check, third from right, executive vice president and COO of MCUL & Affiliates, presents Dr. Mashen Sharman, holding Kaidyn Lewis, with a check from Michigan's credit unions for $124,885.

FLINT – Two-year-old Kaidyn Lewis looks a little bleary-eyed as he arrives with his parents at Hurley Children's Hospital where about a dozen people are there to greet him.
Kaidyn surely doesn't realize what all the fuss is about, but the adults do. Kaidyn is a miracle, a little boy who embodies what Children's Miracle Network is about.
MCUL & Affiliates, along with representatives of Flint-area credit unions, was at the hospital to present CMN with a check for $125,885. And young Kaidyn was there as an example of CMN's miracles.
Kaidyn was born 11 weeks premature and weighed just 1 pound, 5 ounces. His mother Alicia Leonard-Lewis went to the hospital in August 2010 for what she thought was a minor problem. Three days later, Kaidyn, was born. He was on a ventilator for 24 hours, but then was able to breathe on his own.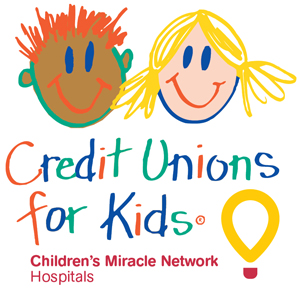 Leonard-Lewis knows Kaidyn was lucky. Despite being so small, he mostly just needed time to put on weight so that he would be able to maintain his body temperature when he went home. Sixty-six days later, he did go home. Today he's walking, babbling and knows his ABCs and at least 10 sign language expressions. He's still small, but otherwise is like most any other 2-year-old.
Leonard-Lewis said she took home more than just a baby on that day.
"We met a lot of people who we consider family, not just friends," Leonard-Lewis said. Leonard-Lewis' husband Terry Lewis is a Flint police officer and serves on the board at FM Financial CU in Flint.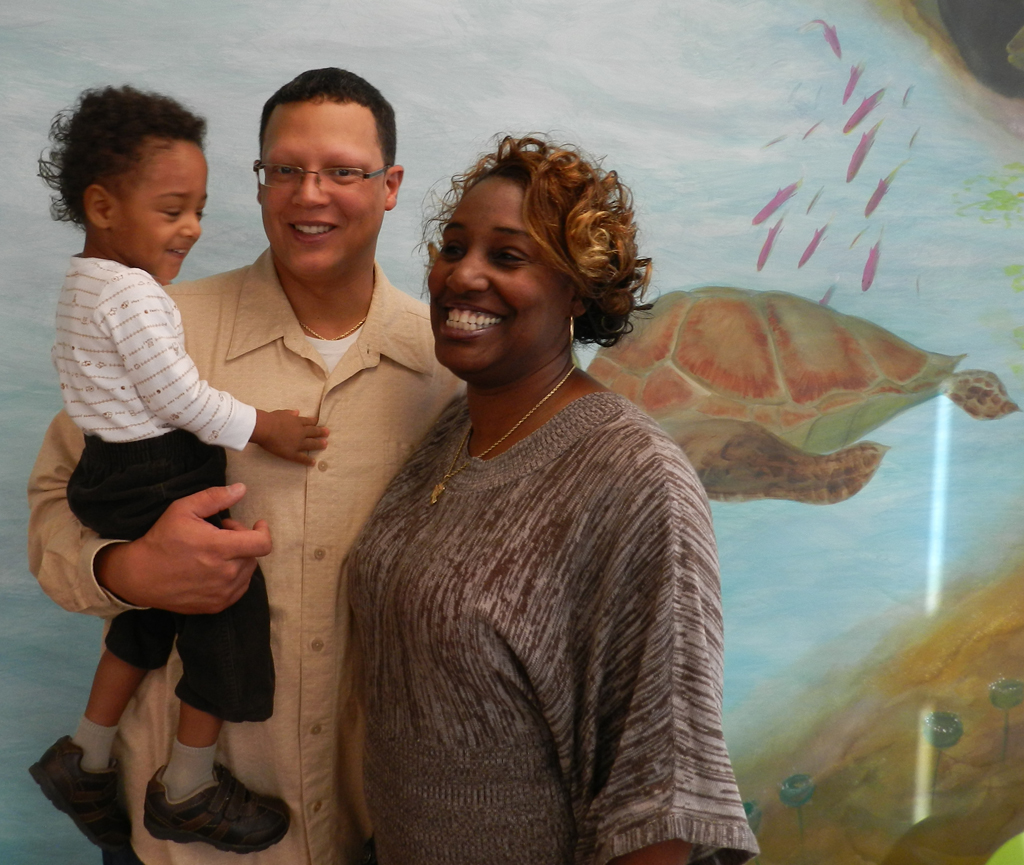 Alicia Leonard-Lewis, with her husband Terry Lewis and their son Kaidyn Lewis, said the Kaidyn's caregivers have remained important people in their lives.
Michigan credit unions raised a record amount of money for CMN this year. The donation will be split evenly among Michigan's four CMN hospitals – Hurley, which is part of Hurley Medical Center; Sparrow Regional Children's Center, part of Sparrow Hospital in Lansing; Helen DeVos Children's Hospital, part of Spectrum Health in Grand Rapids, and Beaumont Children's Hospital, part of Beaumont Hospital in Royal Oak.
Drew Egan, MCUL executive vice president and COO, said credit unions from across the state raised the money through a variety of fundraisers such as candy bar sales, casual days and the league's annual golf outing.
"Michigan credit unions have long supported the Children's Miracle Network through the Credit Unions for Kids campaign," Egan said.
After pictures with Flint-area credit union people, the family and Dr. Mahesh Sharman, pediatric critical care director at Hurley Medical Center, Hurley staff gave visitors a tour of the children's hospital.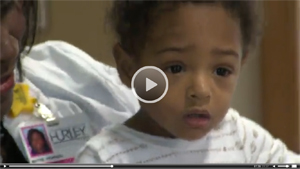 While visiting the Neonatal Intensive Care Unit, Registered Nurse Katie Watts said CMN has helped the unit buy equipment and drugs used to treat the tiny babies in the unit, including the little one weighing just 1 pound, 2 ounces, that she was caring for. She added that CMN has helped the hospital purchase Infasurf, a new drug that lubricates preemies' tiny lungs to help them breathe, one of the most critical problems for the smallest babies.
"Money that we get from Children's Miracle Network is a huge part of how we care for these babies," Watts said.
Click here to read The Flint Journal's story about the donation on mlive.com.
Go to main navigation