Print
In Brief…

… As of today, the Onaway Community FCU is now Awakon FCU. This name change will help position the credit union for future growth and will also help better represent all of its members, without geographic restrictions. "Our members are and always will be the most important reason for our success," Awakon CEO Scott Pauly said. "Even though our name is changing, the friendly staff and exceptional service our members have always received will remain the same. "We have built this credit union on their loyalty, and we thank them for their support and confidence in us. This change will allow us to make our credit union a financial institution that can meet all of your financial needs at any stage of your life." Awakon incorporates Onaway's Heritage in the name. In the 1880s, Marritt Chandler named Onaway after a stanza in the poem titled "The Song of Hiawatha" by Longfellow. That same stanza of the poem mentioning Onaway, was later composed into a song, titled "Onaway, Awake, Beloved" by Samuel Coleridge-Taylor. Onaway is an Ojibwa Native American cry, that when translated into English means Alert or Awaken. Awakon was purposely spelled with an O-N to further accentuate the Onaway roots in the name. The credit union will be celebrating both its new name and International Credit Union Week from Oct. 15-19. There will be free food, drinks, giveaways, and prizes throughout the entire week. Awakon serves people who live, work, worship or attend school in the northernmost eight counties in Lower Michigan, has more than $80 million in assets with more than 10,000 members.
… Credit Union ONE recently reacted to its selection as a first place winner of the 2012 Dora Maxwell Award in Michigan. The Dora Maxwell Social Responsibility Community Service Award was created in 1987 and recognizes credit unions for the activities they coordinate that benefit the community or a specific charity. This award promotes social responsibility and action to support organizations not related to membership. The credit union's submission was for its service to assist one of its community partners, FernCare. FernCare is a local, nonprofit organization that provides health care services to the uninsured/underinsured. FernCare was faced with the lack of a permanent facility from which to serve its patients. Credit Union ONE became aware of the issue and donated the use of an office building and equipment to FernCare to use for its free medical clinic. The donation resulted in FernCare reducing its' operating expenses and created a permanent and expanded operations base from which it could provide critically needed medical care. "Amongst all of the great credit union projects to help communities across Michigan, we were selected as most outstanding," Credit Union ONE President/CEO Gary Moody said. "Being recognized by our peers as being socially responsible for our community is a significant accomplishment for our organization."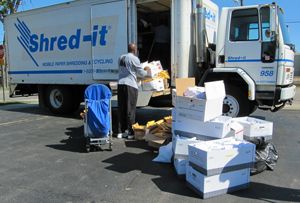 American 1 CU workers help residents shred their confidential documents at one of its free shred days.
... American 1 CU had free shred days on Sept. 22 at its Clinton Twp. Branch, and Sept. 29 at its main branch in Jackson. Community members and small businesses were encouraged to bring confidential information to be shredded and recycled and to help prevent identity theft. Those who attended could enter into a drawing for a personal shredder provided by American 1 CU. The winners of the drawings were Glenn P. of Clinton Twp., and Jouette D. of Jackson. Including these two shred days and two at the same locations in May, 42.7 trees were saved due to all of the material that was recycled.



… Kellogg Community FCU invites members and the community to stop by any branch for refreshments, drawings, and giveaways on Thursday, Oct. 18, to celebrate International Credit Union Day. "At KCFCU we know that our members matter most, without them we wouldn't be where we are today, which is a strong, community-minded organization," CEO Tracy Miller said. "For 71 years we have been providing excellent member service and we now proudly serve over 31,000 members who we consider our family. I invite the community to stop by any of our branches on Credit Union Day and experience the credit union and KCFCU difference."

… To help members and Detroit area residents protect their personal information, Co-op Services CU will host a free Shred Day event from 9 a.m. to noon on Saturday, Oct. 20. The event will be in the parking lot of the credit union's headquarters located at 29550 Five Mile Road, just west of Middlebelt Road in Livonia. Everyone who stops by is invited to shred up to six boxes or bags of documents free and enter a prize drawing to win a free personal document shredder. "This Shred Day event is one of many valuable services we provide throughout the year to help members keep their financial information secure," said Lisa Fawcett, Co-op Services' vice president of marketing. "This is a safe way to dispose of unneeded documents, including any financial information, so that it doesn't fall into the wrong hands." The event also coincides with the end of International Credit Union Week that that is celebrated each October by more than 186 million people worldwide who benefit from credit union services that help to improve the lives of individuals, families, communities and countries around the globe. During the week of Oct. 15, Co-op Services is inviting members and others to stop by any of its Detroit area branches to receive a free credit card protector. This special sleeve provides another means of protection against data theft so that the information on your credit card cannot be read.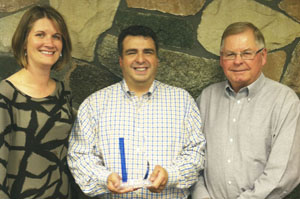 Fabio Biasella of Raddon Financial Group, center, presents MCCU CEO Heather Luciani and Tom Tucker, MCCU's board chairman with the Crystal Performance Award.
… Marshall Community CU was recognized by Raddon Financial Group with the Crystal Performance Award. The award, which was given to only 22 high-performing credit unions nationwide, recognizes credit unions which achieve a top ranking for growth, income, efficiency and margin management. More than 500 credit unions were evaluated based on their 2011 performance. "The difficult market conditions and regulatory challenges community institutions face today makes it difficult to perform at a high level," said Bill Handel, vice president of research and product development with Raddon. "Despite these challenges, [MCCU has] succeeded because of their commitment to develop and deploy successful strategies. The management team, board, employees, and members should be very pleased with this recognition." To be eligible for the Crystal Performance Award, a credit union must participate in Raddon's CEO Strategies Group program for an in-depth analysis of the credit union's financials, sales, products and member household relationships.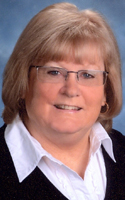 Engel
… Enid Engel, Catholic FCU's member services supervisor is celebrating her 25th anniversary with the credit union. Engel was recently inducted into the National Association of Federal Credit Union's Quarter Century Honor Roll in recognition for her 25 years of service and dedication to the credit union community.

Submissions to Monitor may be
emailed
. Bryan Laviolette is the editor of Monitor. Contact him
by email
or call (800) 262-6285, ext. 233. The newsletter of the Michigan Credit Union League is published Monday mornings or Tuesday mornings when Monday is a holiday. There is no Monitor the week after Christmas and the week after the Annual Convention and Exposition. The MCUL reserves the right to edit submissions for clarity and space.