Print
In Brief…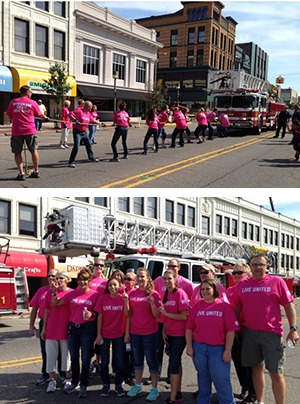 The Unite for Good – Bay City Credit Unions team gets ready to pull teh ladder fire truck weighing 68,000 pounds. Fire Truck Pull team members from COPOCO CU, Credit Union Plus, FinancialEdge Community CUY, Sunrise Family CU and United Bay Community CU.
… Credit unions in Bay City decided to take the Unite for Good campaign to heart as they teamed up to participate in United Way Bay County's first-annual Pulling for United Way Fire Truck Pull to kick off the 2013 fundraising campaign drive. Area businesses and organizations were challenged to support United Way by forming 15-member teams to compete in a fire truck pull benefitting United Way. "The CUNA campaign Unite for Good seemed like a natural fit for this event," said team captain Pam Swope, director of marketing and compliance at FinancialEdge Community CU. "We didn't have enough staff to make a team of our own and it was great to get the other Bay City based credit unions to join us." The Bay City Credit Unions team consisted of employees from COPOCO CU, Credit Union Plus, FinancialEdge, Sunrise Family CU and United Bay Community CU. Kerri Singley, marketing director for UBCCU said her team had a great time. "UBCCU was proud to join other area credit unions and work together to help the United Way Campaign kickoff" Singley said. Competition was tough; the ladder truck pulled by teams for the event weighed in at over 68,000 pounds. Although the credit unions didn't end up with a spot on the leader board, they did finish the 150-foot distance in just over 1 minute, 9 seconds and could proudly claim that they beat the local bank.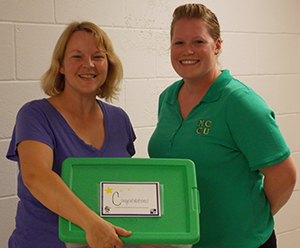 Rhonda Smart, left, second-grade teacher at Wattles Park Elementary, receives her tote full of school supplies from Andrea Tucker, financial education coordinator at Marshall Community CU.
... Marshall Community CU recently donated eight totes of school supplies to area teachers. Annette Burnett (special education teacher at Marshall High School), Sarah Rebenstorf (sixth-grade teacher at Marshall Middle School), Leslie Brown (reading specialist at Gordon Elementary), Meradith Stemley (second-grade teacher at Gordon Elementary), Courtney Hamilton (second-grade teacher at Hughes Elementary), Rhonda Smart (second-grade teacher at Wattles Park Elementary), Chiquita Hamilton (third-grade teacher at Mar Lee) and Jessica Fellwock (fourth-grade teacher at Marshall Academy) each received a donation of school supplies. MCCU offers Financial Presentations on saving, the history of money, credit cards, checking accounts and more to area schools as a supplement to their classroom activities. By participating in the offered presentations, teachers' names were put into a drawing and at the end of the 2012-13 school year one name from each school was drawn to win a tote full of school supplies. "My students love the hands-on activities used during the presentations," said Rhonda Smart, Wattles Park Elementary. "MCCU's financial presentations are a great way to start teaching students some essential life skills at an early age. It's a wonderful way to introduce the concept of handling money responsibly." In conjunction with the financial presentations, schools have partnered with MCCU and have student-run credit union branches in each building. MCCU's CU In School program will be beginning their 12th year in partnership with area schools in October of this year. The program began at Sherman Elementary in 2001.

… The Metro East Chapter Charity Committee announced that its charitable focus for September and October 2013 is "Sponsor a Box" through Operation Care Package-Michigan, which provides care packages for soldiers overseas for the holidays. The cost to Sponsor a Box is $15, which pays for the shipping. When volunteers at Operation Care Package's Lapeer location run low on donated supplies, they will use the extra donations from the credit unions to purchase needed supplies such as beef jerky, bug spray, toiletries, snacks, games, etc. To make a donation, contact Central Macomb Community CU's Crystal Gracz, ext., 116, or Paula Rose, ext. 123, at (586) 466-7800. They will collect the donations and send them to Operation Care Package Michigan.


All in for Don't Tax My Credit Union

OUR CU
gave staff members Don't Tax My Credit Union T-shirts to promote the campaign. The credit union has had several events where staff wore the shirts. Check out the workers at the Rochester Branch who took the opportunity to make fun of the guy who forgot his shirt.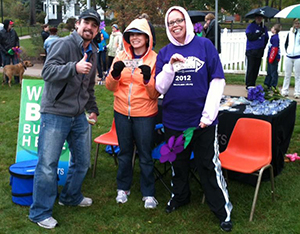 A walker plays Consumers CU's Cash Car game at the 2012 Walk to End Alzheimer's.
… Consumers CU took part in the Walk to End Alzheimer's on Sept. 22 in Portage. Consumers has participated in the Walk to End Alzheimer's since 2006 and was once again a sponsor of the event, where a team of 20 employees walked for a shared vision of a world without Alzheimer's. Micki Florinchi, Robyn Thatcher and Katie Warren lead the team from Consumers. "I learned about the Walk to End Alzheimer's shortly after my mother was diagnosed with the disease," Thatcher said. "That was the first year we formed a team, and it's been growing ever since." The Consumers team has committed to raising $5,000 for the cause. Funds raised go towards eliminating Alzheimer's through the advancement of research, providing and enhancing care and support for those effected by the devastating disease and to reducing the risk of dementia through the promotion of brain health.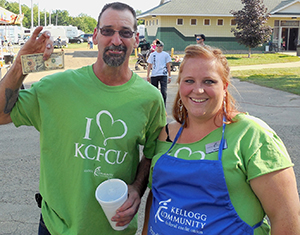 Steve Sullivan was happy to receive some cash from Melodi Schwarz, a teller at the Marshall KCFCU branch, just for wearing his Kellogg Community FCU T-shirt.
… Kellogg Community FCU gave back to the Marshall community by offering free T-shirts and hundreds of dollars in cash giveaways. KCFCU gave away 500 "I Love KCFCU" T-shirts at its Marshall branch, beginning on Thursday, Aug. 1. Free T-shirts were available to everyone, not just KCFCU members. Then, KCFCU spotters were on the hunt at the Calhoun County Fair on Friday night, Aug. 16, for anyone wearing the T-shirt. Those spotted wearing the KCFCU specialty t-shirts were given up to $20 dollars in cash on the spot. "We had people stopping in and calling the branch asking if we had any T-shirts left, but they went pretty quickly," KCFCU Marshall branch Manager Jeffrey Kinney said. "People spotted wearing KCFCU T-shirts were really excited when we gave them some money. We feel that this is a fun way to show the community of Marshall that we are here to support their financial needs." "This is the second year we have given away T-shirts and money to people at the Calhoun County Fair," KCFCU Senior Marketing Manager Susan Balbaugh said. "Last year we met so many wonderful people that we decided to do it again this year. Members and nonmembers alike, as well as our staff, really have fun with this. It's just another way we like to celebrate the difference at KCFCU."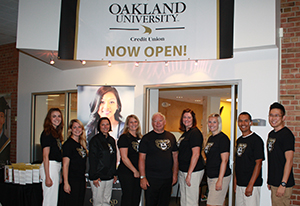 MSUFCU President and CEO Patrick McPharlin, middle, stands with the Oakland University CU staff at the credit union's new branch in the Oakland Center. OUCU is a trade name for MSUFCU.
… Oakland University CU is ready to serve the Oakland University faculty, students and community with the opening of its new branch. The OUCU branch, which is part of MSUFCU, is located in the Oakland Center on OU's campus. MSUFCU President and CEO Patrick McPharlin said the credit union is excited about its expanded partnership with OU. "We are excited to strengthen our partnership with the University and once again be the official financial institution on campus," McPharlin said. "This new branch will help us to provide our growing membership of the Oakland University community the same superior service they are accustomed to, and allow us to serve new members at a more convenient location." The Oakland Center Branch officially opened its doors Aug. 31 during the OU student on move-in. This is a full-service branch for all OU students, faculty and visitors, and offers all services available at the credit union's other locations as well as a walk-up ATM and loan services.



… Genisys CU was selected "Best of the Best Credit Union" in Clarkston for 2013 by the readers of The Clarkston News. "It is an honor to be recognized by the citizens of Clarkston, thank you to everyone who voted and made this award possible," Genisys President/CEO Jackie Buchanan said. "We will continue to do our best to provide excellent service to all of our members." Genisys provides a variety of financial products and services to people through their 21 locations in Southeastern Michigan and 24/7 access to their accounts through an extensive list of electronic conveniences. Genisys staff and family members volunteered nearly 4,000 hours of service to the community in 2012.


In the Top Ten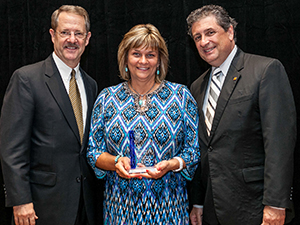 Frankenmuth CU was recognized by Raddon Financial Group with the Crystal Performance Award as one of the Top 10 Credit Unions in the United States under $500 million based on financial performance in 2012. From left are Bob Dye, general manager of Raddon Financial, Frankenmuth CU CEO Vickie Schmitzer and Santo Cannone, chief product officer of Open Solutions for Fiserv.
… The Board of Directors at Central Macomb Community CU elected a new chairman and board member at its Aug. 22 meeting after the retirement of Joseph D. Kay, who served more than 20 years as chairman. Board member Raymond W. White Jr. is the new chairman and James Miller, from the supervisory committee, replaces White on the board. White has been a board member since November 1999 and served on the supervisory committee (auditing) for several years. In addition, White served more than 34 years with the U.S. Air Force and retired as a chief master sergeant. He now enjoys a successful career as a business consultant. Miller served as a volunteer member of the supervisory committee since 2012. Currently, Miller is a chief master sergeant in the Michigan Air National Guard and has more than 27 years of experience in the military. He works at Selfridge Air National Guard Base as a quality assurance manager/staff accountant and has a bachelor's degree in business administration. "Central Macomb Community Credit Union members are lucky to have such a dedicated board overseeing policy," President/CEO Drema Isaac said. "We will certainly miss Chairman Joe Kay as he has been such a fixture at the credit union and in the community affecting change in our credit union. I'm confident in the leadership Raymond will provide to our members." Prior to Kay being named chairman of the board at Central Macomb, he served as a volunteer at the credit union since 1988. Kay is a U.S. Navy veteran, retiring from Selfridge Air National Guard Base with more than 41 years of federal civil service.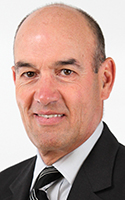 Keller
… Lake Michigan CU has hired Jack Keller as senior commercial credit analyst. Keller will work with LMCU's commercial lending team. Keller attended Grand Valley State University where he graduated with a bachelor's degree in history. Keller has worked for Bank of America and, most recently, Dave Ahrens State Farm Insurance Agency. Sarah Palmbos, LMCU's commercial credit and operations manager, is pleased to have Keller on her commercial lending team. "Jack brings with him not only a strong history of sales and networking, but also a solid foundation in credit and underwriting," she said. "He makes a great addition to our team." With 35 years of banking experience in West Michigan, Keller enjoys interacting with customers. He describes himself as persistent and consistent when communicating with customers to foster positive relationships. "I was proud to be the leader in deposit and mortgage production at my previous position and I look forward to bringing that dedication and hard work with me to LMCU." Keller is married and has two children. He relishes spending time with his growing family.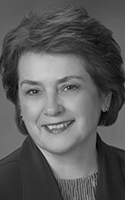 Mayhew
… Michigan Community CU has formed an alliance with Cetera Advisor Networks, a full-service securities brokerage firm. The credit union is inviting members to take advantage of a no-obligation consultation with financial consultant Jan Mayhew. Through Cetera Advisor Networks, members can now receive a wide range of investment and insurance services at MCCU. Mutual funds, annuities, stocks and bonds, IRAs and tax-free investments are just some of the investment products now available to members. Whether a member's investment needs are personal or business-related, Cetera can provide the extensive service needed. "We hope that you will enjoy this added convenience," Interim CEO Tina Hamilton said. "We are committed to helping you pursue your financial goals more easily." To schedule an appointment, contact Mayhew at (517) 349-1072.
Submissions to Monitor should follow the
submission guidelines
and may be
emailed
. Shawn Glinis is the editor of Monitor and can be reached at 800-262-6285, ext. 449. The newsletter of the Michigan Credit Union League is published Monday mornings or Tuesday mornings when Monday is a holiday. There is no Monitor the week after Christmas and the week after the Annual Convention and Exposition. MCUL reserves the right to edit submissions for clarity and space.