Print
In Brief…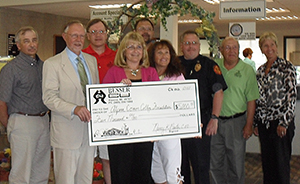 Besser staff and board members celebrate a $5,000 gift to the Alpena Community College Foundation to support the expansion and renovation of the college's Electrical Power Technology Center.
… Besser CU made a $5,000 gift to Alpena Community College Foundation's Building a Powerful Future Campaign. The gift will be used to support the college's new Electrical Power Technology Center. "We're extremely grateful to Besser Credit Union for taking a leadership role in support of the Electrical Power Technology Center," ACC Foundation Executive Director Penny Boldrey said. The EPTC is a $5 million, 21,000-square-foot expansion and renovation project. The project will allow more students to enroll in its popular utilities technology program and will allow for expansion into renewable energy sources and smart grid technology. "The board and management of Besser Credit Union are very proud to support ACC's new Electrical Power Technology Center," Besser CU Manager/CEO Nancy Montie said. "It is exciting to be a part of this education opportunity that this new addition will offer. The fact that our community college will be able to offer state-of-the-art utility programs like the ones being offered here will draw more people to our area, which will benefit our entire community."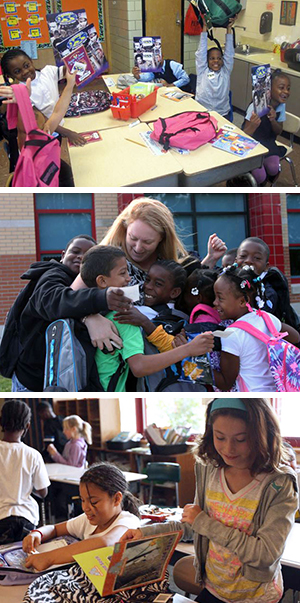 Affinity Group CU staffers, Mojo in the Morning and Operation: Kid Equip surprise students and teacher with backpack donations.
… Sept. 16 kicked off a busy week for Affinity Group CU, Affinity Foundation for Michigan Kids, Operation: Kid Equip and WKQI 95.5 FM. Together, the credit union, foundation, nonprofit group and radio station visited 16 schools to surprise select teachers and their students, with new backpacks filled with new school supplies. The students were from all different backgrounds, ages and ethnicities, but one thing they had in common was that they were all struggling financially. The contest was simple; teachers filled out an application through the radio station's Mojo in the Mornings website or Operation: Kid Equips website. Teachers explained why their students deserved this special surprise and what they were doing in order to be successful in school and in life. The winners were not contacted. The winners and their students were surprised by credit union employees, the radio station, and OKE. The reactions were incredible: there was shock, laughter, jumping and clapping. "This is one of the most rewarding experiences for the credit union employees," said Matt Jenkins, vice president of marketing and cooperative services. When a student comes to you and thanks you because they do not yet have a backpack or supplies, you know you have done your part." In their essays, many teachers expressed feelings of sadness because their students are going without what most of us think of as essential school supplies. Also, teachers do what they can to help their students, even purchasing supplies with their own money. Members from all branches and credit union employees alike helped gather backpacks and supplies either with monetary donations, or by donating the actual backpacks and supplies. When children have their own supplies like backpacks, crayons, paper and pencils, they become more confident and willing to participate in more school activities. The Affinity Foundation for Michigan Kids, a 501(c)(3) non-profit foundation was created in 2010 to provide educational and personal growth opportunities to Michigan youngsters and young adults up to age 25. Operation: Kid Equip is a nonprofit group that helps provide students resources they need to succeed.

... Honor CU announced merger plans with SIR FCU, marking the first time a Lower Peninsula credit union has merged with one from the Upper Peninsula. Negaunee-based SIR's three branches in Negaunee, Marquette and Gwinn will become Honor branches. "We are thrilled to be entering a partnership with Honor Credit Union," SIR CEO Ron Lauren said. "Before reaching out, we had done our research, and found that Honor Credit Union's core values align with ours, making them a perfect fit." Lauren will stay with the combined organization as northern division president. "We're very fortunate to have this opportunity," Honor CEO Scott McFarland said. "We're excited about the benefits to our current members, as well as the opportunity to invest even more in the state of Michigan." An Honor spokeswoman said the merger is expected to close by April 1, 2014. The combined credit union will have $550 million assets.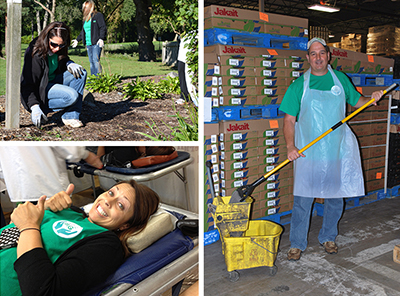 Clockwise from top left: Suzanne Martin helps beautify a Milford park, Community Choice CEO Robert Bava mops the floor at Forgotten Harvest and Jennifer Dickey gives blood.
… Community Choice CU recently completed its annual Give Big Weekend Sept. 12-15. The weekend, dedicated to volunteerism in southeastern Michigan communities, featured more than 400 credit union employees, members, family and friends. Together, this group volunteered 1,105 hours. Volunteers served at Vista Maria Women's Shelter, beautified a park in Milford, packaged and moved 12,376 pounds of food for Gleaners Community Food Bank, served at Forgotten Harvest, raised more than $7,000 for Community Choice Foundation and the Detroit Zoological Society and collected 79 whole blood units at branches in Warren, Livonia, Farmington Hills and New Hudson for the American Red Cross. "Give Big Weekend keeps growing year after year," said Abbey Bierlein, Community Choice CU Foundation coordinator. "Being alongside your co-workers as you donate blood, clean up a park, or repackage food is truly a unifying and gratifying experience. I am so proud of Community Choice team members who are constantly gkiving back and improving our communities."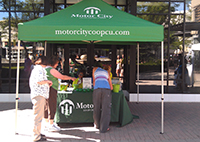 Shoppers stop by the Motor City Co-op CU booth at The Mall at Partridge Creek in Clinton Township.
… Motor City Co-op CU announced the winner of The Mall at Partridge Creek $250 Visa Gift Card raffle. From Memorial Day to Labor Day, shoppers enjoyed daily concerts at a family-friendly venue. Motor City hosted several onsite visits that provided shoppers the opportunity to learn about the benefits of credit union membership and enter the gift card raffle. Karen F. of Chesterfield Township was the lucky shopper to receive the $250 Visa Gift Card. "This is the second year Motor City has sponsored the Summer Sounds Concert Series at the Clinton Township mall. The concerts are just one of the many advantages of shopping at The Mall. The community enjoys them and it's our pleasure to be the premier sponsor through 2015," President/CEO Steven Andrews said. Motor City Co-op CU is also a sponsor of the Tree Lighting Celebration on Nov. 9.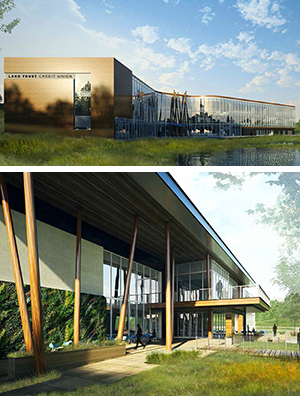 Artists renderings show what Lake Trust CU's $30 million headquarters will look like.
… The CEO of Lake Trust CU said the credit union has enjoyed working with the Economic Development Council in Livingston County, Brighton Township and Ann Arbor SPARK in developing plans for a $30 million headquarters just outside the city of Brighton. "It's the work of everyone in this room, that's why I'm here," CEO David Snodgrass said, according to LivingstonDaily.com. Snodgrass said he's hoping to break ground on the facility in March. He said it will take 18 months to construct the 100,000-square-foot facility, which will be located between U.S. 23 and Old 23 at Spencer Road in Brighton Township. The headquarters will open in late 2015. The facility will initially have 250 employees, but Snodgrass said he expects it to grow to 350 employees. "For Livingston County, it's a good catch," said Brighton developer Jim Barnas, owner of Contracting Resources Inc. The credit union has two branches in Brighton and Howell and an administrative office in Brighton. The new headquarters will consolidate the credit union's headquarters in Lansing and another office in Plymouth. "It's been an amazing experience operating in Brighton and Livingston County," Snodgrass said. "The support we've been shown has been amazing, which was another qualitative factor in our decision making process."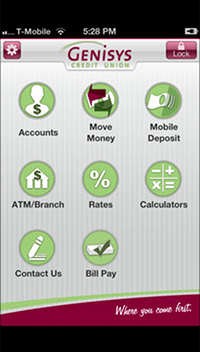 … Genisys CU's latest upgrades to its iPhone and Android applications are now available in the iTunes and Google Play stores. The new apps are loaded with enhanced capabilities. "It's exciting to see the level of convenience these mobile apps offer our members," Genisys President & CEO Jackie Buchanan said. "Our overall goal is to provide members with the self-service tools they need to remotely access their accounts and manage their finances on their own time." Initial functionality included viewing balances, searching transactions, locating branches and free ATMs, transferring money within an account or to another member using Drag-n-Drop, obtaining rates, signing into multiple Genisys accounts, linking accounts for access with one login, viewing posted and pending transaction history, depositing checks and calculating savings and payment costs. New features include Mobile Bill Pay, brightness controls and edge-to-edge detection to make capturing the perfect image even easier with Mobile Deposit (for qualifying members). In addition, scheduled payments now show in transaction history, custom settings allow you to select the number of scheduled transactions you wish to view, a calculator has been added to several pages and the iPhone app is optimized for iPhone 5. "The robust Bill Pay program makes it easier than ever before to pay bills by allowing members to register, add and manage payees, monitor bills, and view payments on their mobile device," said Ray Black, vice president of marketing and remote delivery. "Our intent is to provide members with the best mobile service possible so that they aren't limited to traditional banking methods." Genisys offers members several other eConveniences in which to do their banking including eAlerts, online banking, online deposit and a refreshed website. Additional updates in the works include Mobile Alerts and streamlined online account opening and loan application processes. "By leveraging the best remote services possible, we hope to give our members the freedom and flexibility to communicate with us at anytime and from anywhere," Buchanan said.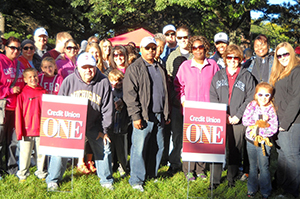 Credit Union ONE Walkers ready to Step Out for Diabetes Walk.
… Continuing to help make strides in the fight to cure Diabetes, Credit Union ONE participated in the Step Out: Walk to Stop Diabetes, held at the Detroit Zoo on Sept. 14. Approximately 150 Credit Union ONE employees, along with friends and families, contributed $4,000 in combined corporate and individual donations. "The walk was a good opportunity for us to participate in a cause that touches all of us in one way or another," said Swami Seetharaman, senior vice president and chief marketing officer for Credit Union ONE. "Being able to contribute to an organization such as the American Diabetes Association allows us to support our life science partners in the community." One of many Step Out Walks throughout the country, the Walk held in Detroit had a goal this year of $600,000. With more than 3,500 walkers and volunteers, the ADA has already raised more than $550,000 with several commitments expected and are confident they will reach their goal by the end of the campaign. More than 84 cents of each dollar raised goes directly into research and programs to help the more than 25 million people in the USA with the illness.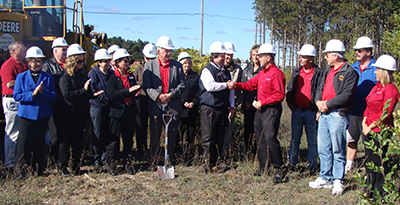 Members of the Awakon FCU board of directors and management team as well as the board of directors and Ambassadors Club of the Gaylord Chamber of Commerce take part in the groundbreaking of Awakon's new Gaylord branch.
… Awakon FCU had a groundbreaking ceremony for its new office in Gaylord on the corner of Main Street and Murner Road. The credit union plans to create a new experience for Awakon members with the new 4,300-square-foot building. With the use of natural materials and integrated technology, Awakon will add functionality and comfort to its member engagement. It is complete with an express area for easy and quick account management, as well as a digital knowledge hub, which includes current news, events in the community and happenings at Awakon. There will be a relaxing fireplace and beverage area with Wi-Fi to stream current events and information that is important to members. The building will also have a drive thru as well as a drive-up ATM. The design for the new building includes a community room with a separate entrance for evening activities and to promote strong community engagement. The groundbreaking ceremony was attended by members of the Awakon board of directors and management team as well as the board of directors and Ambassadors Club of the Gaylord Chamber of Commerce. "This building demonstrates our commitment to the Gaylord community and its surrounding areas," Awakon CEO Scott Pauly said. "Integrating the credit union philosophy into new geographical areas is a key aspect to the continued success of Awakon Federal Credit Union." The new branch is expected to open in early 2014.
… Honor CU named Dustin Nehls as Paw Paw branch manager, Laura Suhr as manager of the Kalamazoo branch and Sara Buursma as their member solutions manager. In addition to guiding the Paw Paw branch's community involvement, Nehls will provide leadership to the Paw Paw member service team and oversee day-to-day operations. Nehls has worked for Honor for more than three years as a teller, account specialist and assistant branch manager. He is currently pursuing his bachelor's degree from Cornerstone University. Nehls, originally from Mattawan, now lives in Paw Paw where he is involved and passionate about the community. Nehls serves as a lieutenant on the Paw Paw Fire Department. He has been a member of the fire department for the past five years. Originally from Bloomingdale, Suhr began her career at a financial institution in South Haven. Working numerous years in the financial industry, Suhr has become well diversified on the different departments of a financial institution, making her a valuable asset to Honor's Kalamazoo team. Successfully completing the credit union's manager trainee program, Suhr and her husband live in Paw Paw. Buursma will oversee the operations of Honor's member solutions center and lead the team of account specialists. Buursma earned her bachelor's degree in organizational communication from Western Michigan University. Buursma lives in her hometown of Berrien Springs. She loves to spend time with her husband and two daughters. She also enjoys staying active and leading a healthy lifestyle.

… Lake Trust CU welcomes Jack Martin as vice president of information services. Martin will be responsible for directing strategic planning, security development and monitoring the areas of Lake Trust's Information Services Department. Through his education, 15 years of team management and over 20 years of tech experience, Martin brings with him a wealth of knowledge in the information systems area. Martin earned a bachelor's degree in computer science from Central Michigan University. Previous to his role at Lake Trust, Martin was director of application and integration services at Citizens Republic Bancorp Inc. and was responsible for managing and supporting all computer applications and technology services aligned to corporate project activities. Prior to that, Martin managed packaged software solutions at R.L. Polk. He's also had positions at Pfizer Global Research & Development and Michigan National Bank. "Lake Trust shares my passion for providing quality experiences to the people whose lives we touch – our members and teammates, and I'm really looking forward to being a part of that," Martin said. "We're thrilled to have Jack on the team, and we're looking forward to learning everything he has to teach us," President and CEO David Snodgrass said. "We're excited to see the benefit that his commitment and knowledge will bring to our members and Team Lake Trust alike."

Submissions to Monitor should follow the
submission guidelines
and may be
emailed
. Shawn Glinis is the editor of Monitor and can be reached at 800-262-6285, ext. 449. The newsletter of the Michigan Credit Union League is published Monday mornings or Tuesday mornings when Monday is a holiday. There is no Monitor the week after Christmas and the week after the Annual Convention and Exposition. MCUL reserves the right to edit submissions for clarity and space.