Print
Building a Better CU Workforce Begins at People and Performance Institute This Week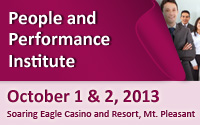 Preparing credit union staffers to know what is appropriate to say to a colleague (vs. what is not), identifying opportunities to align behaviors with goals and objectives, improving communication skills and making empowered decisions are just some of the many topics that will be covered at the upcoming MCUL& Affiliates People and Performance Institute.
Attendees will be able to choose from a variety of breakout sessions during the two-day event, which takes place this week, Wednesday and Thursday, Oct. 2-3 at the Soaring Eagle Casino and Resort in Mount Pleasant. From learning how to match people with jobs using a Predictive Index and remaining compliant with HR and supervisory issues, to hiring and firing issues and designing training, to healthcare reform and dealing with mergers, the People and Performance Institute packs in the training to help credit unions build a better workforce.
This year's event features two sessions based on Harvard Business Review books, plus a three-part Creative Leadership Workshop. Attendees may also choose to become American Red Cross CPR certified for an additional $35, half the usual cost of such training.
One- and two-day registration options are available for $155 and $310 per person respectively, making it convenient and affordable for credit unions to send multiple participants. To view the complete agenda and learn about the outstanding line-up of speakers from across the country, click here. Those interested in attending may call (800) 262-6285, ext. 225 to sign up.

Submissions to Monitor should follow the
submission guidelines
and may be
emailed
. Shawn Glinis is the editor of Monitor and can be reached at 800-262-6285, ext. 449. The newsletter of the Michigan Credit Union League is published Monday mornings or Tuesday mornings when Monday is a holiday. There is no Monitor the week after Christmas and the week after the Annual Convention and Exposition. MCUL reserves the right to edit submissions for clarity and space.