Print
In Brief…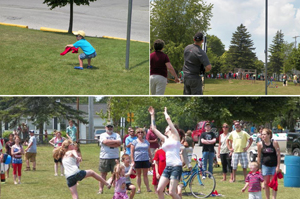 Northland Area FCU employees use a T-shirt cannon to fire T-shirts into the crowd at the Harrisville Independence Day parade.
… Northland Area FCU staff recently participated in the Harrisville Independence Day parade. Children and adults of all ages lined Main Street to enjoy the festive parade. Local families and businesses joined together to make this a successful event. Northland handed out candy and party horns for everyone to enjoy. After the parade ended a magic show was held at the Harrisville Harbor Park – where Northland employees shot off their T-shirt cannon. The park was filled with smiles while the children ran around catching Northland Super Saver T-shirts.

... MSUFCU announced growth in both assets and membership. As of May 31, 2013, MSUFCU held $2.48 billion in assets, a 9.86% increase since May 31, 2012. MSUFCU also had 175,144 members as of May 31, an increase of 5.16% over May 31, 2012. "MSUFCU's continued growth in both assets and membership demonstrates the confidence and trust our members have in the credit union and is a result of our commitment to finding new and innovative ways to best serve our membership while providing exceptional service. It is our goal to provide resources to help our members achieve their dreams, and we are proud to continue to add new services, products, and locations to best serve our growing membership." McPharlin attributes MSUFCU's growth in part to its expansion of branch locations and account services. MSUFCU has expanded its locations in the past year with the addition of its Farm Lane and Marsh Branches in 2012, the opening of its Sparrow Branch in early 2013, and its merger with Eaton County Educational CU in April 2013, which added an MSUFCU branch in Charlotte. Remote services including the MSUFCU Mobile app for iPhones and Android phones and mobile eDeposit for checks were also released in the past year to provide greater account accessibility for members.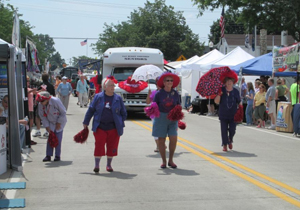 Local seniors lead the way for festival parade.
… Genisys CU recently sponsored the Belleville National Strawberry Festival. Held every year since 1976, the National Strawberry Festival transforms the town of Belleville into a strawberry wonderland. The free festival attracted over 200,000 people throughout Southeastern Michigan with entertainment, attractions, events and every type of strawberry treat imaginable. Proceeds from the event will support over 40 community programs, according to the festival's official website. "The Annual Strawberry Festival is very popular with the Belleville community," Genisys President/CEO Jackie Buchanan said. "It was great to see many of the local residents out and about supporting a longstanding annual event."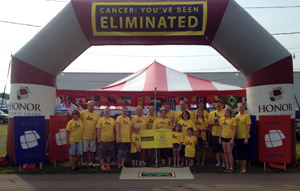 Powered by Honor team members take a break from Relay for Life.
… Powered By Honor®, comprised of Honor CU team members announced that it has raised more than $17,000 dollars for Relay for Life and the fight against cancer. The Powered By Honor Team was awarded the "Sapphire" level in the Berrien County fundraising rankings, placing them in the Top three out of more than 75 teams at this year's event, held at the Berrien County Fairgrounds June 22-23. The Berrien County event has raised over $234,000 dollars to date. In addition to the fundraising efforts, the Honor team also took home a couple spirit-based awards while participating at the 22-hour event. This year the Honor Team chose "The Amazing Race" as the theme and took first place for the "Best Theme Decorated Tent Site." The group also took second place for "Best Dressed T-shirt Team. Powered By Honor® funds many of Honor Credit Union's current community programs as well as the donations made throughout the year to various organizations. Powered By Honor® is funded through a wide range of channels: Honor employee donations, proceeds from Honor's Member Perks program, a portion of Honor's debit and credit card fee income and various fundraising activities. In addition to corporate donations and sponsorships for many local organizations, the Team Members at Honor CU contribute countless hours of service to our communities and organizations every year.

… For six weeks this summer, Community West CU will give away money to young adults during the $20K Cash Giveaway promotion. As part of the registration process, participants will watch a short video of Eric O'Brien, a well-known local DJ, talking about a financial topic. The topics of these videos include avoiding ATM fees, dodging the downfall of payday loans and finding free checking accounts that pay interest. "Through this promotion, we hope to educate young adults on various topics that are relevant to them at this point in their life." Community West Marketing Director Jillian Gajtka said. "We hope the young adults will take something away from the videos as we continue to look for ways to financially educate the next generation." Community West CU hopes to not only educate young adults, but also help them as they head to college or into the workforce by giving away 40 $500 prizes! In order to encourage membership growth, the majority of the cash prizes will be given away to both current and new members between the ages of 18-24 who've registered for the promotion. To help get new members on the right track, Community West will pay their initial $5 membership deposit.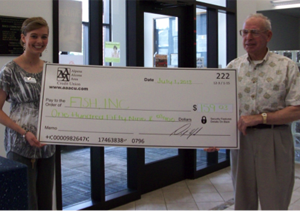 Stephanie Kirby of AAACU, presents a check for $159 to Orivile Henson, Volunteer for FISH, Inc.
… Alpena Alcona Area CU raised $159 for FISH Inc. This volunteer-based program, formed by a group of Christians from local churches, helps the community by providing food, gas, shelter, transportation or referring people to other organizations in emergency situations. The Tawas branch of AAACU accepted donations from its members. The branch sold candy bars and had a gardening and home improvement raffle. Along with the member donations, staff members were able to donate $2 on Fridays to dress down in jeans.



… Recognizing its members perform three times as many transactions online versus in person, Oakland County CU set out to meet the needs of its members with a unique new website created by CU Solutions Group. OCCU's goal was realized when it recently launched a site that enables members to access the site through their desktop, tablet, or smartphone. All platforms provide almost identical accessibility to the site. OCCU's site is the first in Michigan to feature the responsive design from CU Solutions Group. "Our members depend on our website for thousands of transactions every day so this was an important project that had to be done well," OCCU President/CEO Allan Kemp McMorris said. "At first, our primary goal was to have the site redesigned to match our new logo and updated brand. However, the project became much more robust when CU Solutions Group suggested the responsive design concept. We're now providing our members with a variety of ways to fully access their credit union with technology we really weren't aware of when this began. I won't be surprised to learn the responsive design has become commonplace within the industry in the next few years." CU Solutions Group CEO David Adams said the company's goal is to provide credit unions with the tools they need to best serve their members. "Working with Oakland County Credit Union, we were able to help position them as a technology leader," Adams said. "Their willingness to explore cutting-edge technology is proof of the credit union difference in dedication to member service." The site was also designed to be more user friendly by making navigation easier. Emphasis was also placed on creating numerous marketing banners and information areas to keep members updated with credit union news and offers. Users can still log into home banking directly from the home page. The site is located at www.oaklandcountycu.com. OCCU, founded in 1953, has $180 million in assets with four branches and more than 20,000 members.

… Co-op Services CU is working to save the community more than $200,000 in auto loan interest through its "Amazing Auto Loan Challenge" that continues through July 31. Offering rates as low as 1.79% APR for up to 72 months, the credit union hopes to save its members money every month. Since the program began in April, Co-op Services has saved members more than $155,000 in auto loan interest and is well on its way to hitting the credit union's goal. "Since we are able to offer considerably lower auto loan rates than the average bank, we can save the average borrower more than $550 in total auto loan interest over the life of the loan," said Lisa Fawcett, Co-op Services vice president of marketing. If the credit union reaches its goal of $200,000, Co-op Services will offer an additional $100 to everyone who finances a new vehicle or refinances an existing auto loan from another financial institution during the Auto Loan Challenge. For more information about the Auto Loan Challenge or to apply for an auto loan online, visit www.AutoLoanChallenge.com. "The website also makes it easy to pass along news about the challenge to friends and family and to get more people involved," Fawcett added. "The more money we save each person, the closer we are to achieving our goal of $200,000 and to helping individuals receive an extra $100."

… American 1 CU hosted three Kids' Fest events in Jackson, Hillsdale and Chelsea in June. The events promote learning and safety for children in kindergarten through fifth grade. Vendors are brought in from the area to provide an educational game and a prize for the children to partake in at their booth. "Each event was extremely successful and we could not have asked for better weather that week" said Jessica Lutz, American 1's event and marketing specialist. The Jackson event is at the county fairgrounds, providing the space to house more than 40 vendors and allow for more than 1,500 kids to attend. The Hillsdale event was also at the fairgrounds and more than 1,000 children attended. Chelsea Kids' Fest was at Timbertown Park featuring more than 20 vendors for more than 300 kids to learn and have fun.

… The Financial Brand did a study looking at the top 100 financial institutions around the world on YouTube and found just a few credit unions in the mix. The website pointed out that just one credit union I-C CU cracked the top 30 with 638,000 views. It pointed out that financial institution would need just 25,000 total views to crack the top 100. Michigan First CU was the only Michigan credit union on the list with just less than 38,000 views. Interestingly, the website reported that more than a third of those views – 13,000 – came within the 90 days prior to the report. The top financial institution on YouTube? E*Trade Bank with its investing baby.

… MSUFCU recently broke ground on the future MSUFCU Mason Branch, located between Cedar Street and Jefferson Street in Mason near the Kipp Road exit on U.S. 127. The ground breaking was July 8 with remarks from representatives from MSUFCU and the city of Mason. "We are excited to be breaking ground on our future branch in Mason," MSUFCU President and CEO Patrick McPharlin said. "The new MSUFCU Mason Branch will provide our growing membership in the area the same superior service to which they are accustomed to, now at a more convenient location."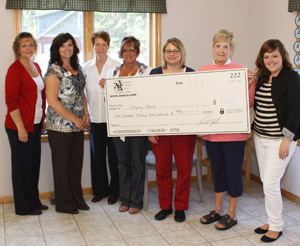 Atlanta team members of Alpena Alcona Area CU present a check for $232 to representatives of Atlanta Helping Hands.
… Alpena Alcona Area CU raised $232 for Atlanta Helping Hands. The volunteer program assists individuals and families in need by helping with mortgage and rent payments, utility expenses, clothing and food. The Atlanta branch of AAACU accepted monetary donations from its members. They sold candy bars, collected spare change, and raffled off a gas grill. Along with the member donations, staff members were able to donate $2 on Fridays to dress down in jeans.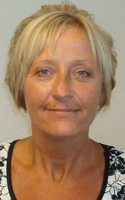 Nixon
… After 27 years working for Forest Area FCU, CEO Merri Nixon will resign effective Aug. 23. Nixon, a Fife Lake resident, was promoted to CEO of Forest Area FCU in 2007 when founding President Rodney Larr retired. "It is with a heavy heart and a happy heart that I have made my decision to leave the credit union and devote my full attention to our expanding family-owned business which has been in operation since 2010." Nixon said. "I will be leaving all the members and employees in good hands with my colleague, Bob Raden, interim CEO." Raden has worked at Forest Area FCU for seven years as CFO. Prior to joining Forest Area FCU , Raden was the CEO of the former Northwest Area CU in Cadillac and has 20 years of experience in the credit union industry. There will be an open house a time and date yet to be determined.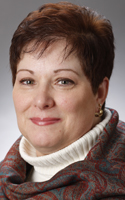 Kirvan
… September Kirvan has been promoted to loan underwriting supervisor by Educational Community CU. Kirvan's new responsibilities include overseeing the daily management, direction and planning of the credit union's loan underwriting department and supervision of the loan underwriting staff. An ECCU employee since 2008, Kirvan served most recently as loan servicing supervisor after holding the position of mortgage loan supervisor. Her previous experience includes manager for Chicago Title for more than 10 years. "I love working at ECCU. Being able to help members achieve their dreams, whether it is a new home, or a loan for a dream vacation gives me a lot of job satisfaction." Kirvan said. She and her husband Trace have two adult children and reside in Paw Paw.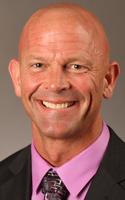 DeShane
… Educational Community CU has hired Jeff DeShane as vice president of loan services. His responsibilities include overseeing the planning, direction and management of the credit union's lending activities for both business and consumer loans. DeShane has 16 years' experience in the financial industry and previous positions include: assistant vice president of lending at Cap Com CU/DFCU Financial in Grand Rapids; central lending manager for Lake Michigan CU in Grand Rapids; and most recently, vice president of sales and lending for Five Star CU in Dothan, Ala. "I am very excited and honored to be a part of the ECCU family." DeShane said. "I look forward to working with an amazing team to create more loan opportunities for all of our members by building performing loans in all credit tiers." Jeff and his family live in Grand Rapids.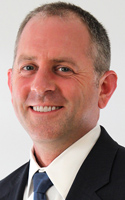 Cook
… Lake Michigan CU announced the hiring of Brad Cook as senior mortgage originator. Cook has 12 years of residential mortgage experience and will work from LMCU's new Ada branch. Meg Dunn, LMCU's vice president of retail mortgage sales, said she is pleased to have Cook on her mortgage lending team. "Brad's years of experience, focus on member service and desire to serve the community where he lives make him a great fit for LMCU and our new Ada branch," Dunn said. Cook was drawn to LMCU based on its commitment to member service and a suite of highly competitive products. "To mortgage professionals, a superior product line is crucial," Cook said. "LMCU is known for its value-added mortgage products and extremely competitive rates. Knowing I have the products to go head-to-head with any other lender makes establishing long-term relationships with my clients that much easier. I look forward to bringing this kind of value to my friends and neighbors here in Ada." Cook was raised in the Grand Rapids area and married his high school sweetheart. The Cooks have a five-month-old girl and four-year-old son. He enjoys golf when time and energy permit.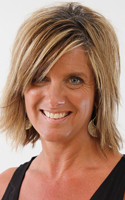 Darling
... Lake Michigan CU announced the hiring of Paula Darling as mortgage loan originator for the Lakeshore area. Darling previously worked for both Fifth Third Bank and Republic Bank as a loan originator, and Tom Smolinski Realty as a short sale negotiator. LMCU Mortgage Sales Manager Lisa DeLass said she is happy to have Darling onboard. "As a long-term resident of the Saugatuck/Douglas community and a seasoned mortgage professional, Paula brings a unique perspective on what's needed to grow the Lakeshore market," DeLass said. "With her experience and enthusiasm, we have great confidence in Paula's ability to bring LMCU's great mix of mortgage products to the Saugatuck/Douglas market." Darling cites LMCU's strong commitment to member service as a significant draw. "I sincerely enjoy helping people achieve their home ownership goals," Darling said. "LMCU has always enjoyed a great community reputation for value, honesty and transparency, and I'm excited to join an organization that places so much emphasis on member satisfaction – especially right here in my home community." Darling has been a resident of the Saugatuck/Douglas area for over 20 years. She has two high school-aged daughters and enjoys the many recreational opportunities the lakeshore area offers.
Submissions to Monitor should follow the
submission guidelines
and may be
emailed
. Shawn Glinis is the editor of Monitor and can be reached at 800-262-6285, ext. 449. The newsletter of the Michigan Credit Union League is published Monday mornings or Tuesday mornings when Monday is a holiday. There is no Monitor the week after Christmas and the week after the Annual Convention and Exposition. MCUL reserves the right to edit submissions for clarity and space.